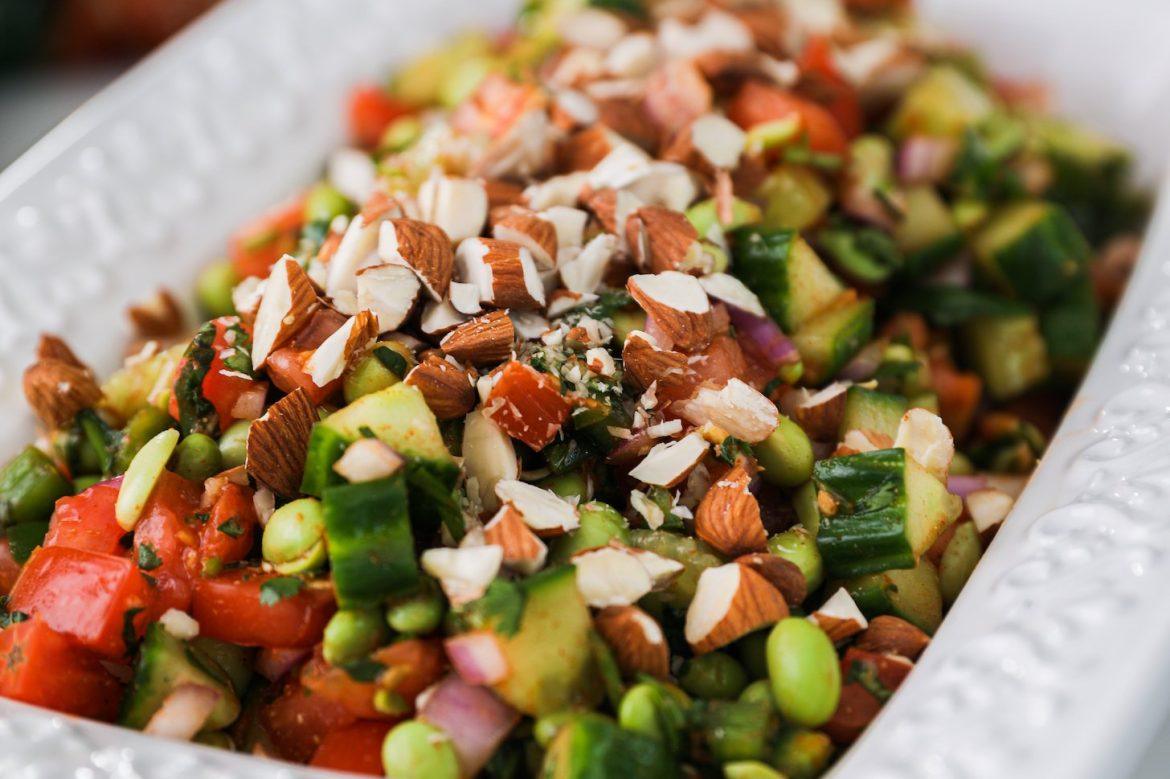 High Protein Kachumber Salad
Introducing a new spin on the classic Indian salad – high protein kachumber! This hearty version of kachumber salad is made with edamame, a medley of veggies, combined with spices, and almonds for staying power. So if you're on the hunt for diabetic salad recipes that are also heart smart, this one will surely satisfy.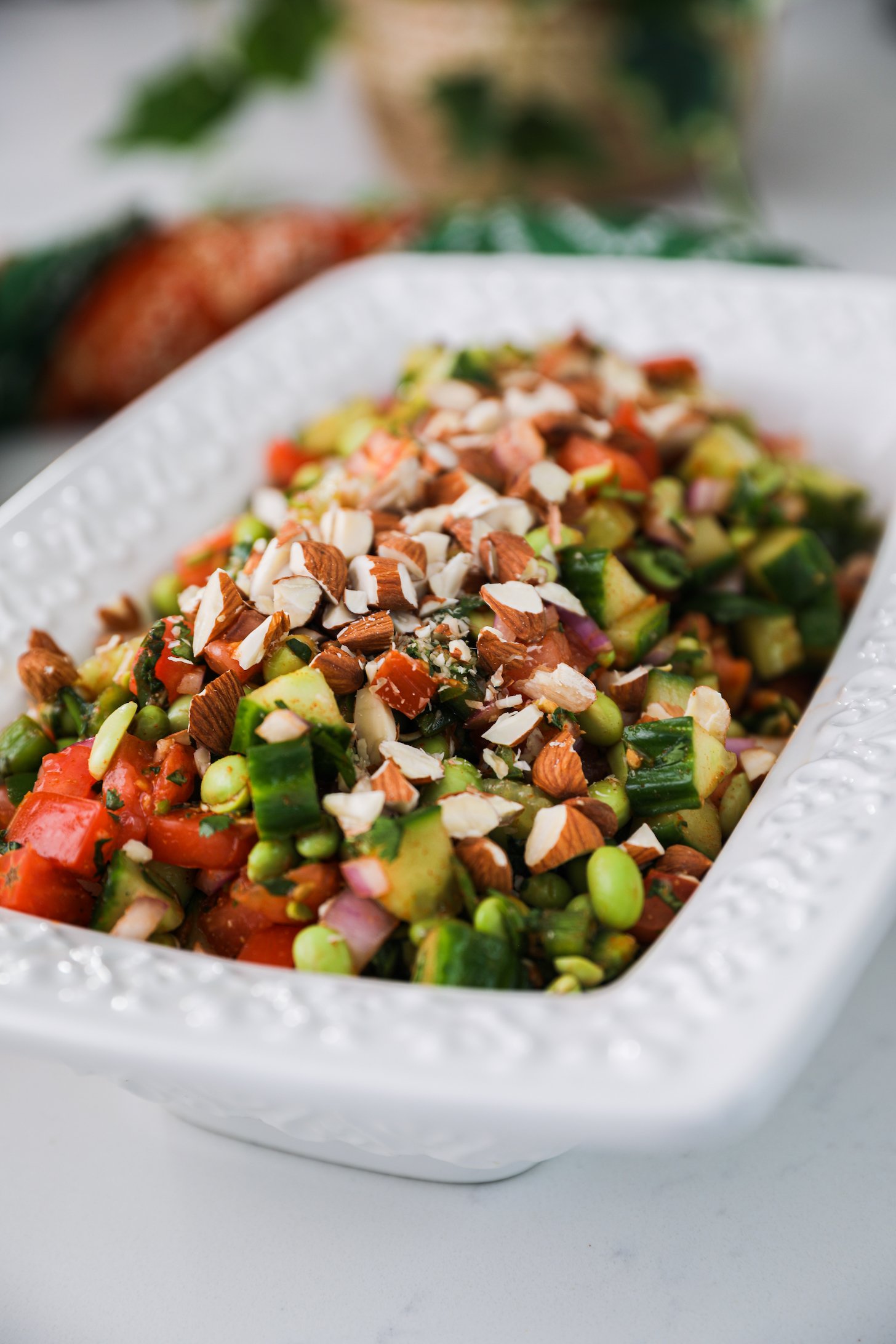 I'm captivated by the spicy-tangy elements and tantalizing texture of this kachumber salad (also spelt katchumber). And by blending my dietitian knowledge with my Desi (South Asian) roots, honestly, I feel like I'm in salad heaven.
As the holy month approaches, I've been focusing on nourishing recipes that can sustain us throughout the extended hours of fasting. Of course, eating healthy during Ramadan is on the agenda. And if I had to nominate an easy healthy salad, kachumber would definitely be my pick.
Hands down.
Not only is it hydrating and invigoratingly refreshing, but it perfectly complements (and balances!) our Iftar meals.
Enjoy this delicious salad for a nutritional boost!
In a nutshell, this kachumber salad is bundled with plant-based proteins and healthy fats that work together to pack a nutritional punch! Let me explain.
Edamame provides a good source of protein and dietary fibre – both of which are necessary for gut health and regularity.
Almonds are heart-healthy nuts, providing a fair amount of polyunsaturated fats.
Packed with vitamins, minerals, and disease-fighting antioxidants, veggies are a nutritional powerhouse!
Spices such as cumin and chilli powder lend powerful anti-inflammatory properties.
Fresh herbs contain plant compounds that guard against chronic diseases like type 2 diabetes and heart disease.
Here's what you'll need
With a versatile line-up of ingredients, kachumber salad is a breeze to make. It's ready in only 30 minutes, most of which you'll spend prepping the vegetables and herbs. And if you own a food processor, it will save even more time. Here's what you'll need:
Edamame, shelled and boiled
Cucumber
Red onion
Tomato
Jalapeno
Fresh cilantro
Fresh mint
Red chilli powder (Kashmiri)
Cumin powder
Lemon juice, freshly squeezed
Salt
Almonds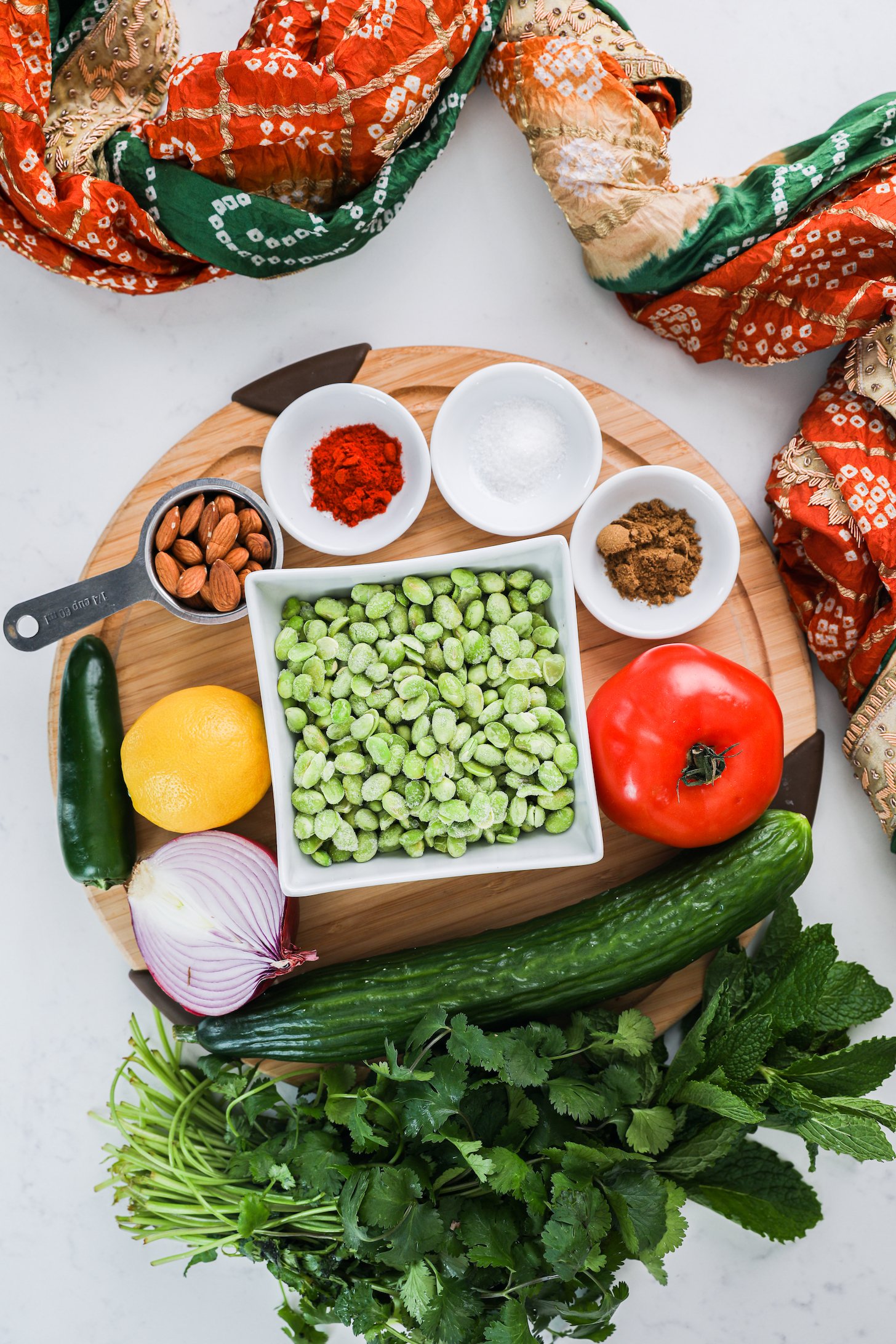 My go-to food processor – Breville The Sous Chef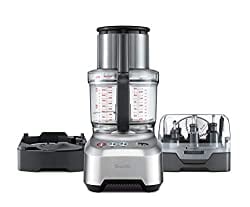 I use this Breville – The Sous Chef Peel and Dice Food Processor in my kitchen. I got it about 3 years ago and it functions beautifully, making chopping, dicing, shredding, grating, and mincing ever so easy!
How to make kachumber in 5 simple steps
Once the veggies and herbs are prepped, the rest is a simple assembly job!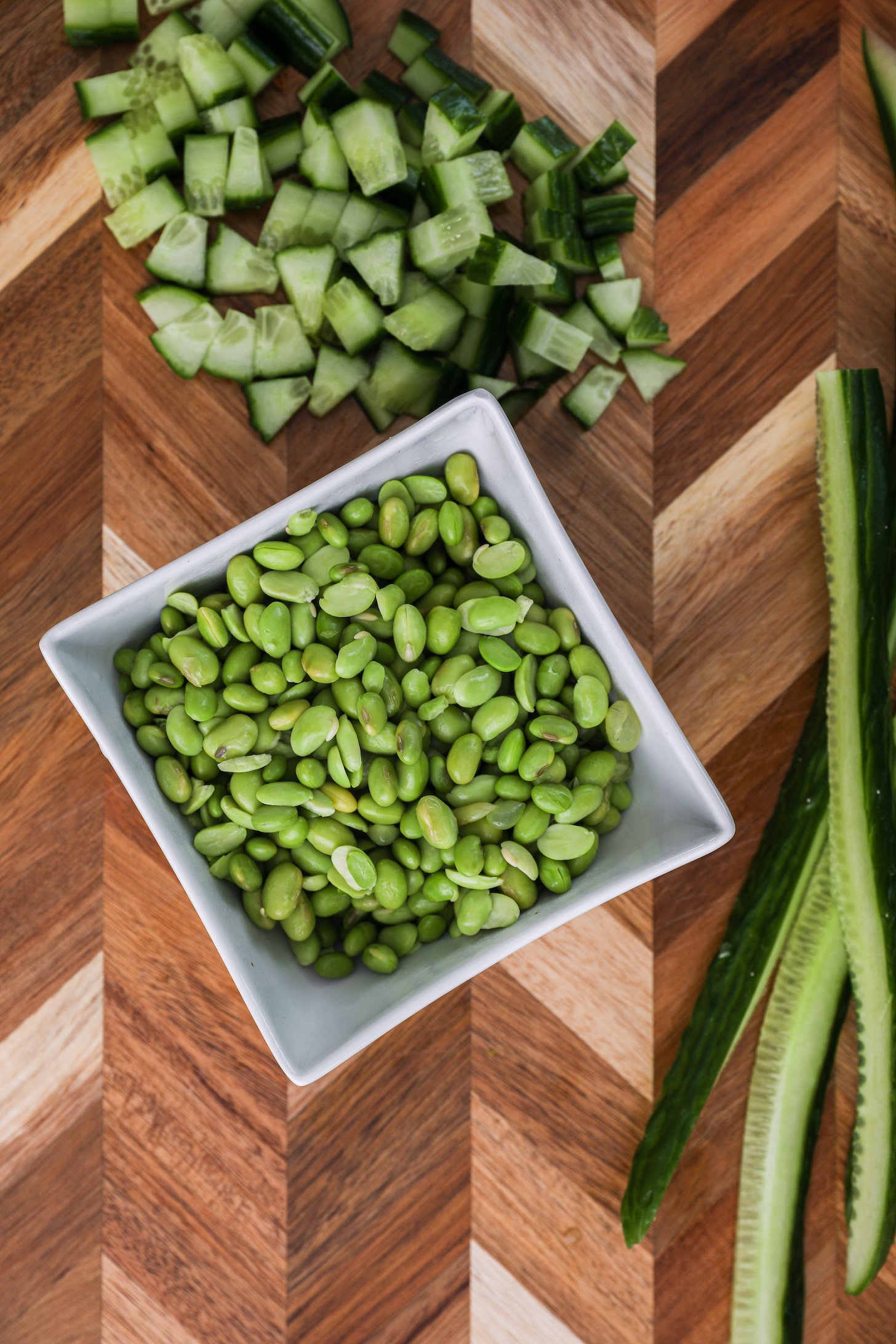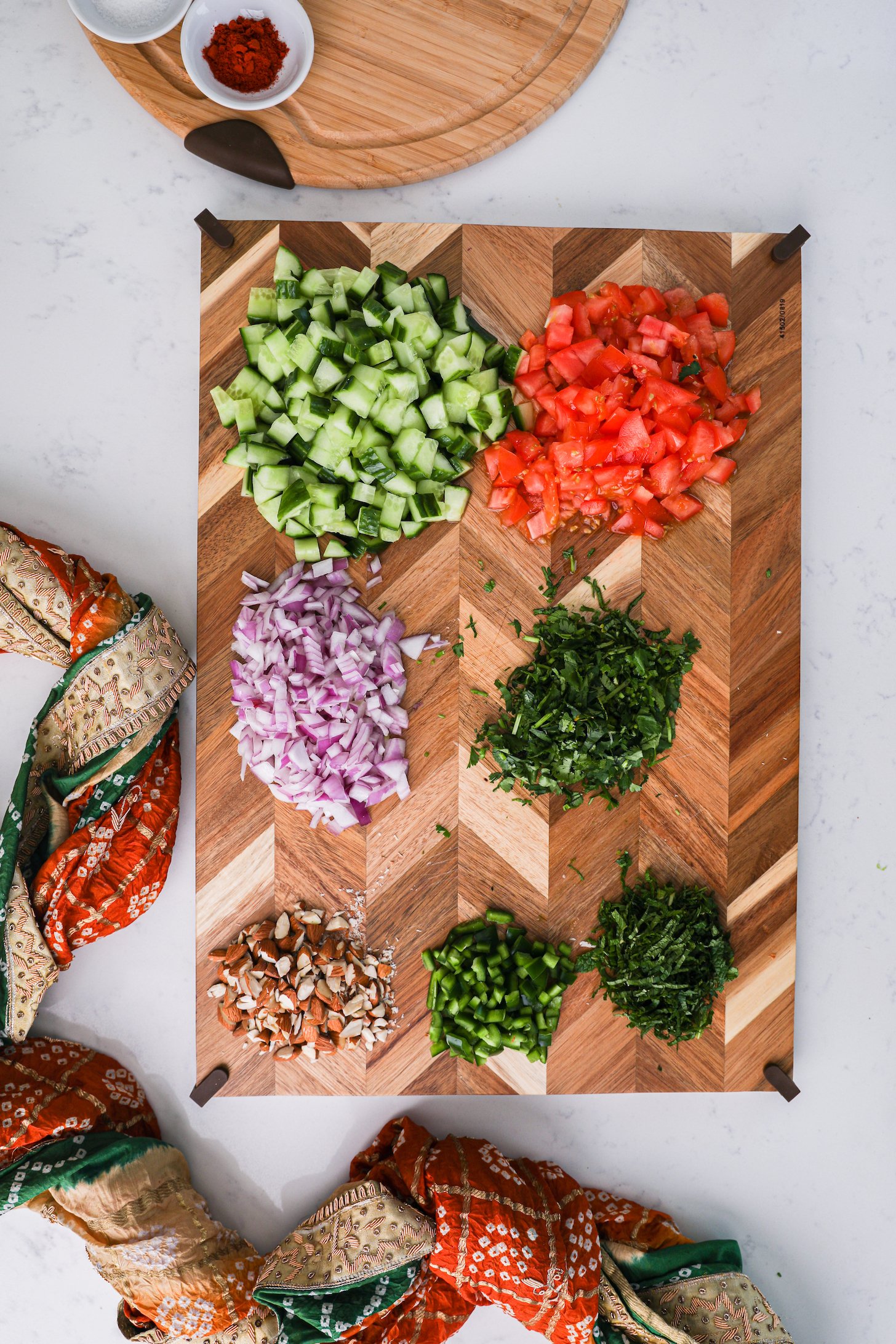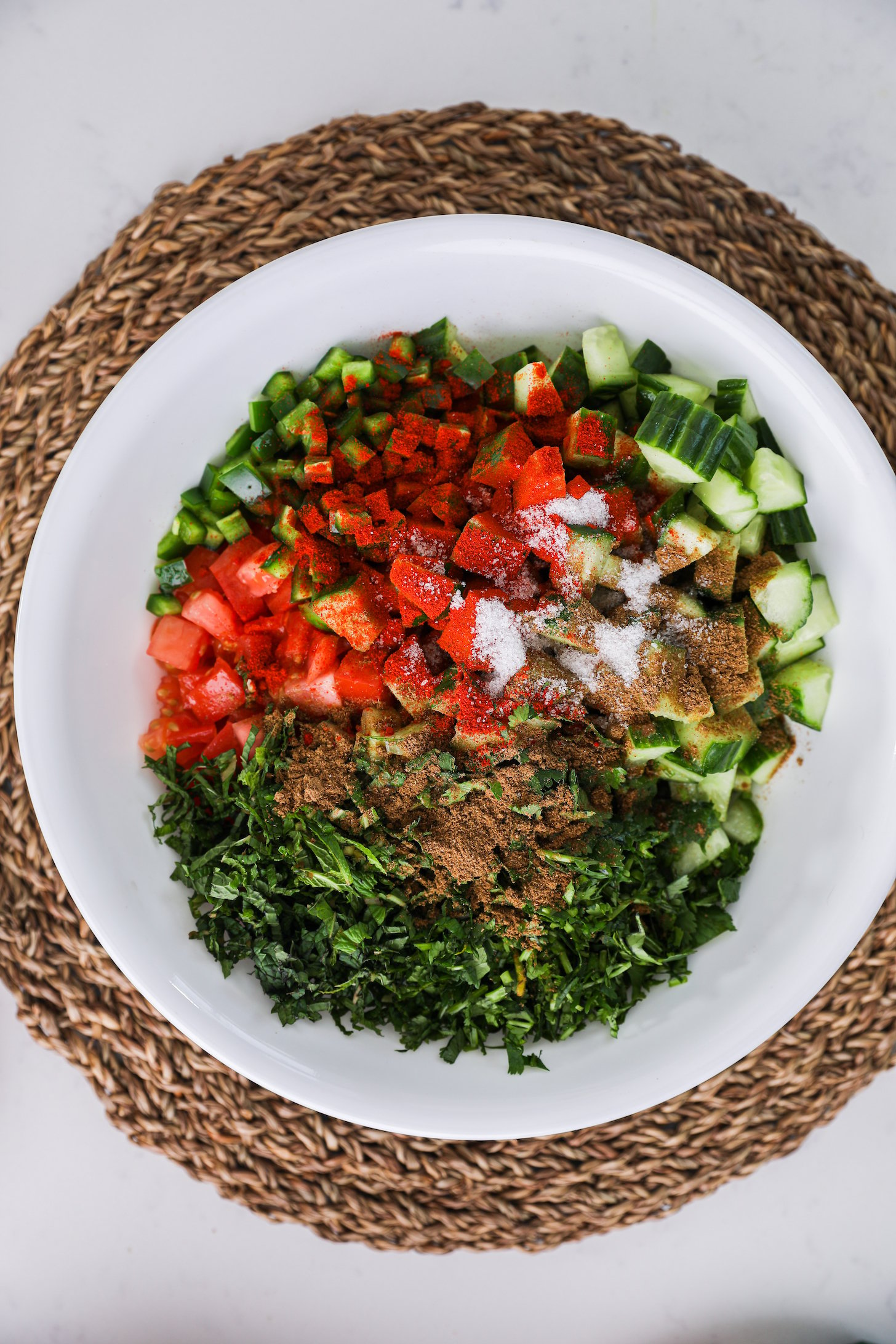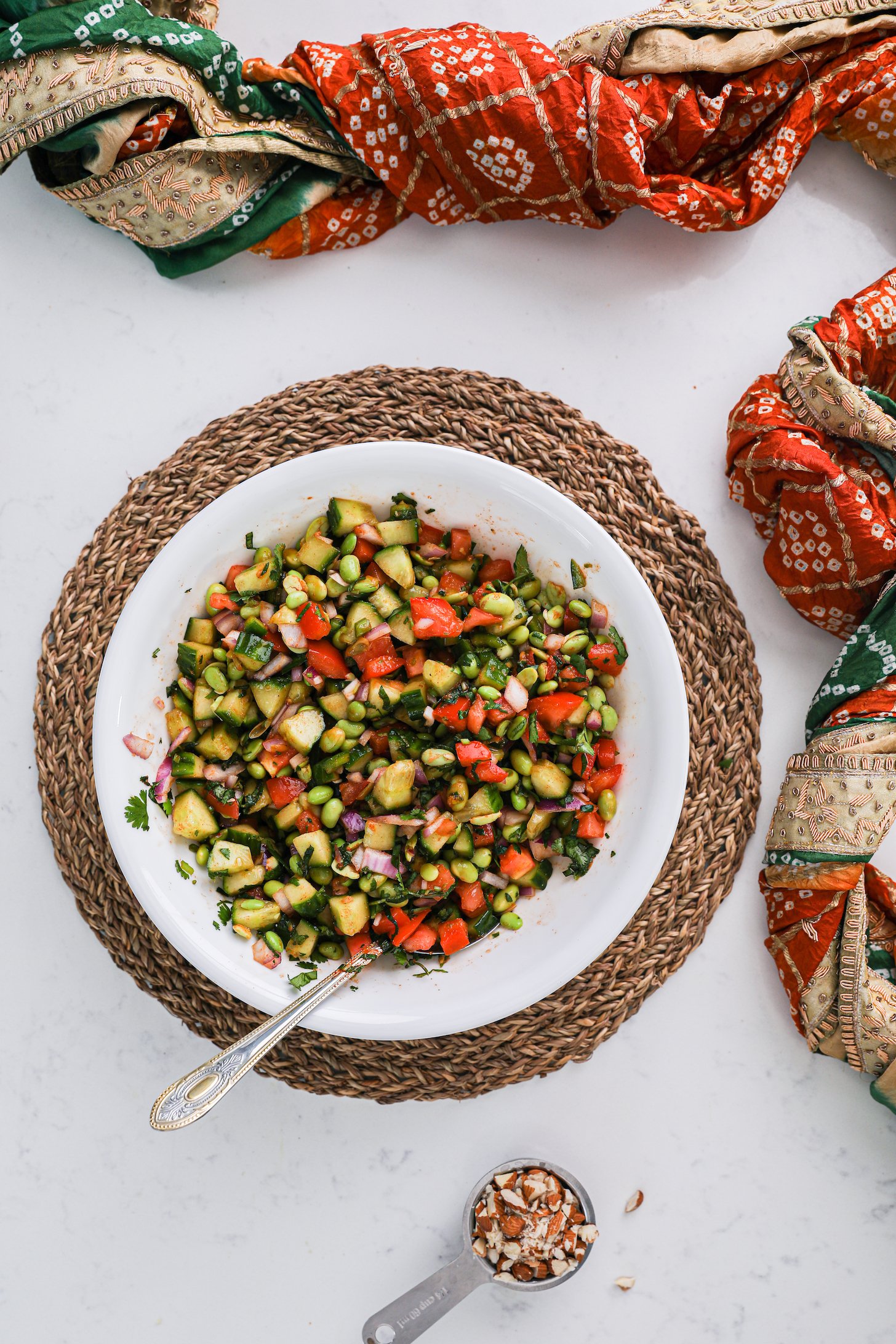 The complete recipe with ingredient amounts can be found in the recipe card at the bottom of this post.
Best ingredients for salads
When it comes to crafting nutritious salads, the possibilities are endless! I suggest assembling a medley of ingredients for both flavourful and textural appeal. For example:
Greens, like kale, spinach and lettuce
Fibre-rich wholegrains such as quinoa, farro and couscous
Fruits and vegetables like apples, berries, peppers and cucumbers
Vegetables such as tomatoes, cucumbers and onions
Proteins like chickpeas, kidney beans and tofu
Healthy fats like avocados, nuts or seeds
Herbs and spices
What to serve this kachumber salad recipe with
To create a nutritionally balanced meal, kachumber salad can be served with a side of protein. For example:
Fish – like these pan fried basa fish fillets
Chicken – either these tandoori chicken tikka skewers or chicken patties
Beans and lentils – vegan kebab or dhal makhani is a lip-smacking pairing!
Tofu – this curry tofu scramble is always a hit with our family!
For grain-based accompaniments, I recommend enjoying this healthy dinner salad with:
Flatbread – like paratha or roti for a healthy dose of fibre.
Wholegrain – like quinoa is absolutely delicious!
Serving note
This salad makes a delectable main course for two or serves three to four people when served as an accompaniment.
Food safe storage
You can make the most out of your meal prep and store this delicious kachumber salad in an airtight container or mason jar for up to two days. If you really want to get the most out of this recipe, though, it's best served fresh since letting it sit for too long causes the juices to be released and the veggies to lose their crunchiness.
To make your preparation process easier, you can chop the vegetables and herbs ahead of time. And when you're ready to serve, simply mix in the spices and lemon juice.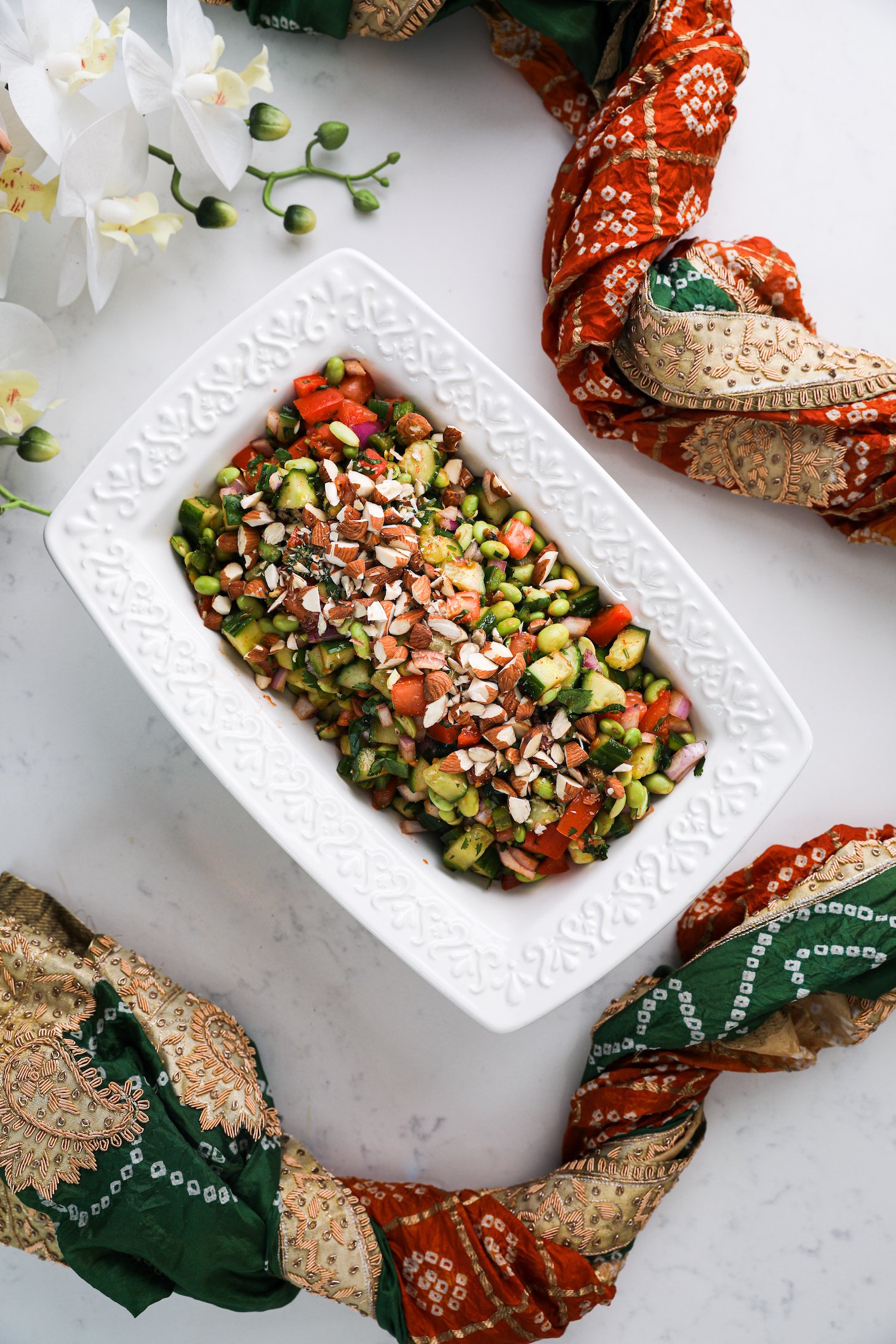 I hope this kachumber salad recipe adds a refreshingly delightful note to your meal planning. Enjoy!
Desi~liciously Yours,
Shahzadi
If you give this Indian salad recipe a go, let me know what you think. Reviews and feedback are always welcome! Show off your Katchumber creations on Instagram or Facebook by tagging #desilicousrd – I can't wait to see what you come up with!
Print
High Protein Kachumber Salad

Introducing a new spin on the classic Indian salad – high protein kachumber! This hearty version of kachumber salad is made with edamame, a medley of veggies, combined with spices, and almonds for staying power. So if you're on the hunt for diabetic salad recipes that are also heart smart, this one will surely satisfy.

Ingredients

2

cup

edamame

shelled, frozen, boiled

1

cucumber

large, diced into small pieces

1

tomato

large, diced into small pieces

½

red onion

medium, finely chopped

1

jalapeno

large, finely chopped

¼

cup

mint

leaves only, finely chopped

½

cup

cilantro

leaves and stems, finely chopped

1½

tsp

Kashmiri red chilli

powder

2

tsp

cumin powder

½

tsp

salt

sea salt

1

lemon

juice, small, fresh

¼

cup

almonds

plain, unsalted, roughly chopped

Instructions

Cook frozen edamame as per packet instructions and cool completely before assembling the salad.

Meanwhile, cube the cucumber and tomato into bite-sized pieces, and finely chop the onion, jalapeno pepper and herbs. For texture contrast, roughly chop the almonds.

Combine cooled edamame, diced cucumber, chopped onion, tomato, jalapeno, cilantro and mint in a large bowl.

Add Kashmiri chilli powder, cumin powder, lemon juice, and salt and mix gently until all the ingredients are combined.

Toss almonds for garnish and serve immediately. Enjoy!

Video

https://youtu.be/AEVhg_1VLcgVideo can't be loaded because JavaScript is disabled: High Protein Kachumber Salad (https://youtu.be/AEVhg_1VLcg)

Notes

Best ingredients for salads

When it comes to crafting nutritious salads, the possibilities are endless! I suggest assembling a medley of ingredients for both flavourful and textural appeal. For example:

Greens, like kale, spinach and lettuce
Fibre-rich wholegrains such as quinoa, farro and couscous
Fruits and vegetables like apples, berries, peppers and cucumbers
Vegetables such as tomatoes, cucumbers and onions
Proteins like chickpeas, kidney beans and tofu
Healthy fats like avocados, nuts or seeds
Herbs and spices

Food safe storage

You can make the most out of your meal prep and store this delicious kachumber salad in an airtight container or mason jar for up to two days. If you really want to get the most out of this recipe, though, it's best served fresh since letting it sit for too long causes the juices to be released and the veggies to lose their crunchiness.

To make your preparation process easier, you can chop the vegetables and herbs ahead of time. And when you're ready to serve, simply mix in the spices and lemon juice.

Serving note

This salad makes a delectable main course for two or serves three to four people when served as an accompaniment.

Nutrition

Calories:

354

kcal

|

Carbohydrates:

39

g

|

Protein:

21

g

|

Fat:

15

g

|

Saturated Fat:

1

g

|

Polyunsaturated Fat:

2

g

|

Monounsaturated Fat:

6

g

|

Trans Fat:

0.01

g

|

Sodium:

597

mg

|

Potassium:

1370

mg

|

Fiber:

13

g

|

Sugar:

11

g

|

Vitamin A:

1243

IU

|

Vitamin C:

55

mg

|

Calcium:

254

mg

|

Iron:

7

mg
The post High Protein Kachumber Salad appeared first on Shahzadi Devje, Desi~licious RD.