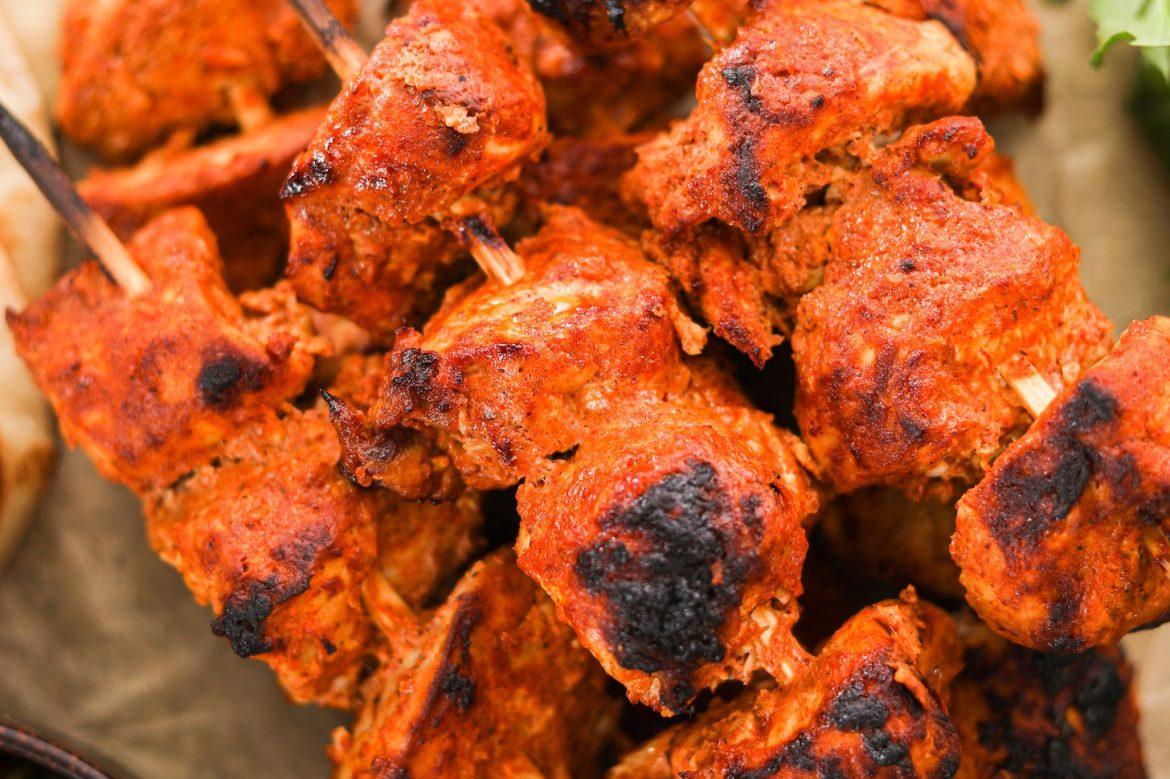 Boneless Tandoori Chicken Tikka (Restaurant Quality!)
If you're looking for a delicious healthy feast that rivals restaurant quality, look no further than this tandoori chicken tikka. Made with lean chicken breast, yogurt, spices, and grilled to perfection, these chicken skewers are succulent and bursting with flavour. Plus, with its high-protein content, this Indian recipe is a nourishing choice for those managing diabetes.
"The best ever chicken tikka recipe I have ever eaten and made. It was truly divine, succulent and awesome. A must-have Indian cuisine recipe." ~ Bree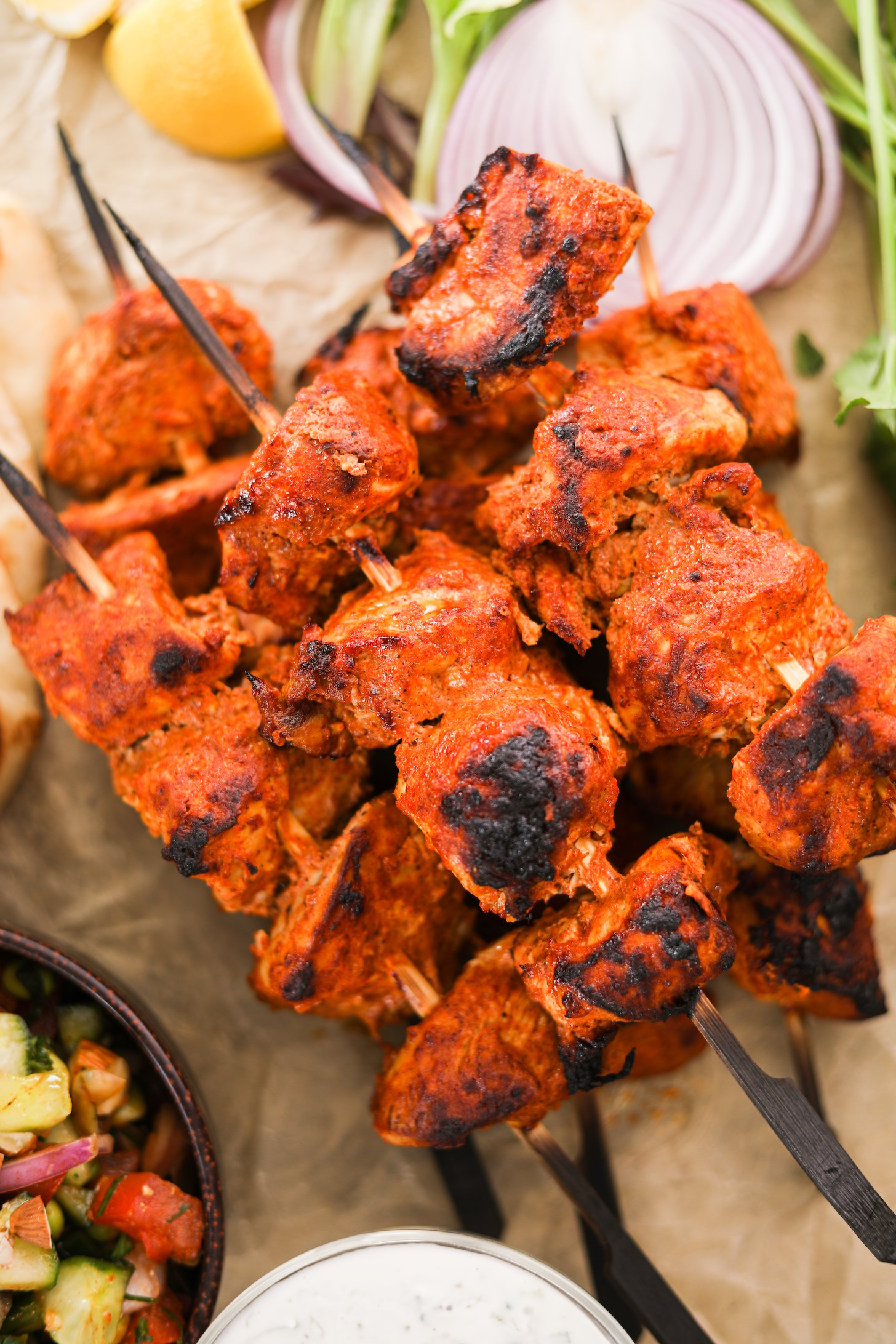 If I had my way, I would devour this lip-smacking chicken tikka kebab every night! Paired with a side of chaat salad with corn, paratha, or cucumber raita makes for a truly authentic experience. Plus, dietitian-recommended; it's such an easy and delicious way to enjoy an Indian-inspired meal.
Ramadan is a perfect time to savour this healthy chicken tikka — here's why!
As the holy month draws near, I am excitedly sharing some of my favourite Ramadan recipes on the blog. And this spicy tandoori chicken tikka recipe shows up on our list every year. Here's why I think you'll love it as much as my family does:
It uses less oil in the chicken tikka marinade — without sacrificing taste! And you don't feel bogged down and overstuffed.
It's an excellent high-protein nourishing option to help keep you full for longer.
Its lower calorie content allows room to delight in other flavorful side dishes and sweet recipes.
It's bursting with the natural goodness of spices — without any artificial colours.
You can craft nutrient-rich balanced meals with ease because of its versatility.
Thanks to the oven doing most of the work, it's such an easy tandoori chicken recipe!
What is tikka made of?
There are various chicken tikka recipes, but tandoori tikka is somewhat of a classic. Cubes of chicken are marinated in a luscious combo of yogurt, lemon and an array of Indian spices. Then, skewers of chicken are grilled in an oven or tandoor for a mouthwatering charred flavour.
This particular recipe of tandoori tikka kebab is made of the following ingredients: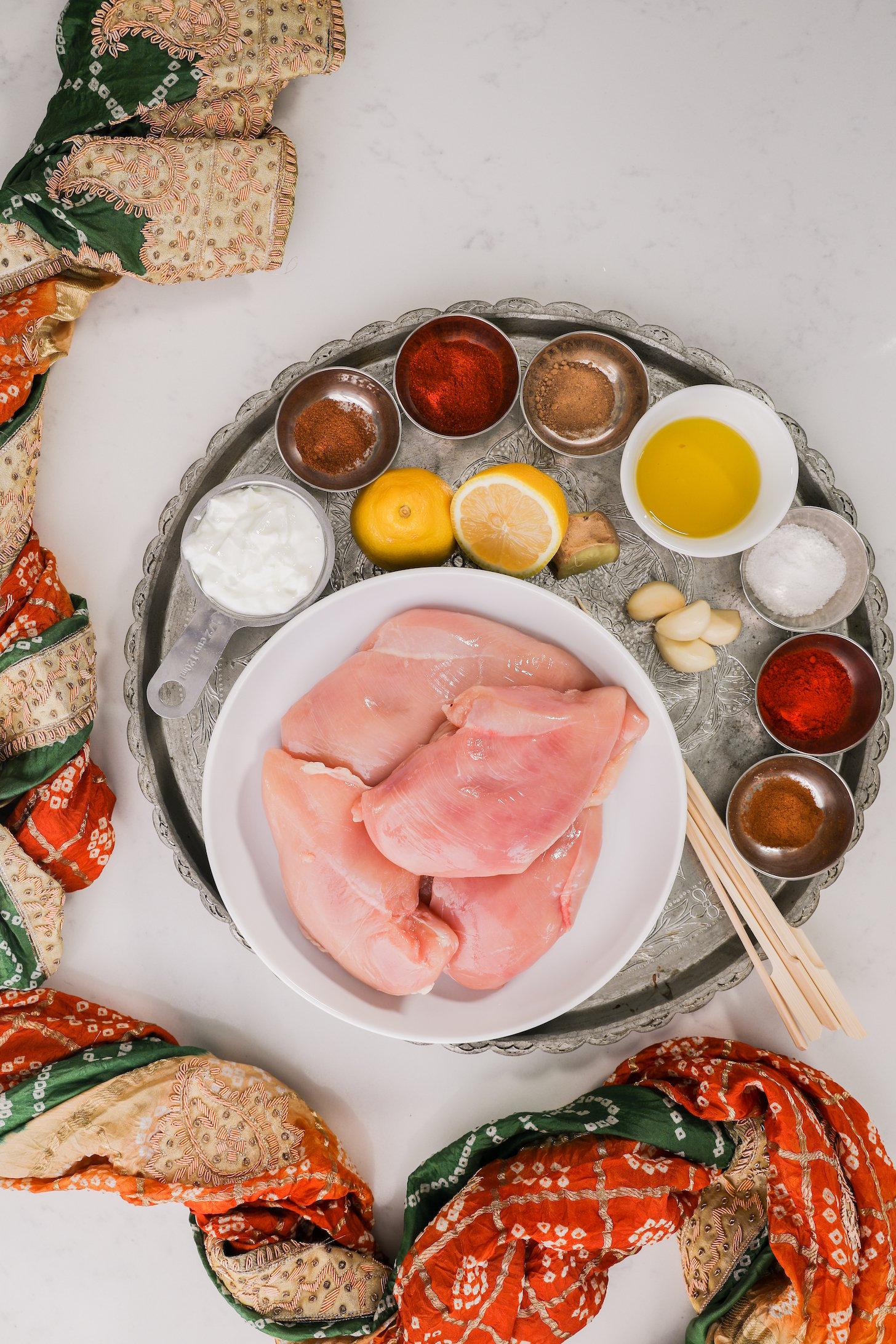 Skinless chicken breasts
Greek yogurt
A delicious blend of spices, including smoked paprika, Kashmiri red chilli, aniseed, cinnamon and mango powder
Aromatics like garlic and ginger
Lemon juice and salt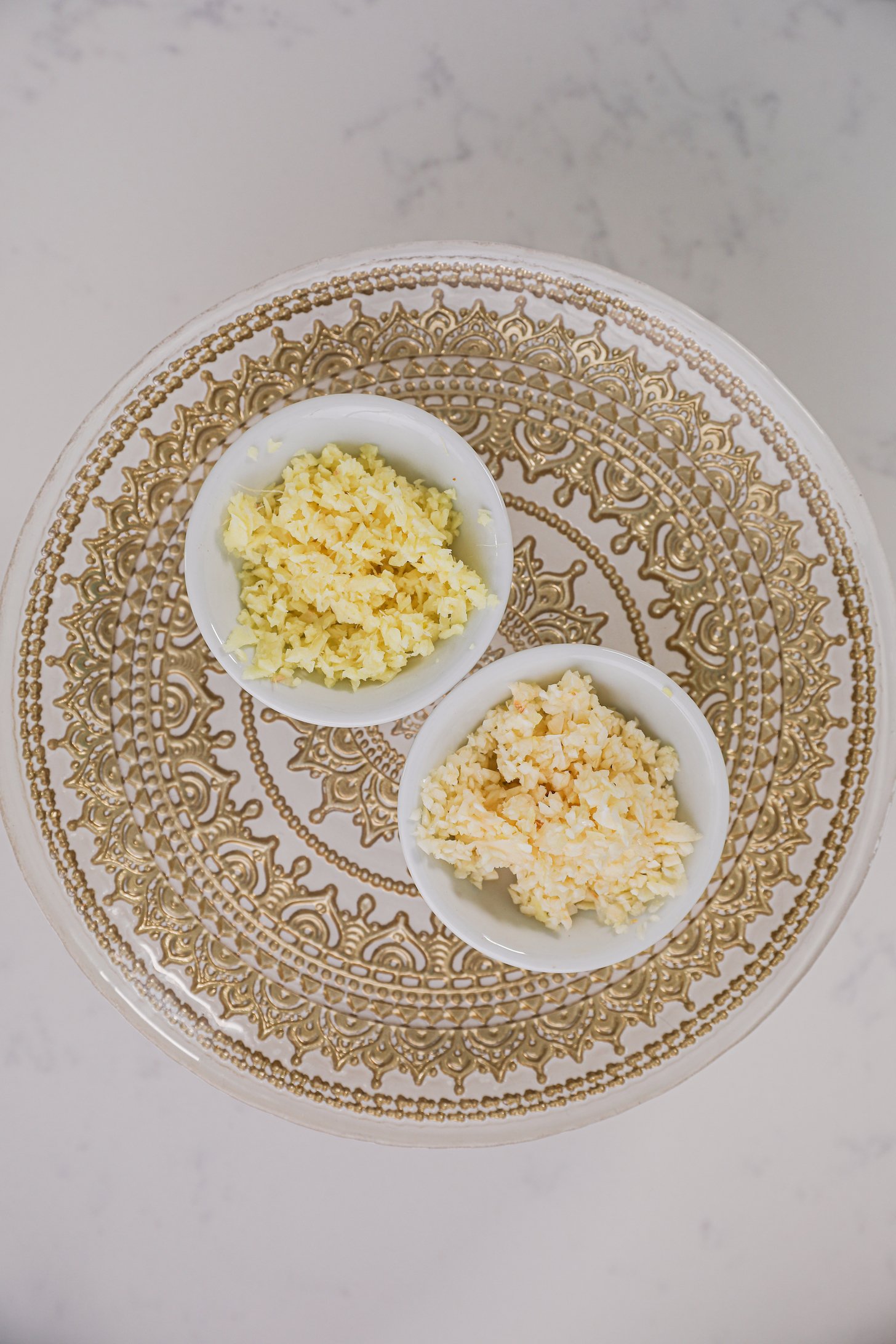 Follow this step-by-step guide to make tandoori chicken tikka in the oven.
The combination of aromatic Indian spices makes this recipe a hit every time. Here's how to make spicy tandoori chicken tikka kebab in the oven:
Prepare the marinade (tandoori masala)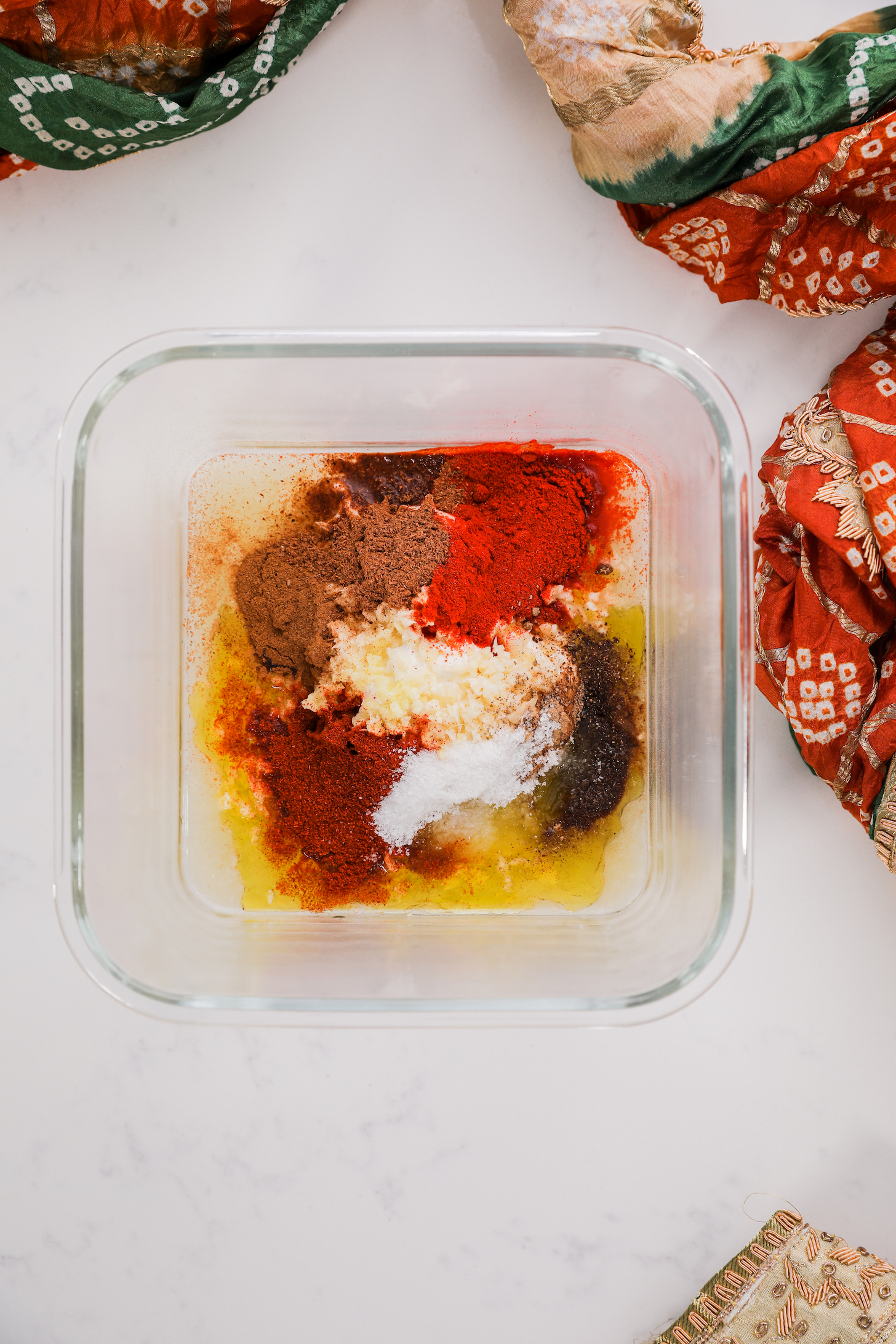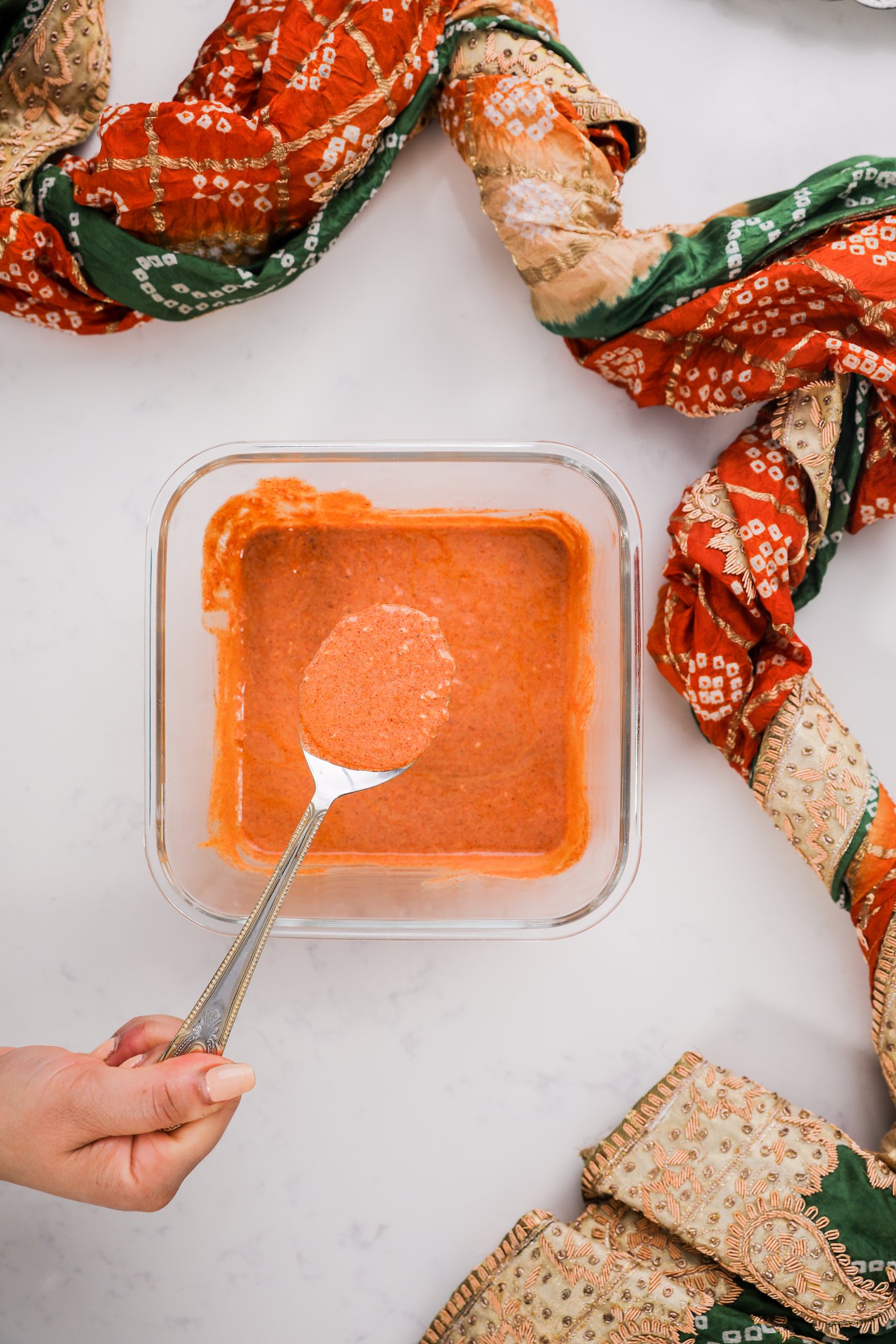 Cut the chicken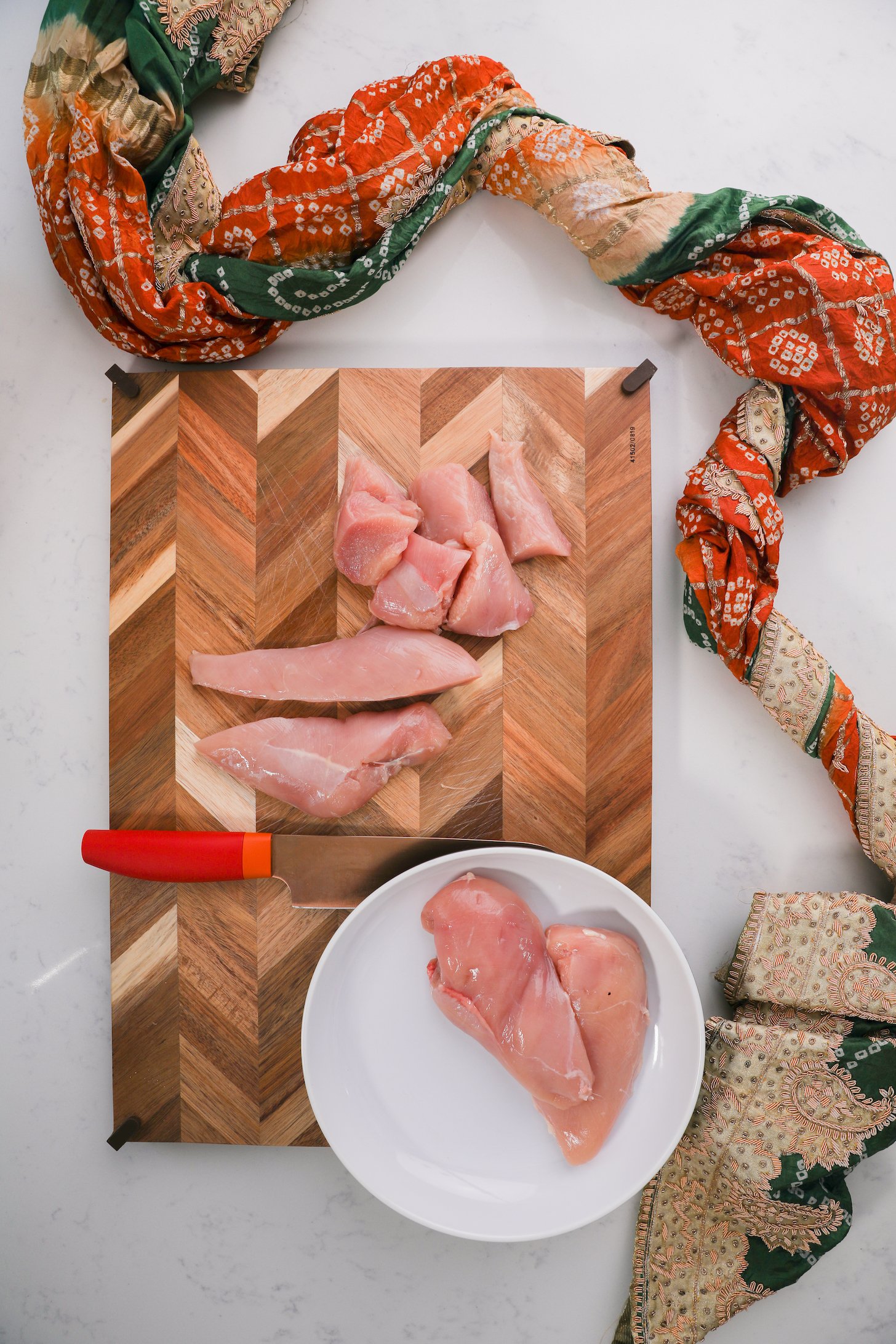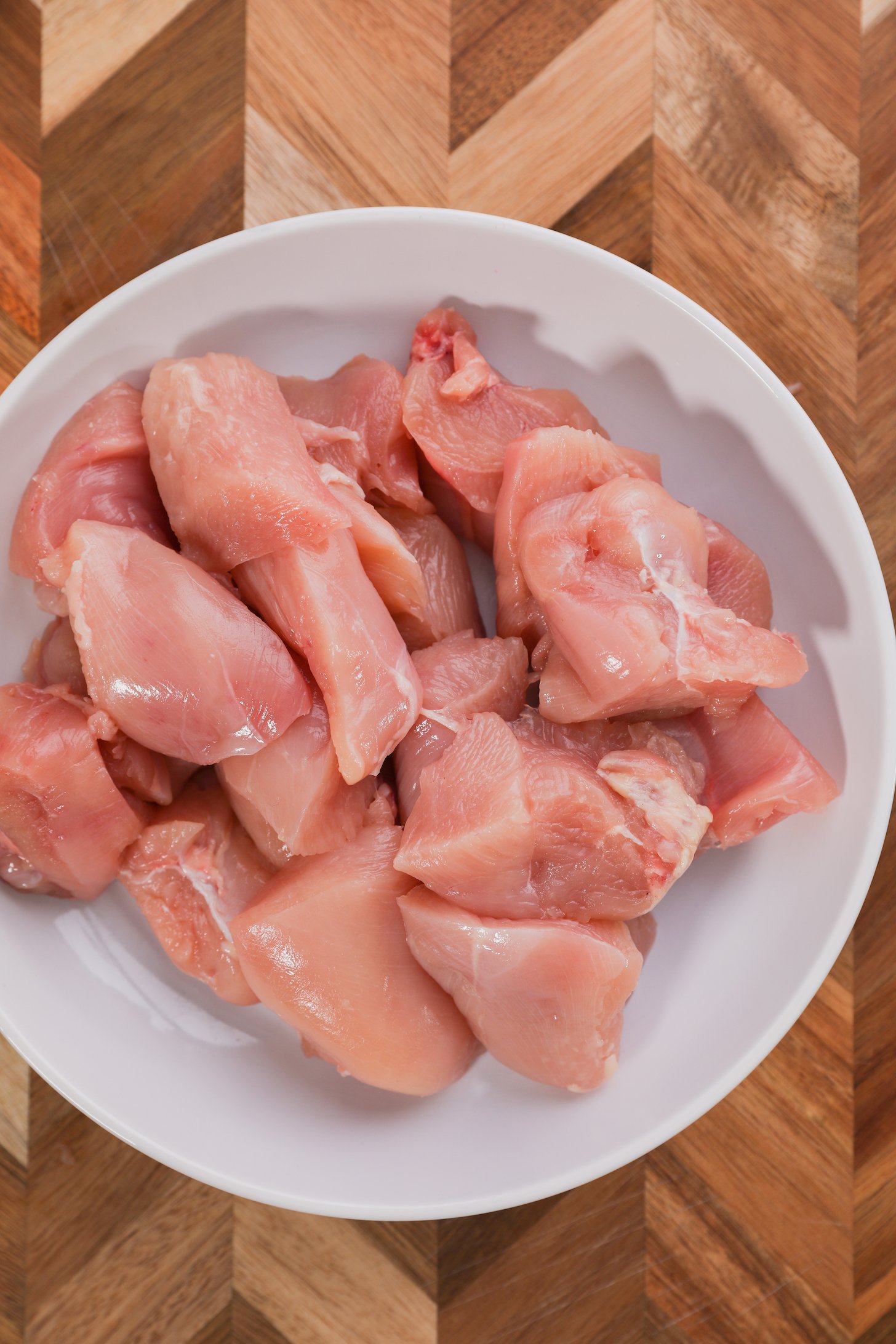 Marinate the chicken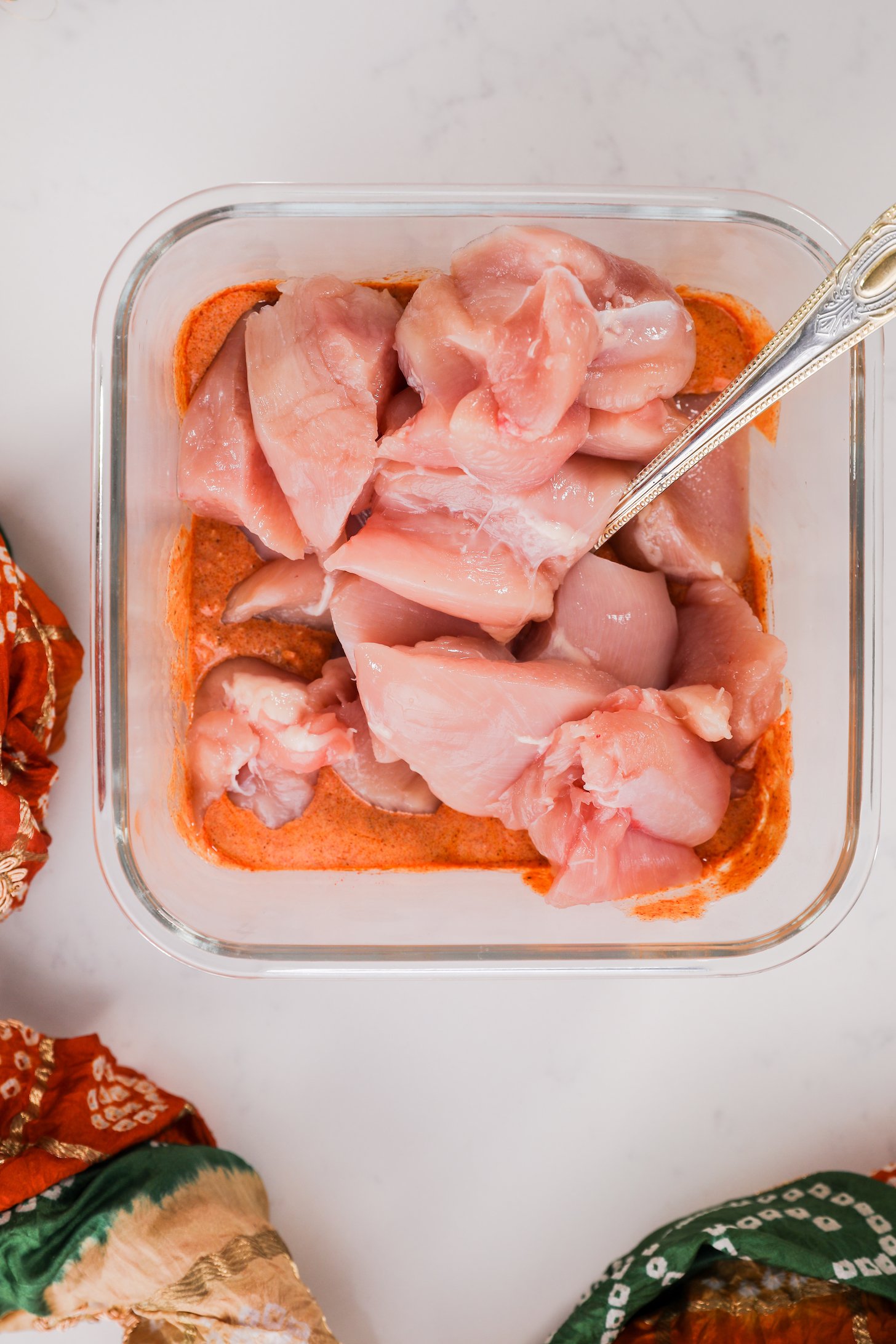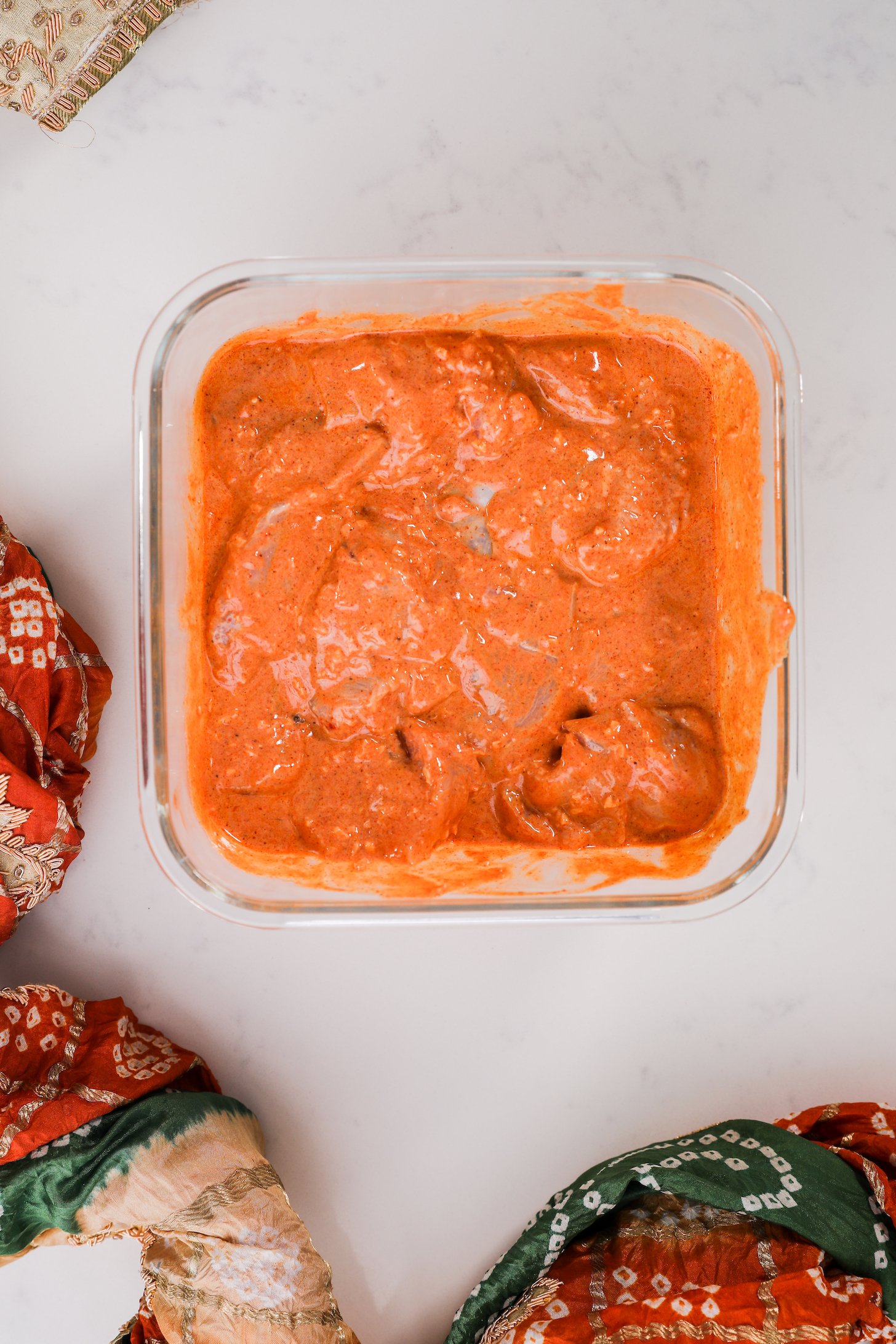 Prepare the skewers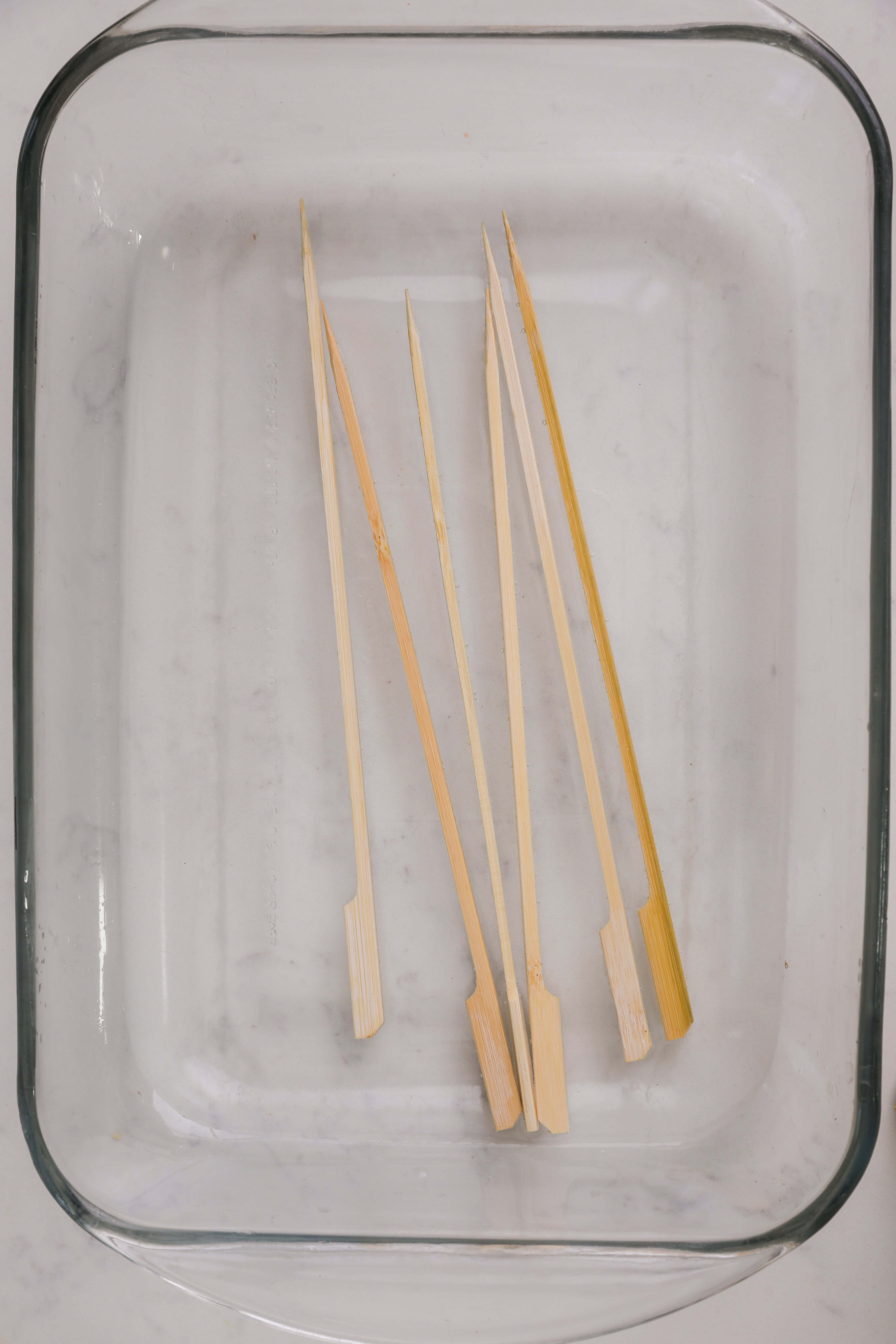 Thread the chicken onto skewers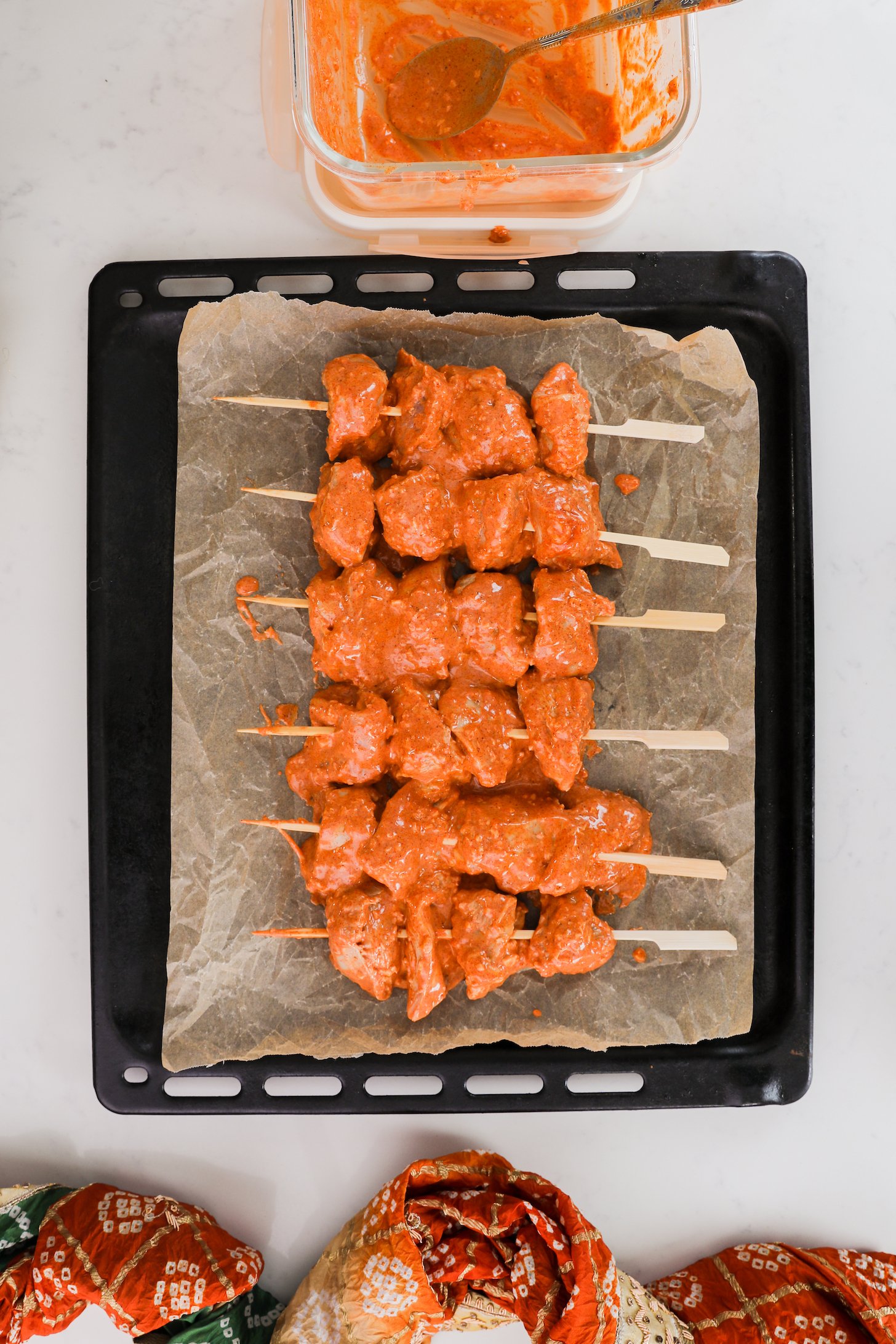 Grill the tikka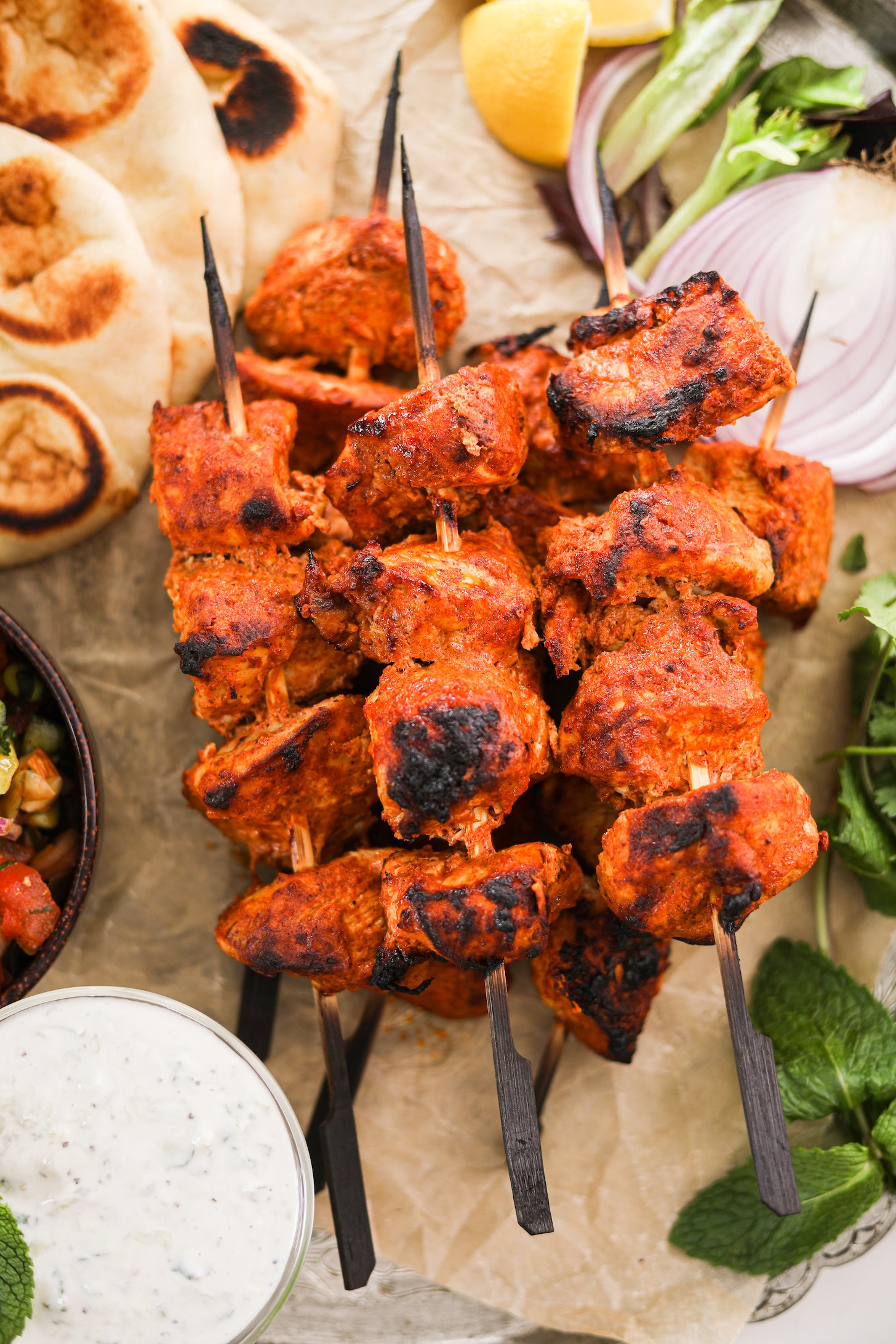 Grill your skewer for 10 minutes, then turn it over and grill the other side for another 10 minutes or until cooked through. Make sure to rotate the skewer so all sides are cooked and charred. The total cooking time is between 20-25 minutes.
Cooking method tips
All the ingredients in the marinade need time to work their magic and tenderize the chicken and give it heaps of flavour. Ideally, marinade for two days. Don't skip this step – it's worth the wait!
Place the chicken breast skewers in a large oven-proof tray. To ensure even cooking, leave enough space between the skewers when grilling.
Nutritious Ramadan Meal Plan
Predominantly plant-based dietitian-approved & taste-tested recipes
Grocery list to save you time, money, and fewer trips to the grocery store
Step-by-step prep guide to make the most of your time in the kitchen
Full nutritional information
BONUS: FREE Ebook with 20 Recipes to stay hydrated (worth $60)
The complete recipe with ingredient amounts can be found in the recipe card at the bottom of this post.
Food safe storage
Once your spicy tandoori chicken tikka is ready, let it cool, store it in an airtight container, and refrigerate for up to three days. For an epic tikka experience, savour it right out of the oven while still warm, juicy and spicy! Because reheating leftovers can result in dry chicken breast.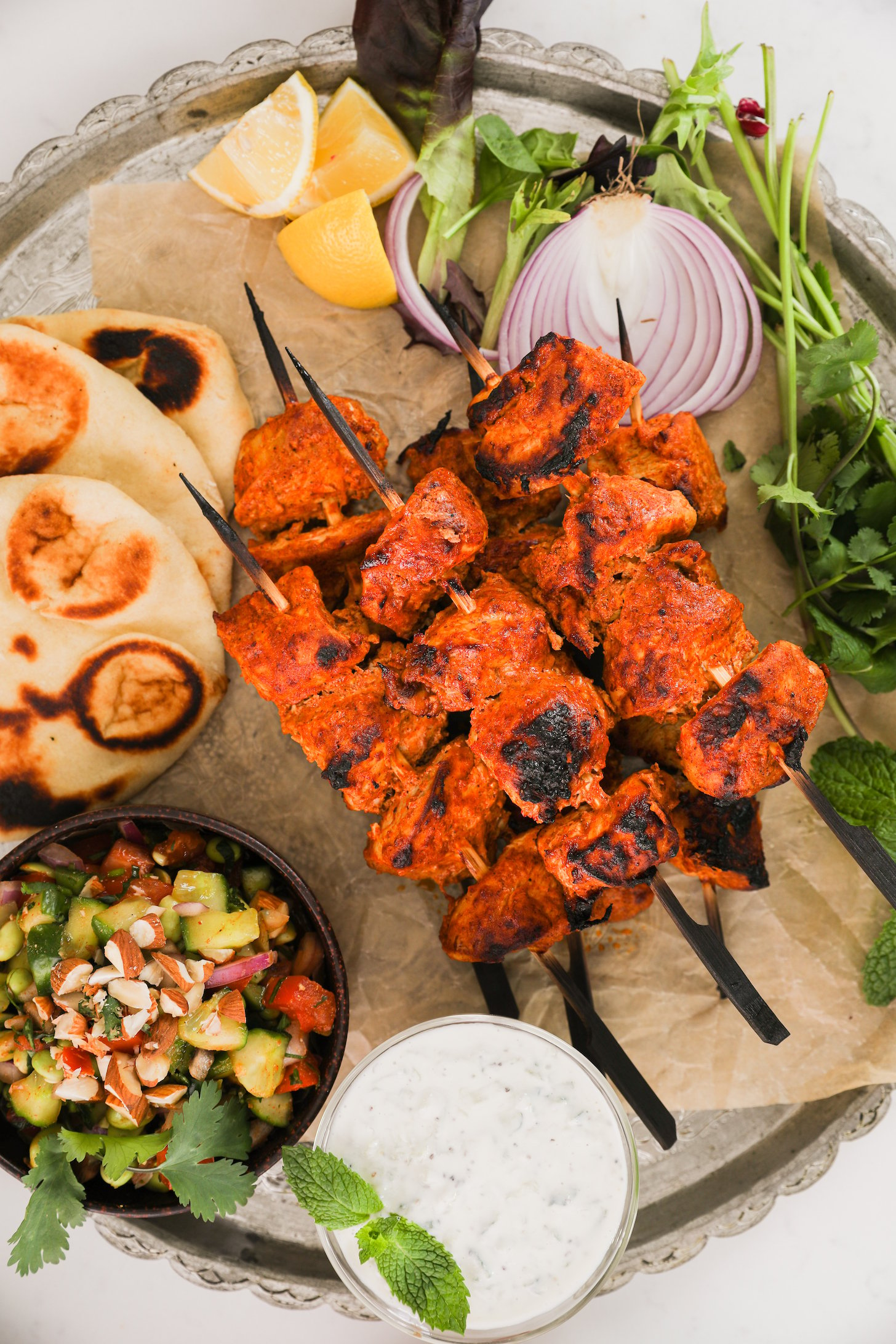 You asked: What is the difference between tandoori and chicken tikka?
Although both are spicy grilled chicken dishes, there is a subtle difference between tandoori and tikka. Tandoori chicken typically uses red food colouring for its signature vibrant orange-red hue. And it's marinated in an acidic yogurt mixture and spices, then cooked in a traditional clay oven called a tandoor. Nonetheless, nowadays, creating delicious homemade versions is made easier with the help of an oven.
As well, tandoori chicken recipes use larger cuts of chicken, such as legs and thighs.
Similarly, chicken tikka is marinated with a spicy yogurt mixture and is grilled in an oven or over charcoal. Its flavour is rich and smoky, without the addition of any artificial food dyes. Plus, tikka is traditionally made with cubes of marinated boneless chicken, which are then skewered and grilled.
Desi~liciously Yours,
Shahzadi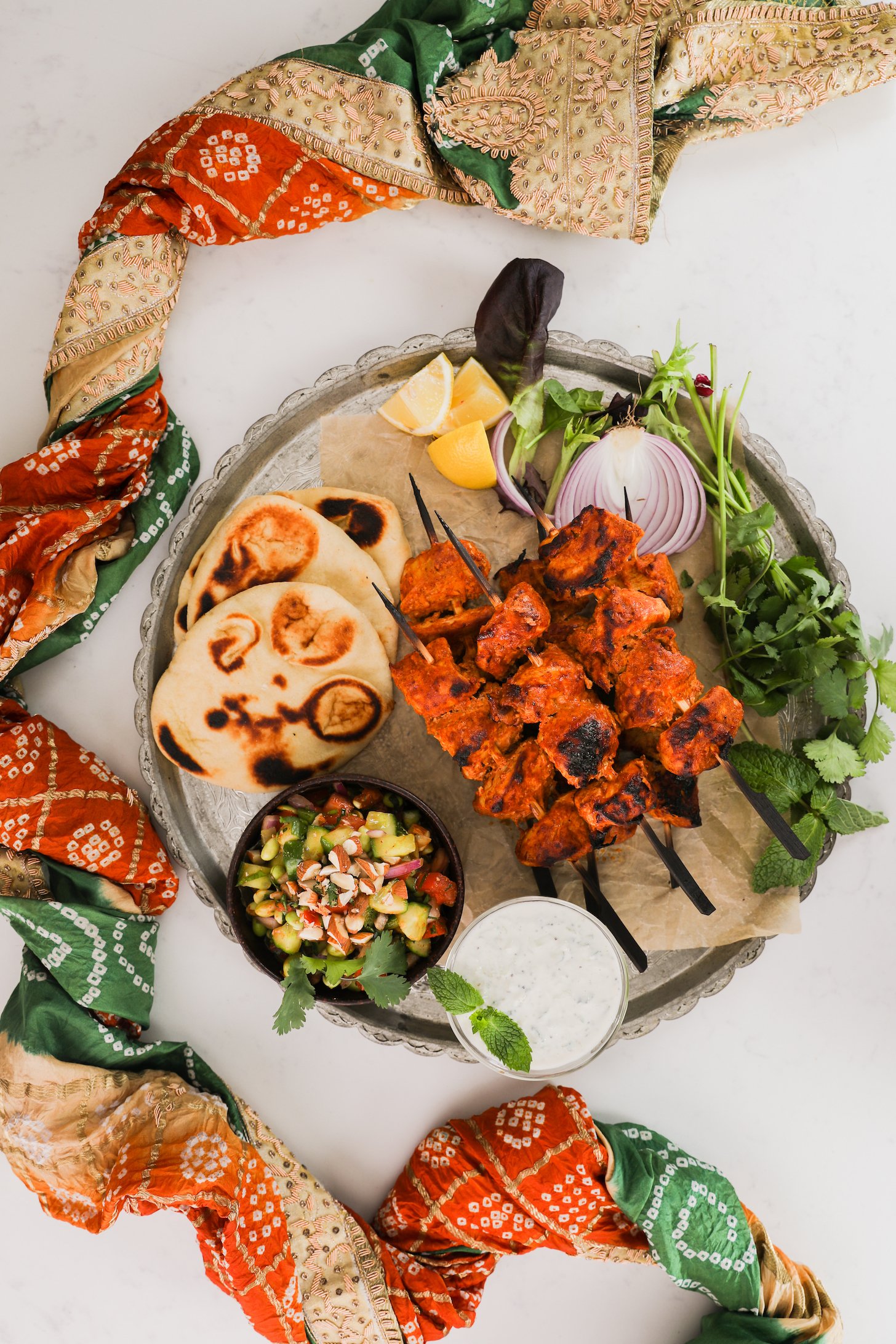 If you give this tandoori chicken tikka recipe a try, be sure to share your spicy experience with me. Drop a comment below and let me know how it went. And don't forget to tag me on Instagram and Facebook because I absolutely love seeing my recipes come to life in your kitchen.
Print
Boneless Tandoori Chicken Tikka (Restaurant Quality!)

If you're looking for a delicious healthy feast that rivals restaurant quality, look no further than this tandoori chicken tikka. Made with lean chicken breast, yogurt, spices, and grilled to perfection, these chicken skewers are succulent and bursting with flavour. Plus, with its high-protein content, this Indian recipe is a nourishing choice for those managing diabetes.

Ingredients

½

cup

Greek yogurt

zero fat

1

lemon

fresh, juice only

2

tbsp

olive oil

extra virgin

4

cloves

garlic

fresh, large, finely chopped

2

inch

ginger

fresh, finely chopped

2

tsp

smoked paprika

2

tsp

kashmiri red chilli

powder, extra hot

1

tsp

mango powder

"amchur"

½

tsp

cinnamon powder

½

tsp

aniseed powder

2

tsp

salt

sea salt

900

g

chicken breast

4 extra large breasts, skinless, cut into 24 pieces

Instructions

Create a tandoori chicken tikka marinade by combining Greek yogurt, oil, garlic, ginger, lemon juice, salt and all the spices. Use a large sized container that has a secure lid to hold the chicken.

Cut the boneless chicken breast in half vertically, then slice horizontally twice. Each breast should yield 6 large pieces – a total of 24 pieces.

Toss the chicken pieces into the marinade, ensuring they are evenly coated. Cover and refrigerate for two days.

Soak six thick wooden skewers in water for at least one hour to avoid burning when you grill the chicken tikka.

Thread each piece of chicken onto a skewer, piercing it through the middle to ensure even cooking.

Preheat your oven to the broil setting, and carefully place the chicken breast skewers in an oven-proof tray. Be sure that you leave ample room between each skewer.

Place the tray in the oven and position it on the shelf above the middle. Grill your skewers for 10 minutes, flip them and cook the other side for an additional 10 minutes or until cooked through. As you turn the skewers, make sure to rotate each piece so all sides are cooked through with some char. Total grilling time is between 20-25 minutes.

Video

https://youtu.be/09dUgks5xagVideo can't be loaded because JavaScript is disabled: Boneless Tandoori Chicken Tikka (https://youtu.be/09dUgks5xag)

Notes

Cooking method tips

All the ingredients in the marinade need time to work their magic and tenderize the chicken and give it heaps of flavour! Ideally, marinade for two days. Don't skip this step – it's worth the wait!
Place the chicken breast skewers in a large oven-proof tray. To ensure even cooking, leave enough space between the skewers when grilling.

Food safe storage

Once your spicy tandoori chicken tikka is ready, let it cool, store it in an airtight container, and refrigerate for up to three days. For an epic tikka experience, savour it right out of the oven while still warm, juicy and spicy! Because reheating leftovers can result in dry chicken breast.

Nutrition

Calories:

238

kcal

|

Carbohydrates:

5

g

|

Protein:

34

g

|

Fat:

9

g

|

Saturated Fat:

2

g

|

Polyunsaturated Fat:

1

g

|

Monounsaturated Fat:

5

g

|

Trans Fat:

0.02

g

|

Cholesterol:

96

mg

|

Sodium:

958

mg

|

Potassium:

641

mg

|

Fiber:

1

g

|

Sugar:

1

g

|

Vitamin A:

378

IU

|

Vitamin C:

12

mg

|

Calcium:

45

mg

|

Iron:

1

mg
The post Boneless Tandoori Chicken Tikka (Restaurant Quality!) appeared first on Shahzadi Devje, Desi~licious RD.