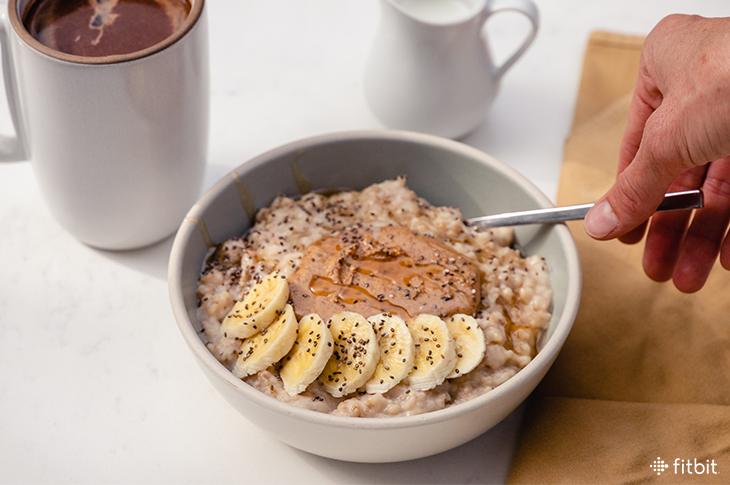 Healthy Recipe: Almond Butter and Honey Overnight Oats
Bulk-cooking is an important kitchen skill in successful meal planning. And make-ahead breakfasts are easy to incorporate and will save you a ton of time on a busy morning. What makes this recipe different from the hundreds of overnight oat recipes out there is the use of the slow cooker. When steel-cut oats are cooked low and slow over several hours, the result is a smooth silky porridge texture similar to a flan. This texture, combined with the richness of almond butter and honey, really puts this bowl of oats into a category all its own.
And as if the uniqueness of the dish wasn't tempting enough, the comforting feeling of waking up to the smell of cinnamon and a hot bowl of porridge waiting for you will put you over the edge. Once you fall in love, make it a double batch and reheat and eat all week.
INGREDIENTS:
1 cup whole milk
½ cup steel cut oatmeal
1 whole stick cinnamon
Pinch of salt
3 tablespoons almond butter
1 tablespoon honey
ALSO NEEDED:
Slow cooker or Instant Pot
A glass measuring cup, bowl, or jar large enough to hold four cups of liquid, and sit inside a slow cooker with the lid placed on top.
INSTRUCTIONS:
In a large glass measuring cup stir together 2 cups of water, milk, oatmeal, and salt. Place the cup into an empty slow cooker and then add enough water to the slow cooker so that it comes halfway up the outside of the measuring cup. Place the lid of the slow cooker on top, slightly ajar. Set the slow cooker to "low" and go to bed.
In the morning, stir the oatmeal to combine any clumps that may have formed at the bottom of the jar. Then stir in almond butter and honey. Serve the porridge hot and topped with your favorite fruit, nuts and milk.
Makes 4 servings.
NUTRITION FACTS (PER SERVING):
Calories 220
Protein 7 g
Total fat 10 g
Saturated fat 2 g
Cholesterol 5 mg
Carbs 27 g
Fiber 3 g
Total sugars 12 g
Added sugars 8 g
Sodium 220 mg
The post Healthy Recipe: Almond Butter and Honey Overnight Oats appeared first on Fitbit Blog.