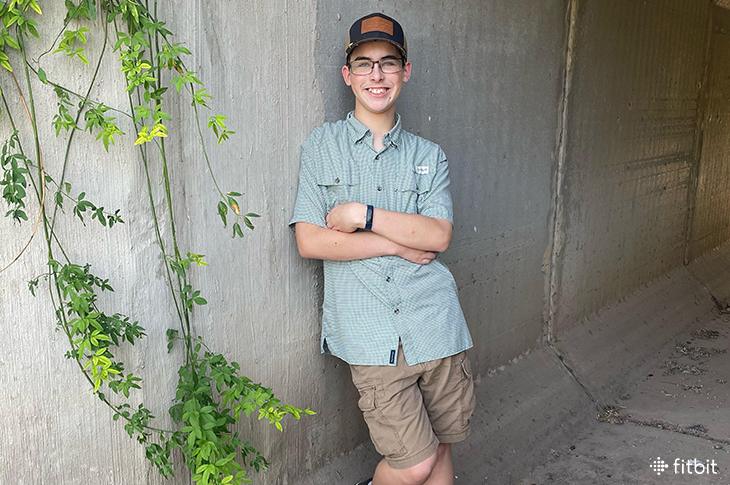 At 13, Johnathan Burt's Fitbit Alerted Him to a Serious Medical Condition
Both Johnathan Burt and his brother Ryan got Fitbit Inspire 2s as Christmas presents in 2020. Truth be told, his parents felt the device would probably be more useful for Ryan, who had just started high school and was running on the cross country team. He could use the watch to time his intervals. Johnathan, who was a couple of years younger at 13 years old, had never been as athletic as his older brother. He pursued more tranquil avocations like hunting and fishing in the farmlands and wilderness around their small town of Kyle, Texas. Perhaps, his stepmother Brianna thought, the trackers would inspire a little friendly competition and encourage Jonathan to be more active.
The gift did change Johnathan's life, but in a way that no one in the family could have predicted.
One day, the following spring, Johnathan and Ryan were playing video games on the family couch when they compared their heart rate readings on their trackers. The differences were surprising. Ryan's heart was in the low 70s, but Johnathan's was over 120 beats per minute. Why, they were curious, was there such a difference when they were both relaxing on the couch?
Johnathan's parents agreed the difference was worth tracking. Over the next few weeks, the brothers would compare their heart rates during the day. Time after time, Johnathan's heart was beating much faster than his brothers—sometimes fully twice the speed. Even while he was sleeping, his heart was racing.
Eventually, they made an appointment with the family pediatrician. After being convinced that the trackers were collecting accurate data, the pediatrician referred them to a cardiac clinic. Those doctors examined Johnathan's heart using an echocardiogram, a device that uses sound waves to create a picture of the heart and can reveal how well blood is moving from chamber to chamber. After analyzing the images, they had a possible answer for why Johnathan's heart was always working so hard. The doctors believed he had an Atrial Septal Defect, a small hole in his heart between the two upper chambers.
The doctors decided to use a catheter with a tiny camera at the tip to fix the problem. A few weeks later, Johnathan went in for the procedure. They inserted a long thin, flexible tube through a blood vessel in the groin and guided it to the heart. Once there, the plan was to place a small plug in the hole. Eventually, heart tissue would grow around the edges of the plug to seal the hole. Unfortunately, what the doctors saw when they fully inserted the catheter forced them to change their plans.
"What they discovered wasn't just one hole in Johnathan's heart but several, and they were larger than expected," remembers Brianna. "The doctors described part of his heart as being like Swiss cheese."
When Johnathan woke up from the procedure, they had to tell him the bad news. The fix for his condition would have to be open-heart surgery.
"It was a very stressful time," says Brianna. "Often the doctors wanted to talk just with us adults about what was going to happen and what the risks were. Johnathan was adamant from the beginning. He told us, 'I want to know what they are saying.' We had to keep our emotions in check because we didn't want to look scared in front of him. We wanted to stay positive."
The date was set in May of 2022, about a year after he had first noticed how different his heart rate was from his brother's. They had to open Johnathan's chest and, for over 40 minutes, put him on a cardiopulmonary bypass machine so they could stop his heart to fix the holes.
The morning after the surgery, the effect was already apparent. Johnathan's heart rate was already in a normal range. He spent five days in the hospital, and it took some weeks for the incision to heal and for Johnathan to fully recover. Johnathan's birth parents separated when he was young and he now belongs to a loving blended family with two sets of parents to help look after him.
"We included each other in every decision and try to give each other a lot of grace," says Brianna, who has been Johnathan's stepmother for nearly ten years. "That was important because we needed everyone on board and to have a positive space for Johnathan's healing."
Brianna believes that without his Fitbit, Johnathan would have remained unaware of his condition's seriousness. "This was likely a defect he had from birth," she says. "His heart function was just normal for him. It was something he had always experienced. I think that Fitbit saved his life by revealing how hard his heart was working."
It's been a few months since the surgery, and Johnathan's resting heart rate is often below 60 beats per minute. Now 15 years old, he is looking forward to starting High School in the fall. He wants to join the 4H club and ROTC. His dad is in law enforcement, and he's thinking that maybe combining his love of the outdoors with his dad's career. Perhaps he could become a park ranger or a game warden. But that's a long way off. For now, he's off to a weeklong summer camp on Lake Brownwood near Abilene, where he'll fish and ride horses and be a regular teenager enjoying a hot Texas summer.
The post At 13, Johnathan Burt's Fitbit Alerted Him to a Serious Medical Condition appeared first on Fitbit Blog.