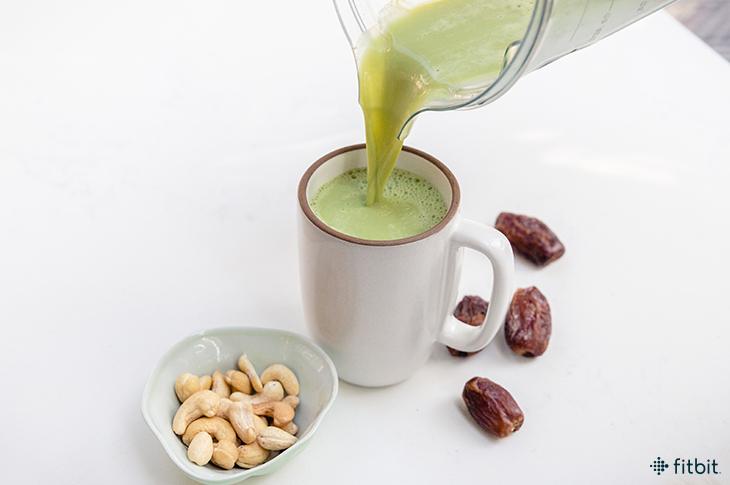 Healthy Recipe: Blended Matcha Latte with Cashews and Dates
Matcha green tea became popular in the 12th century when it was discovered by a Buddhist monk who reportedly liked the feeling of calm alertness it brought to his meditations. Today, it's become even more popularized, and is known in the nutrition community for being rich in l-theanine, caffeine, and a flavonoid called epigallocatechin gallate (EGCG), which may improve mood and concentration.
Making a matcha latte at home rather than buying it at a pricy coffee shop will save you money and give you control over your sweeteners. But what about the froth, you may ask? Not every cup of prepared matcha will have time for the ceremonial treatment, and a high speed blender will create a fantastic frothy drink in a flash.
The addition of raw cashews adds to the creaminess of this drink.
INGREDIENTS:
1 cup hot water
2 tablespoons light coconut milk
1/2 teaspoon matcha green tea powder
4 raw cashews
1 date, pit removed
INSTRUCTIONS:
Add the water to a kettle and bring to a boil. While the water heats up, add the coconut milk, cashews, date, and matcha powder to a high-speed blender.
Once the water is hot, carefully pour it into the blender along with other ingredients. Add the lid to the blender and make sure it is securely on with all vents closed.
Blend on low and then gradually increase until blending on high until cashews and dates are completely smooth and matcha is frothy—approximately 20 seconds. Immediately pour into a mug and enjoy.
Serves 1.
NUTRITION FACTS (PER SERVING):
Calories 130
Protein 2 g
Total fat 5 g
Saturated fat 2 g
Cholesterol 0 mg
Carbs 22 g
Fiber 2 g
Total sugars 17 g
Added sugars 0 g
Sodium 15 mg
The post Healthy Recipe: Blended Matcha Latte with Cashews and Dates appeared first on Fitbit Blog.