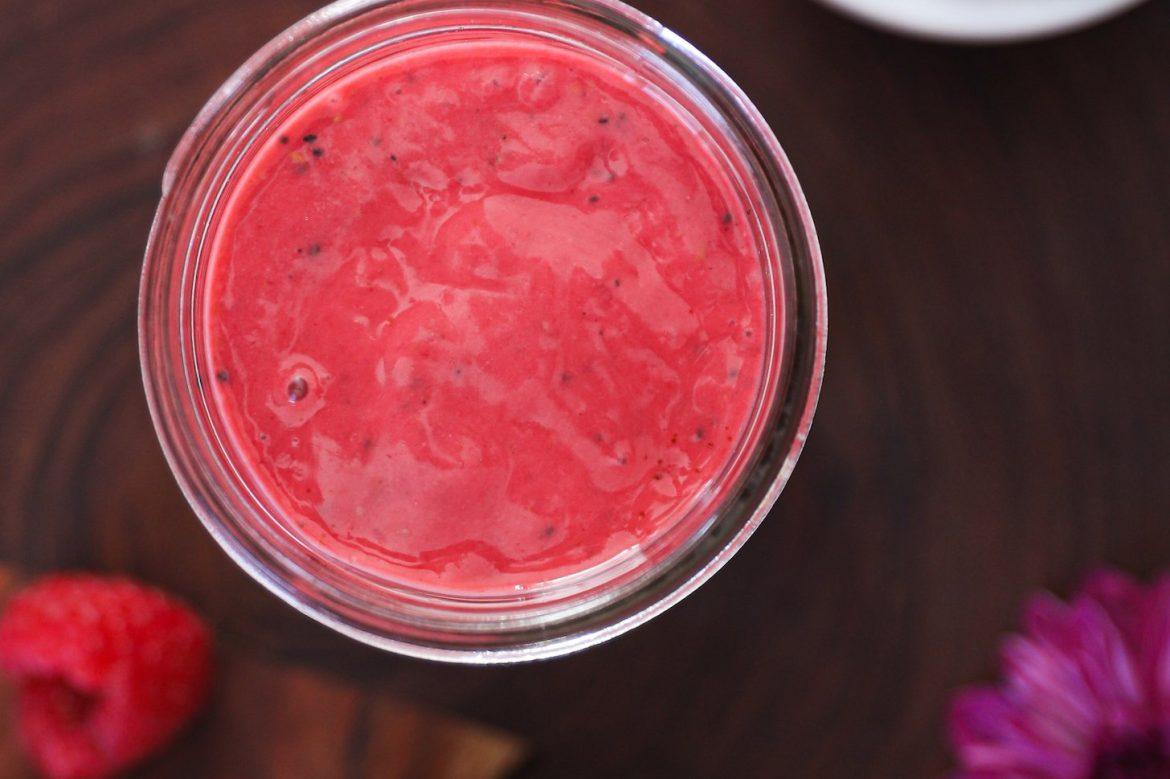 5-Minute Creamy Raspberry Dressing (No Vinegar)
Up-level your salads and greens by dressing them in this enchanting raspberry dressing! In just 5 minutes, you can whip up a delicious blend of fresh raspberries, vanilla, tart lemon, pepper and olive oil. This recipe is creamy, tangy, and sweet all at once — a flavour combo sure to tantalize your taste buds. Heart-healthy and suitable for both a vegan and diabetes-friendly diet.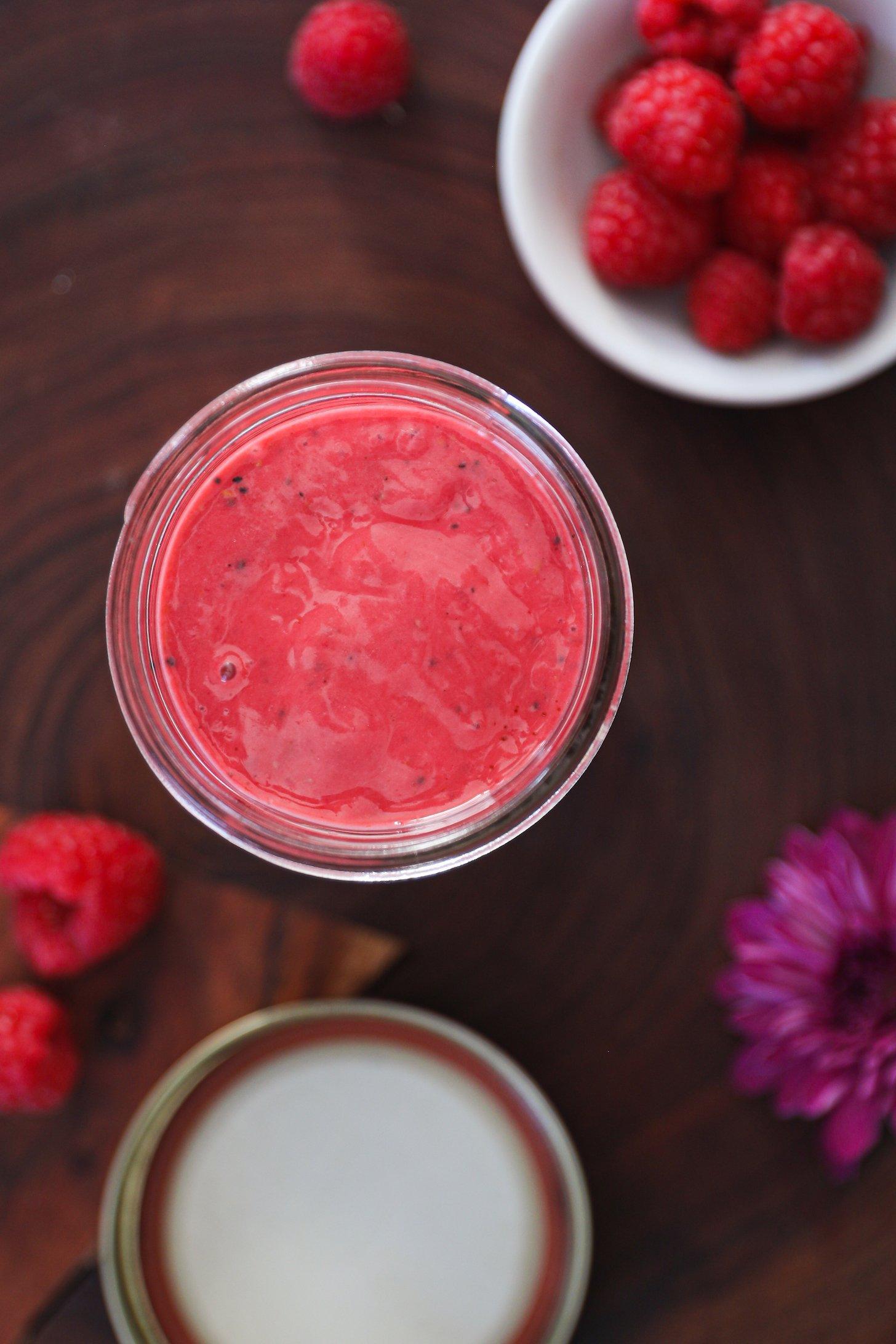 When I was studying to become a dietitian and diabetes diet educator, I learned many valuable nutrition facts, which I apply today when I develop recipes. The goal? To use health-promoting ingredients to create luxurious textures and add flavorful complexity.
Use this salad dressing to make nutritious salads.
In my view, salad dressings are a key element when crafting nutritious salads. Just imagine, for a minute, a pile of greens doused in this creamy raspberry dressing. Certainly, it adds a delightful touch of tang and sweetness.
Maybe, you're someone who's wary of bitter greens – no need to be!
Because of its versatility, I particularly love that you can savour this exquisite raspberry dressing for salads that include fruits, raw vegetables, and seafood, such as pan-fried basa fillets. In my opinion, it is equally effective as a raspberry sauce.
Pouring this over grilled vegetables, and serving them on a bed of lime cilantro quinoa is one of my favourite meals.
What is raspberry dressing made of?
Making a raspberry dressing at home requires only a handful of ingredients. Here are the details: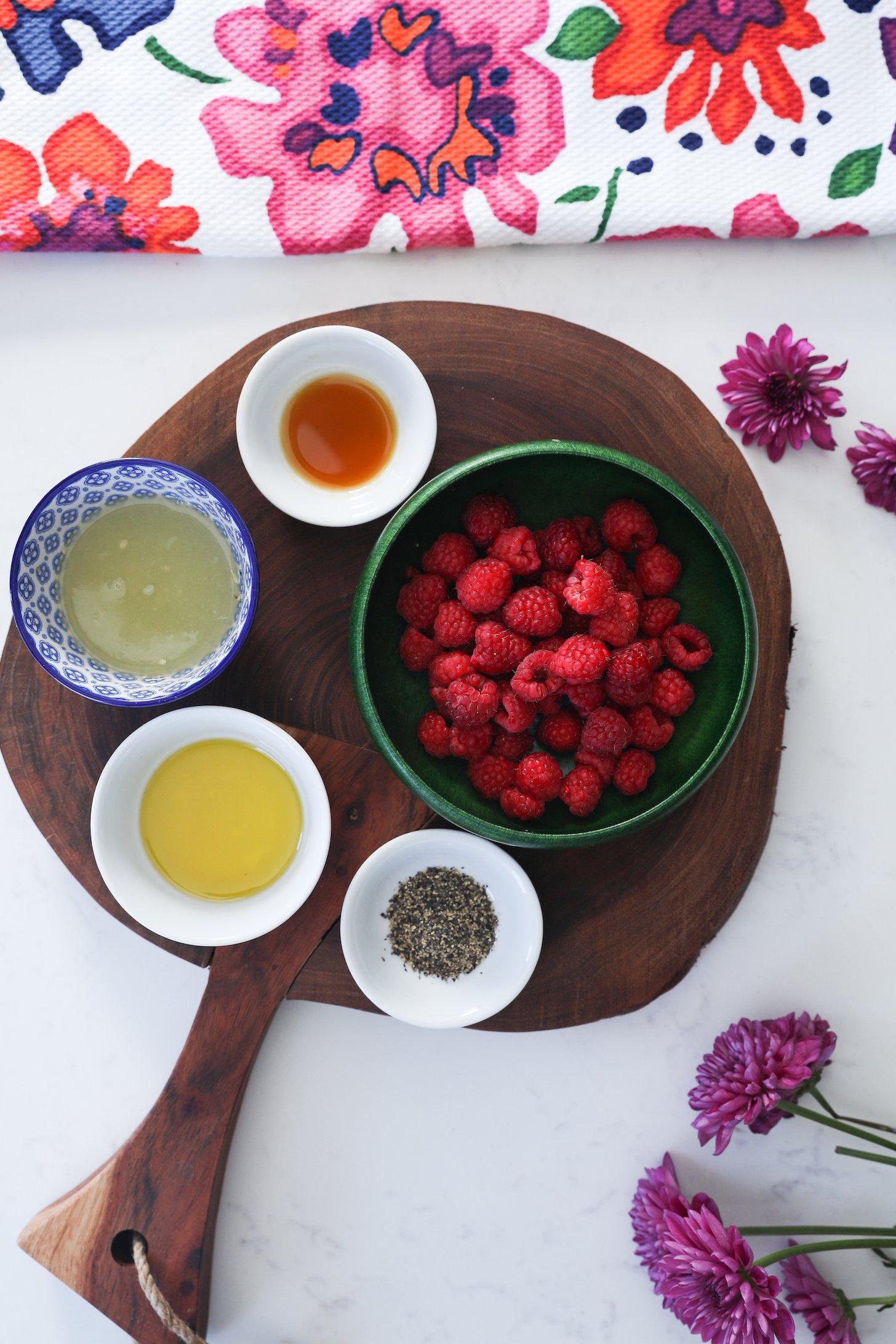 Fresh raspberries
Extra virgin olive oil
Freshly squeezed lemon juice
Pure vanilla extract
Black pepper
You do not need to add salt, as the combination of raspberries, vanilla, and pepper gives sufficient flavour.
How to make it
I typically whip this up on the spot using a compact blender. It's pretty effortless! Follow the step-by-step visual instructions below: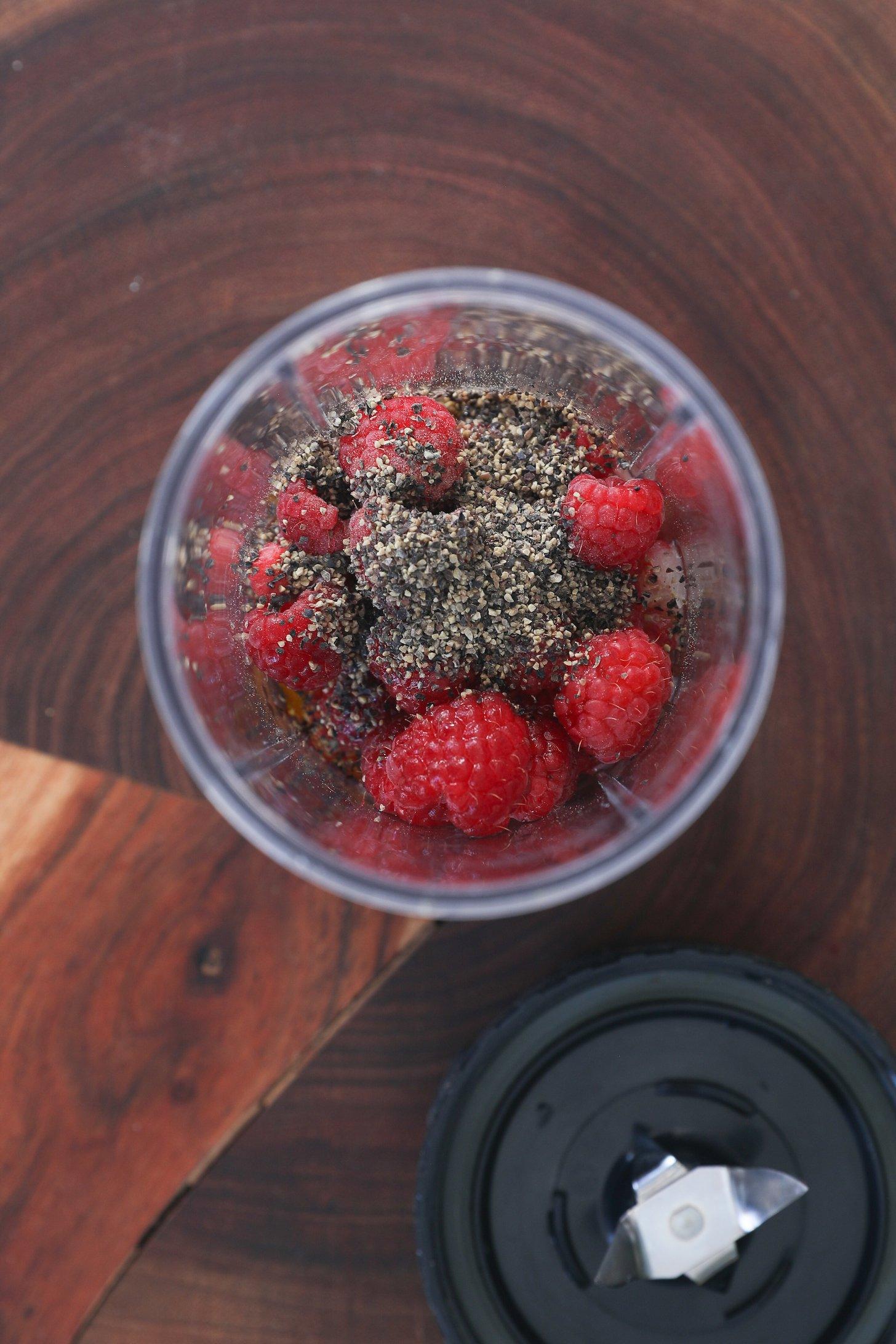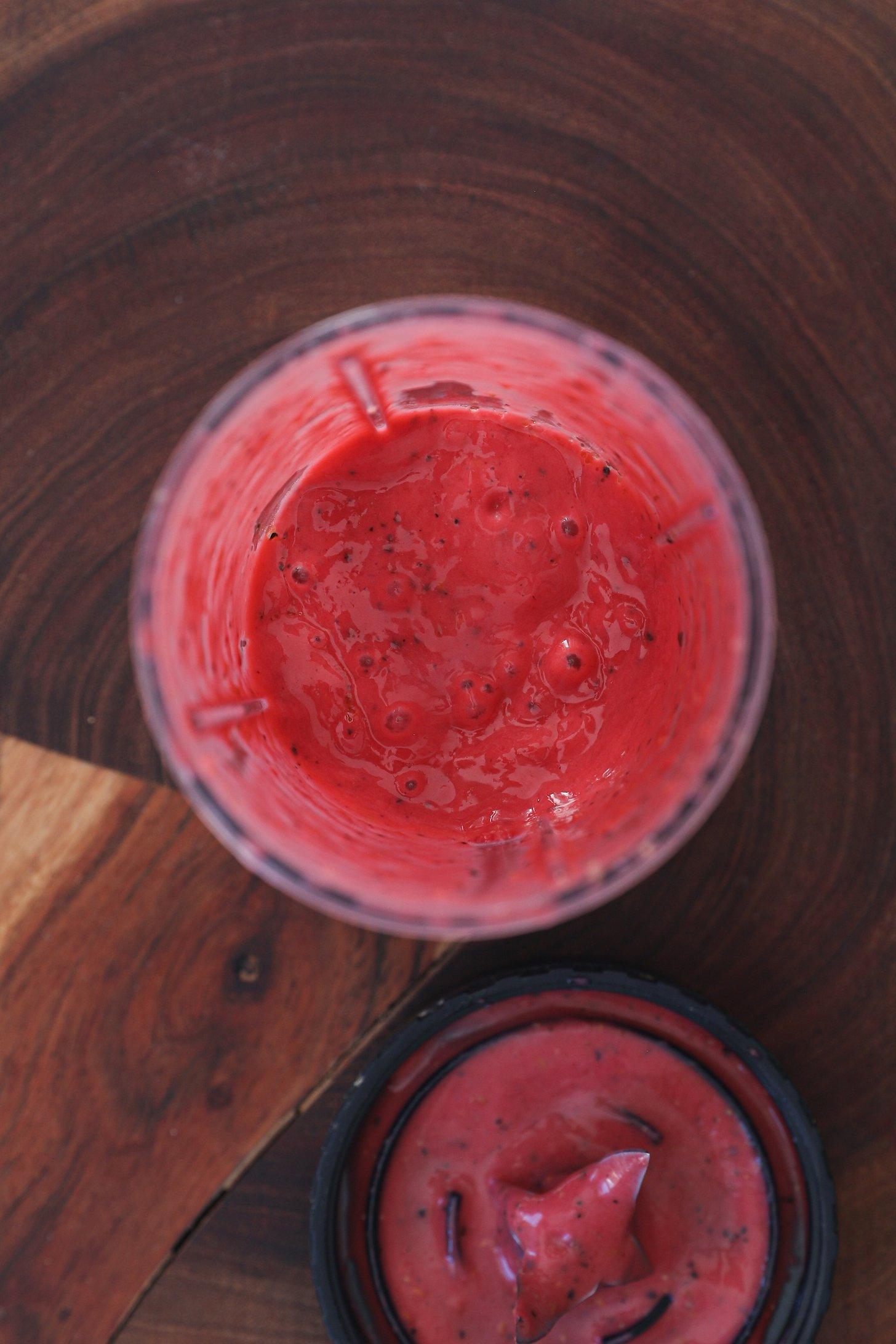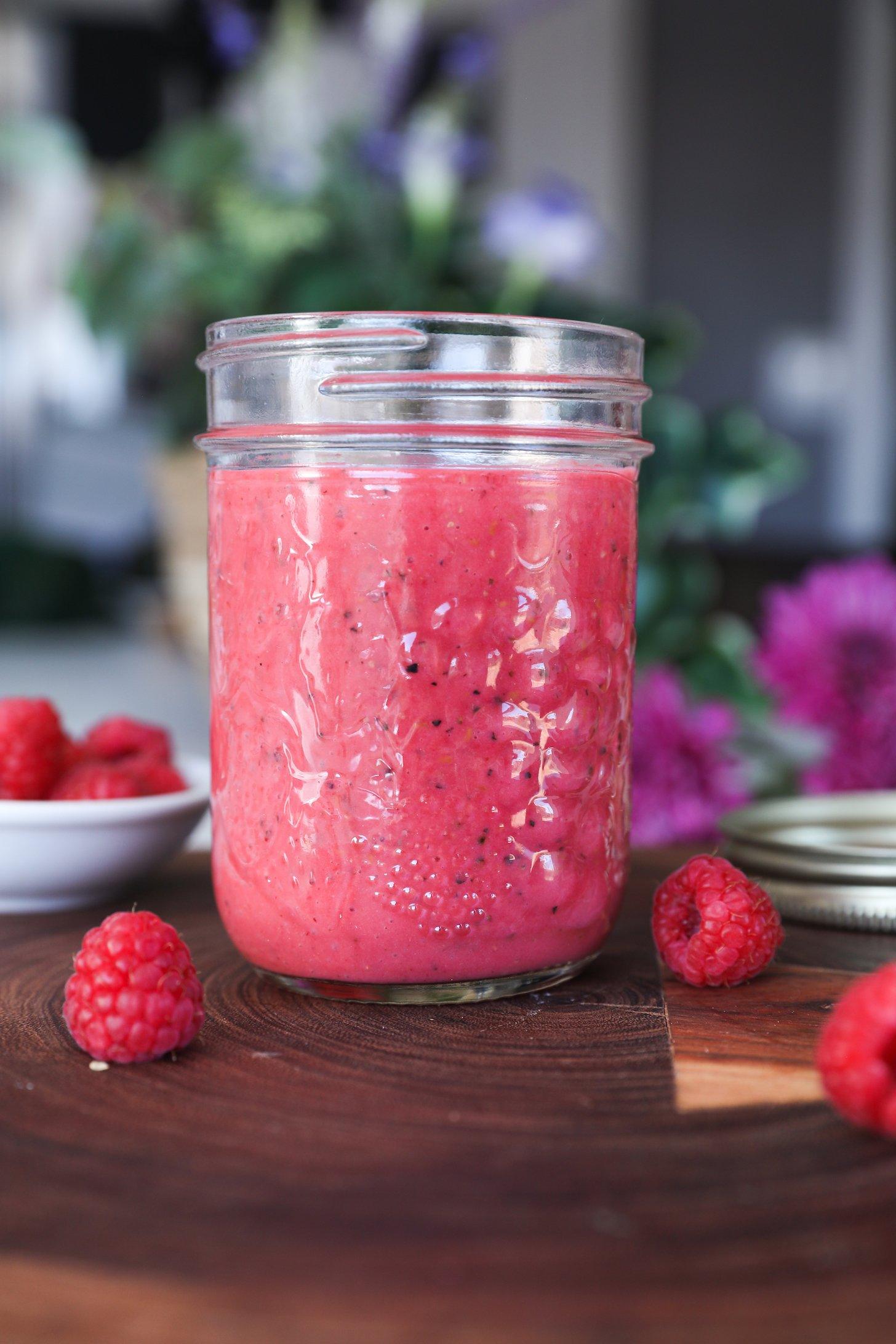 The complete recipe with ingredient amounts can be found in the recipe card at the bottom of this post.
Substitution do's
In place of raspberries, you could also use:
1 cup of blueberries
1 cup of blackberries
1 cup of strawberries
If you prefer your dressing to be tangier, add a teaspoon more lemon juice. And for an extra bit of sweetness, consider adding a teaspoon of honey or maple syrup.
Commonly ask questions (you asked:)
What is the difference between salad dressing and vinaigrette?
The ingredients that are used will determine the texture of the dressing. A salad dressing is usually thicker and creamier than a vinaigrette. Vinaigrettes generally consist of oil, vinegar, some sweetener, and seasonings, whereas dressings can include emulsifiers such as mayonnaise or yogurt to help create a thicker consistency.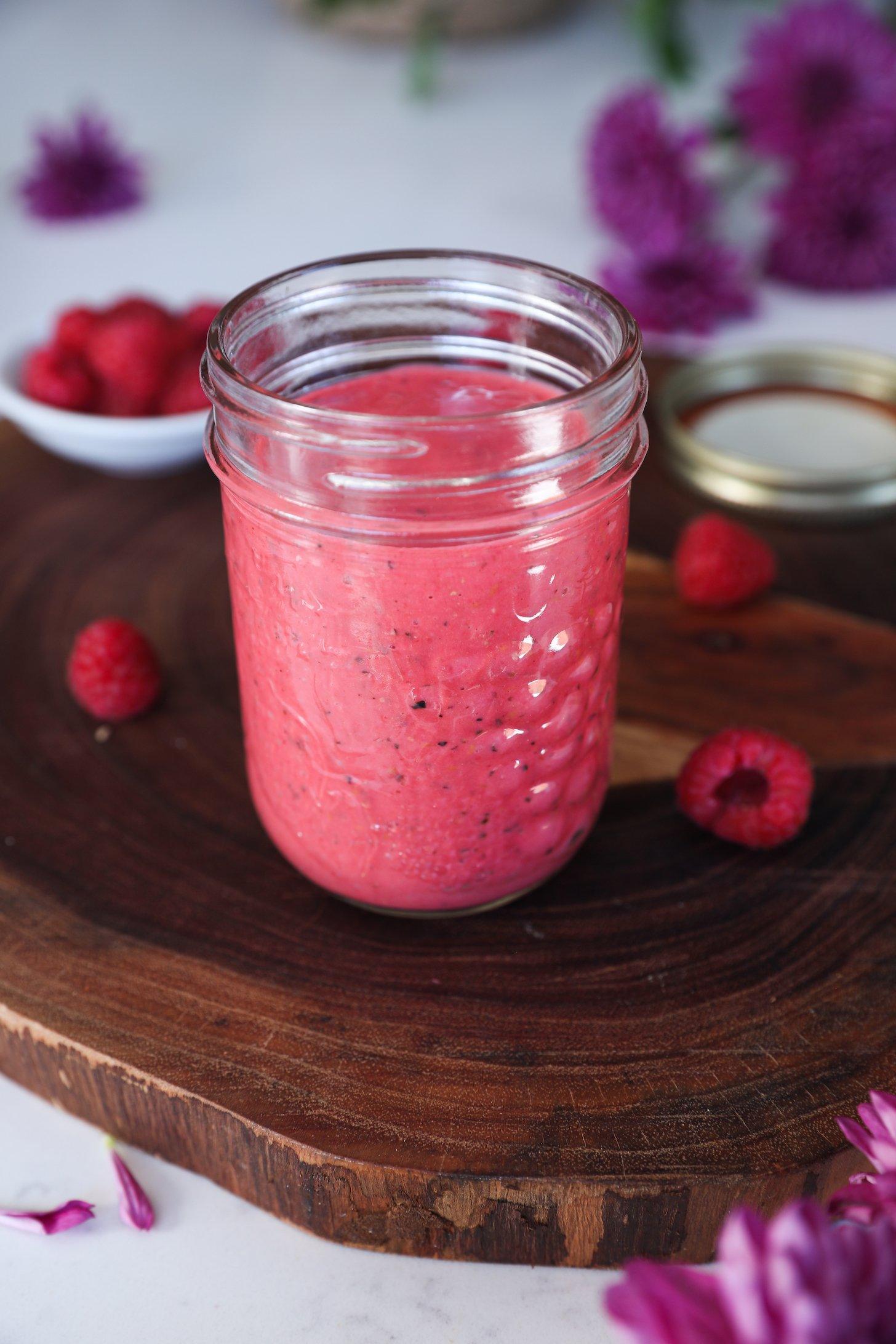 Is raspberry dressing healthy?
This recipe is brimming with nutrients and health-promoting ingredients, including:
Dietary fibre from raspberries supports blood sugar control for type 2 diabetes management.
Healthy fats from olive oil support heart health and reduce the risk of cardiovascular diseases.
Antioxidants from the raspberries quell inflammation and support cellular health.
Food safe storage
Once you have prepared the raspberry dressing, store it in an airtight container (like a mason jar) in the fridge for up to five days. The lemon juice will help keep the dressing from spoiling too quickly. If your dressing develops an off-smell or discolouration, you should discard it.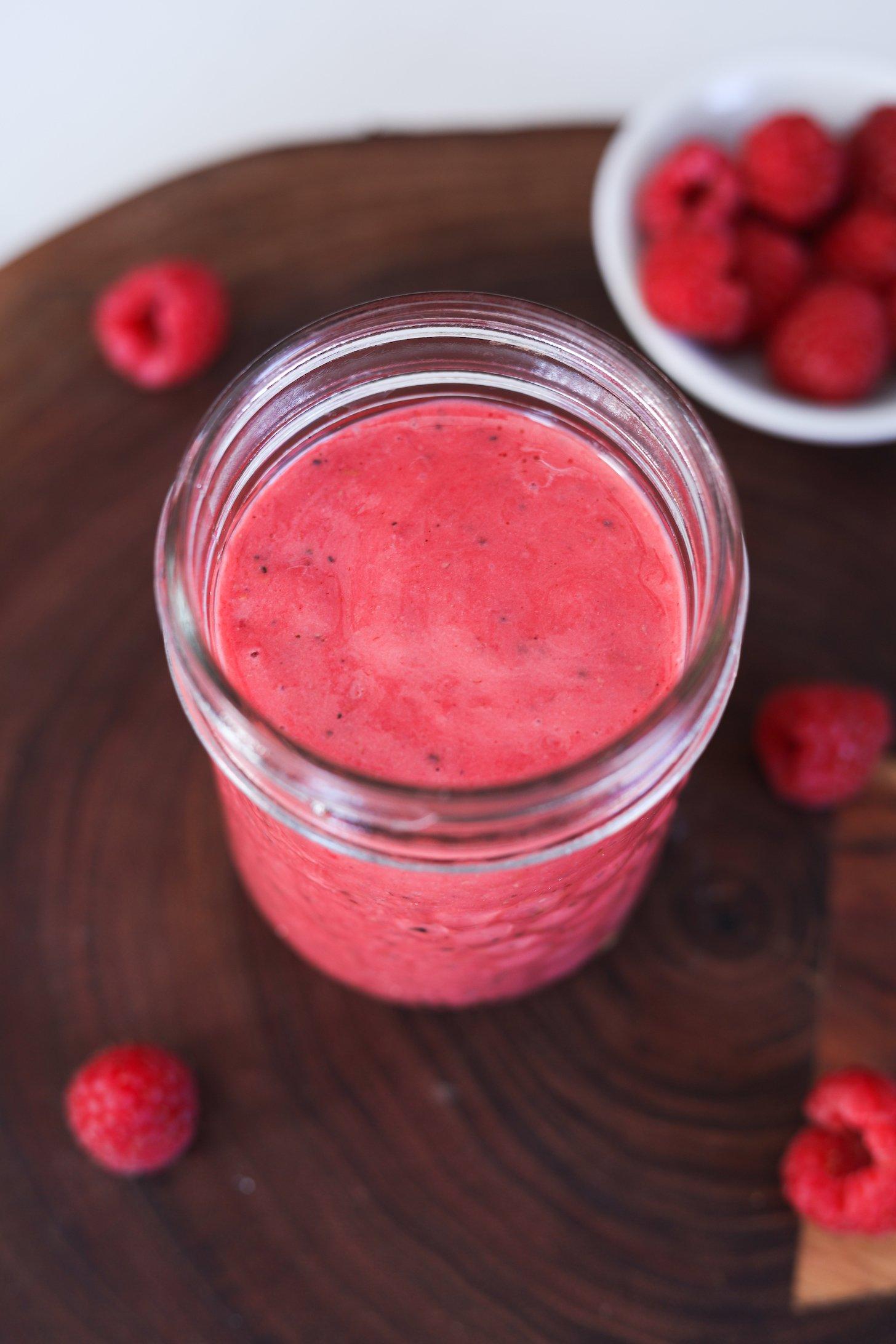 If you give this salad dressing a try, I'd love to hear from you! Share your thoughts; leave a comment, rate the recipe or snap a picture and share it on Instagram — Don't forget to tag @DesiliciousRD so I can check out your wonderful creations.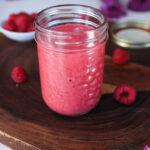 Print
5-Minute Creamy Raspberry Dressing (No Vinegar)

Up-level your salads and greens by dressing them in this enchanting raspberry dressing! In just 5 minutes, you can whip up a delicious blend of fresh raspberries, vanilla, tart lemon, pepper and olive oil. Heart-healthy and suitable for both a vegan and diabetes-friendly diet.

Ingredients

1

cup

raspberries

fresh, washed, ripe

¼

cup

lemon juice

freshly squeezed

¼

cup

olive oil

extra virgin

½

tsp

vanilla extract

pure

1

tsp

black pepper

Instructions

Add dressing ingredients to a compact blender and blitz until creamy.

Transfer the raspberry dressing to a small mason jar and refrigerate until time to serve.

Video

https://youtu.be/CSLAkP33hBoVideo can't be loaded because JavaScript is disabled: Raspberry Dressing (No Vinegar) (https://youtu.be/CSLAkP33hBo)

Notes

Substitution do's

In place of raspberries, you could also use: a cup of blueberries, blackberries or strawberries

If you prefer your dressing to be tangier, add a teaspoon more lemon juice. And for an extra bit of sweetness, consider adding a teaspoon of honey or maple syrup.

Food safe storage

Once you have prepared the raspberry dressing, store it in an airtight container (like a mason jar) in the fridge for up to five days. The lemon juice will help keep the dressing from spoiling too quickly. If your dressing develops an off-smell or discolouration, you should discard it.

Nutrition

Calories:

113

kcal

|

Carbohydrates:

4

g

|

Protein:

0.4

g

|

Fat:

11

g

|

Saturated Fat:

2

g

|

Polyunsaturated Fat:

1

g

|

Monounsaturated Fat:

8

g

|

Sodium:

1

mg

|

Potassium:

55

mg

|

Fiber:

2

g

|

Sugar:

1

g

|

Vitamin A:

11

IU

|

Vitamin C:

11

mg

|

Calcium:

9

mg

|

Iron:

0.3

mg
The post 5-Minute Creamy Raspberry Dressing (No Vinegar) appeared first on Shahzadi Devje, Desi~licious RD.