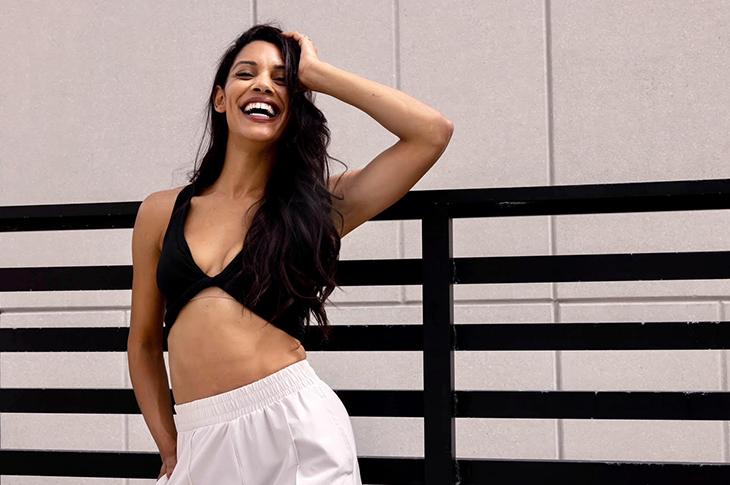 We Spoke With the Creator of Taylor Walker Fit and How She's Inspiring Women to Live a "Conveniently Healthy" Life
In our monthly profile series Meet the Trailblazers, Fitbit is seeking to amplify diversity in the world of wellness and fitness by featuring the voices of POC trailblazers at the helm of these industries—industries that have discredited voices like theirs for too long.
For our November profile, we're highlighting the incredible work of Taylor Walker, certified personal trainer, holistic health coach, fitness model, and creator of Taylor Walker Fit. We're excited to share the conversation we had with Taylor about how she got started in the fitness and wellness industry, her brand, and its message to all women.
For as long as she can remember Taylor Walker, creator of Taylor Walker Fit, has had a passion for movement and dance. It led her to acquire a master's degree in K-12 physical education and become a professional dancer and fitness model. When she went on to win a nation-wide fitness model search out of 3,000 applicants, it inspired her to not only work with brands in front of the camera but to create legitimacy and a voice of her own within the industry too.
Taylor launched her brand as a fitness-focused blog in which she shared her journey to healthy living. As she hit new milestones in her personal life, such as marriage then motherhood, her brand adopted these elements as well. Today, Taylor Walker Fit has evolved into a versatile wellness collective and a go-to trusted resource for all things fitness, wellness, nutrition, and as Taylor puts it, "how to live conveniently healthy."
"Since the conception of Taylor Walker Fit (TWF), I have had one goal and that is to connect with all women," says Taylor. "Although I have evolved in my life over the past eight years, my mission has remained the same. I truly hope to inspire those that follow me to embrace the chaos of life, move their bodies, and eat yummy food!"
Keep reading to learn more about Taylor and the Q&A we had with her on being "conveniently healthy" and the importance of representation in the fitness and wellness industry.
FITBIT: You describe yourself as "conveniently healthy". Where did this originate and what does it mean to you?
TAYLOR: When I started TWF, my slogan was actually: "Eat the burger. Do the sit ups and love the happy healthy life you love and deserve." Conveniently healthy leaves room to be imperfectly perfect—something social media doesn't do a good job at. In a space that glorifies perfection and fad diets, I like to encourage my followers to make tiny yet consistent changes in convenient and healthy ways.
FITBIT: Balance and having both a holistic and realistic approach to wellness are a key part of your brand. What does a balanced lifestyle mean to you?
Taylor: Balance is the ultimate dream, right? Unfortunately, it's typically a hard thing to cultivate. Instead, I prefer to say "live in the stream." It means riding the ebbs and flows of life and finding joy throughout your day, choosing whole nutrient dense foods where you can, moving your body in a way that feels good for you, getting 7 to 8 hours of sleep, but also having a great glass of wine and the perfect pasta dish. It's about training because you love your body, not because you dislike it. It's freedom to be you, no matter what.
FITBIT: What advice would you give someone who is just getting started on their fitness and wellness journey?
TAYLOR: Try not to compare yourself to anyone. Consistent tiny habits yield big changes over time. Find a movement style you love and set reasonable goals. Do not expect change to happen overnight and be gentle on yourself. Also, mental health should be just as much a priority as the physical. Often, if you take care of what is going on upstairs, the motivation and consistency for the physical will follow.
FITBIT: You've written about your journey in the industry as a biracial woman. Why, in your view, is representation so important?
Taylor: Close your eyes and picture a little girl: Everywhere she goes, to the hair salon, to the pharmacy, glancing at magazines, playing with dolls, putting on makeup at her friends home, nothing mirrors her. Beauty as she knew it only comes in one form. What does that tell her? I'll tell you. It tells that her brown skin and unruly curls are not beautiful. So she straightens her hair and only asks for peachy skinned dolls instead of cherishing the ones that looked just like her.
Growing up as that biracial brown girl, I didn't have any of those things, and it's like the quote says "you can't be what you cannot see." That is why representation matters in a big way.
FITBIT: You're a certified personal trainer, holistic health coach, and fitness model, all on top of running a successful brand. What would you say is the most fulfilling part of the work you do?
TAYLOR: When I get to help women on a deeper level. Becoming a mom was the most humbling experience for me. I suffered from postpartum anxiety with my first and postpartum depression with my second.
When I am willing to get vulnerable with the women that follow me and dig into the nitty gritty and encourage them to ask for help and they do! They go to therapy, get on medication, and do the work. Having the honor to normalize that for other women is the greatest gift I could have ever dreamed of.
More recently, I have added hypno-bIrthing childbirth education classes to my schedule and am a doula in training. I want to continue to support and educate families for years to come!
FITBIT: We're so happy that you're a part of the Fitbit family! Can you tell us your favorite features on your Inspire 3?
TAYLOR: I love the variety of exercise modes. I take all kinds of classes,perform at home workouts, and go on walks and runs with my kids. So, I love the diversity! Also, I swim with my kids a couple of times a week and I do not have to worry about taking it off.
To learn more about Taylor and her brand Taylor Walker Fit, check out her website and follow her on Instagram at @TaylorWalkerFit.
The post We Spoke With the Creator of Taylor Walker Fit and How She's Inspiring Women to Live a "Conveniently Healthy" Life appeared first on Fitbit Blog.