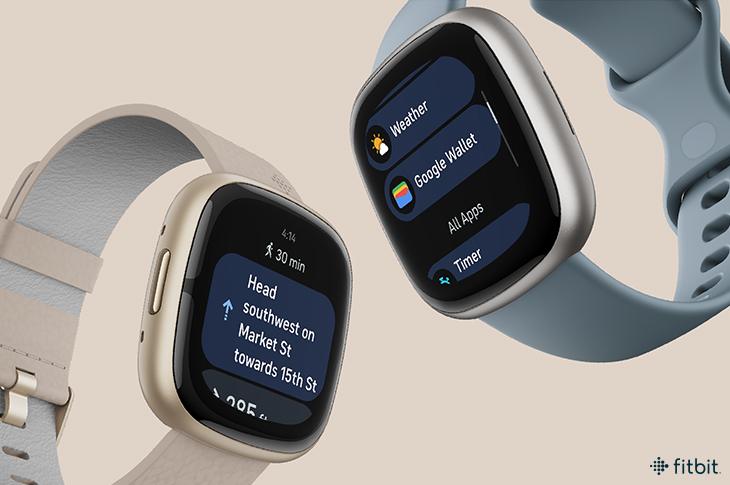 Travel With Ease With Google Maps and Make Payments Seamless With Google Wallet on Sense 2 and Versa 4
Loving your Sense 2 or Versa 4? Good news, we've got even more in store for you with exciting, helpful features coming to our newest smartwatches from Google. Starting today, you can access Google Wallet and coming soon, Google Maps.¹ ²
As we continue to combine Fitbit's expertise in health and fitness with the helpfulness of Google, these new additions to Sense 2 and Versa 4 will help you go through your day with ease by making payments seamless around the globe and getting turn-by-turn directions all on your wrist.³
Keep reading to learn more about the exciting update for new tools that can help you live a healthier, more active, and more productive life.
Make payments seamless with Google Wallet
Beginning to roll out today, Google Wallet will join Fitbit Pay as a new payment option for Sense 2 and Versa 4 users, allowing you even more opportunities to go about your day hands-free. With just a tilt of your wrist, you can make speedy, secure, and contactless purchases without needing to pull out or bring your wallet.
Access your stored credit or debit cards with Google Wallet on Sense 2 and Versa 4 to pay for purchases everywhere Google Pay or contactless payments are accepted. With Google Pay, your real card information is never shared. You will be prompted to unlock your device with a pin once daily or whenever you put your watch on, which will prevent others from making purchases if your device is ever lost or stolen.
Simply tap the Google Wallet icon from the Fitbit app to set up your Google Wallet or to add credit or debit cards to your Wallet.²
Get turn-by-turn directions with Google Maps
What's more convenient than getting real-time directions without pulling out your phone when you're running late? Nothing, which is why for the first time we've brought Google Maps right to your wrist. The interactive on-screen view and turn-by-turn directions on your smartwatch will easily guide you to wherever you're headed.
Whether you're on a walk exploring a new city, want to take the fastest route to tonight's holiday dinner, or just need reassurance that you're headed in the right direction to your yoga class, Google Maps gives you reliable, real-time navigation so that you can explore your world more confidently.
To start Google Maps (coming soon to your Sense 2 or Versa 4), make sure Bluetooth is on and the Fitbit app is open on your phone. Then open Google Maps on your phone, enter your destination, and press start, turn-by-turn directions will automatically begin on your smartwatch. At the end of your navigation, you'll see a summary of your stats that includes steps, Active Zone Minutes, heart rate, and more during your route.⁵
Fitbit Sense 2 and Versa 4 are available now for US $299.95 and $229.95, respectively.⁴ Head to Fitbit.com, Google Store, or select global retailers to get yours today.
¹ Coming soon.
² Participating bank coverage varies by region. Open loop transit supported only.
³ Data rates may apply. Google apps are not available in all countries or languages. See here for availability details.
⁴ MSRP.
⁵ Google Maps will not work while exercising and the exercise app will not work while Google Maps is in use.
The post Travel With Ease With Google Maps and Make Payments Seamless With Google Wallet on Sense 2 and Versa 4 appeared first on Fitbit Blog.