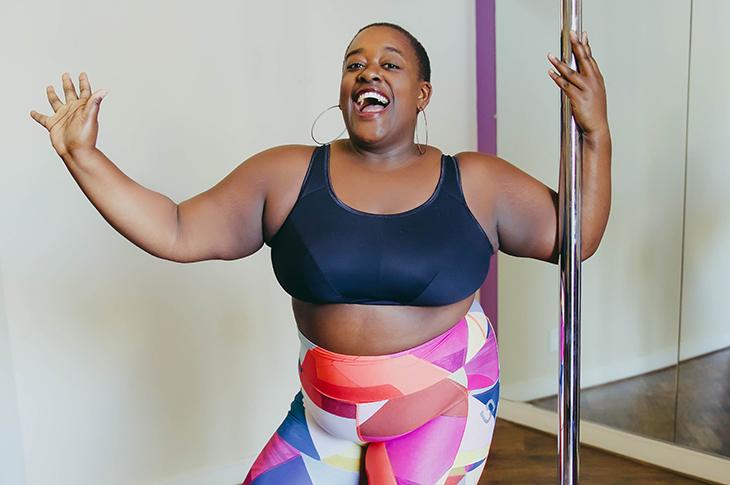 Roz the Diva is Nontraditional in More Ways than One—Here's Why She Thinks Representation is So Important, On and Off the Pole
In our monthly profile series Meet the Trailblazers, Fitbit is seeking to amplify diversity in the world of wellness and fitness by featuring the voices of POC trailblazers at the helm of these industries—industries that have discredited voices like theirs for too long.
This month, we're highlighting the extraordinary work of Roslyn Mays, aka Roz the Diva. Roz is a nontraditional pole athlete, NASM-certified trainer and featured Fitbit Premium trainer, and a body-positive influencer. We're excited to share the inspiring conversation we had with her.
Today, Roslyn "Roz the Diva" Mays is known for her prowess on the pole. Not only is she an acclaimed pole athlete, but the Brooklyn-based powerhouse also created Dangerous Curves, the first-ever national competition to put a spotlight on plus size pole athletes. Her fitness career got its start when she became enamored with group fitness classes. Roz found her way to pole fitness in particular at her regular gym in 2007—though at the time, she was solely focused on weight loss and the gym as a vehicle for doing tons of cardio, which she calls "a classic rookie mistake."
"When I saw pole fitness was on the class schedule," Roz shares, "I figured it was something new to try. I vividly remember my first class—I was really weak, confused, and certainly not confident. Despite my failure that night, I'd never had a better time failing at anything athletic and totally fell in love."
Keep reading to dive into our Q&A with Roz and find out more about her refreshingly honest take on, well, just about everything—including the importance of representation in the fitness world.
FITBIT: You've made waves in your career as someone who is not only an incredible athlete and experienced trainer yourself, but with a refreshingly inclusive approach to training diverse body types and nontraditional athletes. Amazing! Can you share more about what drew you to the incredible work you do?
ROZ: My fitness career was born from my love affair with group fitness classes. I thrive on the energy of other gym rats and strive to make an environment where others can as well. I was also interested in teaching because I knew my 90's and 2000's playlist would be epic, and the people deserve to groove as they sweat.
What's your favorite thing about doing what you do?
ROZ: Teaching pole is my favorite part of the sport. What started as a class at the gym evolved into a serious hobby, then into a side hustle, and finally, into a healthy business. Not only can my solopreneurship financially support my life in NYC, but I get to help regular people feel like glittery superheroes when they nail a cool new trick. Over the last twelve years, I've coached athletes in 33 states and 8 countries.
Why, in your view, is representation so important?
ROZ: Representation matters because you can't be what you can't see. I often wonder how my self-esteem would have evolved if, during my teenage years, I had seen female athletes that looked like me. I never set out to be a nontraditional athlete; however, as a plus size woman, it's almost impossible to avoid that title. I'm happy to use that title to help others feel less lonely.
With so much on your plate, how do you prioritize self-care?
ROZ: I don't. I'm often the last person whose needs I consider. I need help to change that.
Is there a wellness "trend" you're glad to see becoming more popularized?
ROZ: PSYCHOTHERAPY, hands down! I'm a huge advocate for mental health care and thrilled to see it becoming less stigmatized, especially for BIPOC people. My therapist of 15+ years has gotten me through some particularly dark times in my 20's.
And something you're ready to put behind you?
ROZ: I'm ready for my body weight to not dictate my value as a person. Despite how confident I appear, I have quite a few size-related demons to work through. Addressing this issue continues to be a long and exhausting process, but important to experience.
You're launching more content on Fitbit Premium soon—exciting! Can you share what your favorite kind of content is to shoot and why?
ROZ: I love the videos when I move at an even, steady pace, because I know others can easily follow along. I want my content to be as accessible to exercise virgins as possible.
Anything else you'd like to share?
ROZ: Hi Beyonce. Lemme know when you're ready for me to join you on tour. I have a pole, a passport, and no kids.
The post Roz the Diva is Nontraditional in More Ways than One—Here's Why She Thinks Representation is So Important, On and Off the Pole appeared first on Fitbit Blog.