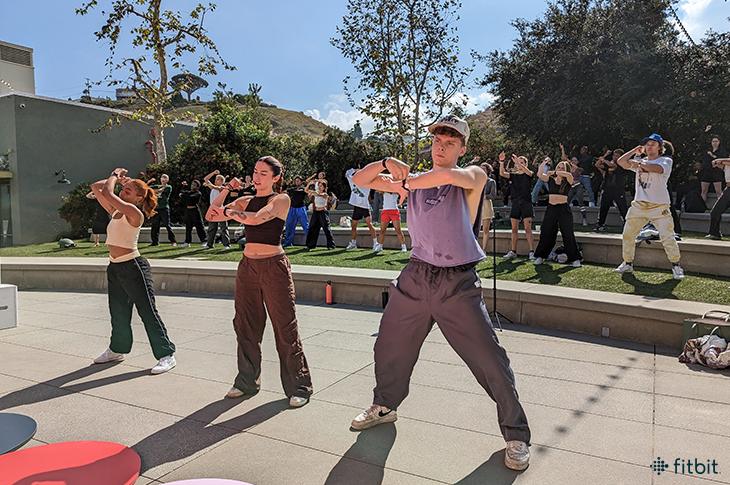 Fitbit Partners with Dancer and Social Content Creator Jaeden Rae Gomez to Host Exciting Inspire 3 Event
We have exciting news, Fitbitters! Earlier this month, we held our first ever event at Youtube Studios in Los Angeles with top social content creators to celebrate the launch of our newest tracker, Inspire 3. The event was such a success that we'd love to tell you all about it—and get you in on the action, too!
Inspire 3, the next generation of Fitbit's popular health and fitness tracker, is here to help you begin your journey to your best self. It was designed to make it easier to live an active, healthy lifestyle, whatever you're doing and however you're moving, which got us thinking—what better way to showcase the ethos of our latest tracker than through dance?
Hosted by dancer and social media creator of Lizzo's "About Damn Time" viral TikTok dance, Jaeden Rae Gomez, we held our first #DanceItOff event, where we invited content creators to join us in learning an original dance choreographed by Jaeden herself!
#DanceItOff demonstrated how any kind of movement can be a workout and that getting active looks different for everyone. We're ecstatic to have worked with Jaeden on this project because we feel she truly encapsulates the energy of Inspire 3: colorful, creative, and fun.
We were also able to chat with her and get insider details on her fitness and wellness routine. Check it out.
"The best way I try to take care of my mental health and not just my physical health is by trying my best to stick to a solid routine and maintain good habits," says Gomez. "I learned it takes 28 days to make something a habit—all it takes is persistence and motivation. That is why I love waking up early and getting active, because it helps me unfog my brain."
Although being a dancer means she's regularly on the move, Jaeden was also sure to tell us about how she prioritizes her rest and recovery. "My go-to self practices for when I need to take time for myself include going to the park or taking a long, hot shower and putting on a face mask afterwards," she says.
Ready to jump in?
Whether you're walking to work, just grabbing lunch with friends or practicing the steps of Jaeden's #DanceItOff routine, Inspire 3 is the perfect companion for you on your health journey, however that might look.
"My advice to anyone who is wanting to start their wellness journey is that there's no wrong or right way to start and whatever makes you feel at ease and happy is what you should focus on!" Gomez shares. "Don't push yourself over the edge, baby steps are the best form of growth!"
Ready to learn Jaeden's Inspire 3 dance yourself? Click play on the video above (if you haven't already) and don't forget to share your moves on social media using the hashtag #DanceItOff. And if you're looking for the song to record to, you can find it here.
The post Fitbit Partners with Dancer and Social Content Creator Jaeden Rae Gomez to Host Exciting Inspire 3 Event appeared first on Fitbit Blog.