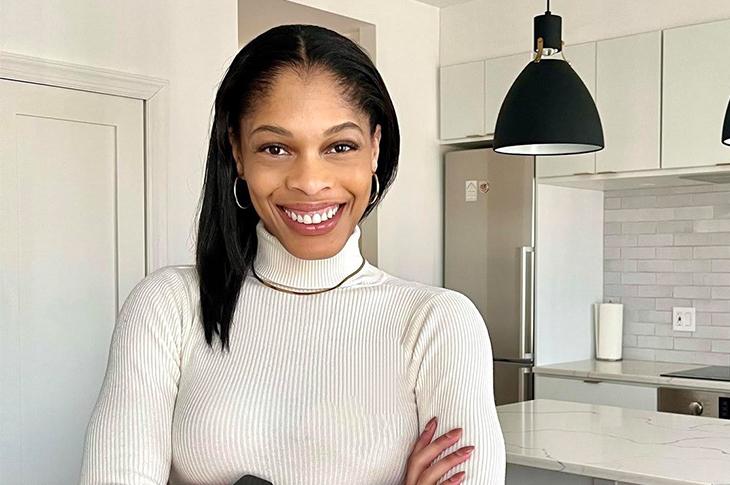 Meet Kelley Green Johnson: A Force in the Wellness World and Inspiration To All
In our new monthly profile series, Meet the Trailblazers, Fitbit is seeking to amplify diversity in the world of wellness and fitness by featuring the voices of POC trailblazers at the helm of these industries—industries that have discredited voices like theirs for too long.
For our September profile, we're highlighting the incredible work of Kelley Green Johnson, a certified life and mindset coach, an International meditation instructor, certified NLP and EFT practitioner, hypnotherapist, host of the "Hey Lovely!" podcast, and author to her book Perfectly Imperfect. We're excited to share the conversation we had with Kelley about how she got started in wellness, her brand, and other impressive life work.
From the southside of Queens, New York, Kelley Green Johnson is the founder of Kelley Green Media LLC, a personal coaching and consulting brand focused on wellness, female empowerment, and self-love. Kelley inspires her clients by sharing her lifestyle and mindset and introducing the practice of self-love along with providing guidance and resources to those hoping to amplify their self-worth in life and business.
"It's been a blessing leaving my 10 year corporate journey directing human resources and communication departments," she says. "I've always loved helping people and knew that if I left the confines of my desks and cubicles I could help change the world and manifest my dream life."
This journey also included a surprising meet-cute, as Kelley recently married her husband, whom she met on a Zoom call while leading a meditation during the pandemic. Talk about the unexpected!
Keep reading to learn more about Kelley, her business, and how she's paving the way for women in her community.
FITBIT: How did you get started in the wellness industry and life coaching?
KELLEY: I have a background in Human Resources and a degree in Business Administration and although after college I jumped into the corporate workforce, I've always wanted the freedom to travel and make an impact around the world. So when corporate life didn't feel like it was for me anymore, I thought about how my expertise and love for helping people in Human Resources could be applied to peoples lives as a certified life coach.
Then once I realized there are so many other healing and transformational modalities like neuro-linguistic programming, meditation, hypnotherapy, and more, I got super excited and made sure to indulge my interest in obtaining certifications in these, to provide even more positive change for my clients as well.
As someone who was bullied growing up, I experienced a lot of self-doubt and a lack of confidence in my inner and outer beauty. I wish I knew about various mindset and mindfulness resources to help me change my view of myself and how I showed up in the world, which is one of the reasons why it's so important for me to help others, especially women.
FITBIT: Can you tell me about your personal coaching and professional consulting brand, Kelley Green Media?
KELLEY: I help ambitious women release their mental blocks so they can transform their mindsets and confidently take aligned action in their lives and careers, all while practicing wellness and accomplishing their goals. I also work with brands and organizations leading wellness workshops to improve the performance, morale, and company experience of their employees. If there's a brand or business that wants to discuss self-care, improving one's mindset, manifestation, or be led in a powerful meditation or hypnosis, they will be sure to experience a life-changing session.
FITBIT: Through your life and mindset coaching work, you focus on women (specifically Black and POC women) empowerment, self-love, and self-care. What drew you to this work?
KELLEY: By experiencing my own lack of self-love and overwhelm due to a lack of self-care, I knew it was important to help others avoid the pitfalls I've had in my life. Participating in unhealthy relationships, not prioritizing my mental or physical health, and living an unfulfilled life is not something I want for other women.
At one point I was such a people pleaser at work that I avoided all the physical signs that told me to rest. I was at work ignoring the signs of my body and ended up having a panic attack one day. I was wheeled out of the office on a stretcher and brought to the hospital in the back of an ambulance. It was a lot and I decided to never let that happen again.
As Black women, we often go above and beyond for others and neglecting our own needs. But enough is enough. It's time we learn a better way of living and take action on what we learn. And this is why I'm so drawn to this work.
FITBIT: Why, in your view, is it so important for there to be a safe space like yours that explores self-love and healing, for Black women and women of color?
KELLEY: I feel like it's important because I didn't have that when I needed it most in life. Growing up, meditation was viewed as weird or wicked and was frowned upon in my community. Even therapy wasn't something that was talked about because as a Black woman, I'd often hear my elders telling younger generations that "church was enough" if you're having problems, and that if we went to therapy people would think we were crazy. It wasn't a comfortable topic to discuss, so my healing and self-love journey was extremely delayed unfortunately.
I want to help alleviate the shame and stigma surrounding wellness so people can comfortably access the tools, resources, and safe spaces that we need to heal and grow. There is so much emotional and even physical trauma in the Black community, if not directly, generationally—and it's time to keep breaking these generational curses. Black Women deserve to love themselves, avoid settling for less, and start manifesting a life they love.
FITBIT: Can you tell me about your first book, Perfectly Imperfect?
KELLEY: My first book is a collection of poetry and prose. It takes the reader on an alliterative journey to the intricate depths of the human psyche. From childhood hardships and ever-pervading self-doubt to the tumultuous waves of both love and hate, this collection of gripping poems and inspirational tidbits invites you to a reflective and cathartic experience.
Infused with valuable wisdom, each piece reminds the reader of life's only constant: change and life's key to happiness: self-love.
FITBIT: Not only are you a life coach, but you are a NLP practitioner and clinical hypnotherapist, public speaker, podcast host, author, and meditation teacher. What would you say is the most fulfilling part of your work?
KELLEY: I would say the most fulfilling part of my work is hearing from my clients about how their views of themselves and their lives have changed for the better. I love hearing how they love themselves more, how they've cultivated more peace in their lives, and how they can manifest with ease and love the positive transformation their lives are taking. It's incredible and I'm so grateful to do this work.
The post Meet Kelley Green Johnson: A Force in the Wellness World and Inspiration To All appeared first on Fitbit Blog.