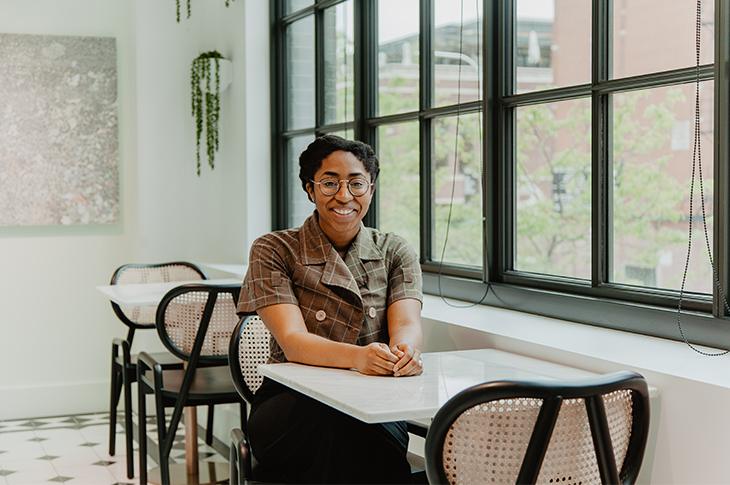 Founder and CEO Taylor Elise Morrison on the Online Support System She Created to Ensure You Would Actually Engage in Self-Care
Photo by Nastasia Mora
In our monthly profile series Meet the Trailblazers, Fitbit is seeking to amplify diversity in the world of wellness and fitness by featuring the voices of POC trailblazers at the helm of these industries—industries that have discredited voices like theirs for too long.
This month, we're highlighting the extraordinary work of Taylor Elise Morrison, founder and CEO of Inner Workout, an online platform that provides resources to help its users reclaim self-care in a way that doesn't foster burnout. We're excited to share the inspiring conversation we had with her.
Taylor Elise Morrison is no stranger to burnout. In fact, it's because of her own experiences with burnout that she decided to invest more time into the meaningful practice of self-care—which ultimately turned into her life's work. With a wealth of experience in organizational culture and strategy for both startups and larger companies, in addition to being a speaker and facilitator for Fortune 500 organizations (Google included), Taylor then looked toward propelling herself into a new kind of entrepreneurship.
She has always valued personal development. "Learning and growing is second nature to me," she says. "And, as they say, any strength overused can become a weakness. That was certainly the case for me." She was working full-time, running a side hustle, and planning her wedding in addition to simply trying to enjoy her 20s. It's no surprise, then, that Taylor was consistently battling burnout. She knew that her approach to self-care wasn't serving her.
That was when the idea for Inner Workout came to her—on a yoga mat, no less. After that occurred, she went on to join a yoga teacher training program, which helped to inspire her in the creation of, in Taylor's own words, Inner Workout as a "self-care support system." In its current iteration, this system helps people to "build a personalized approach to self-care and personal development that doesn't burn them out," she adds. Keep reading to find out more about Taylor's work.
In addition, Inner Workout also offers the Take Care self-assessment profile, a monthly membership, and even a card deck that offers prompts and affirmations for those looking to integrate more self-care into their daily lives.
FITBIT: What drew you to this work? Can you share more about the evolution of Inner Workout and what its self-care support system entails today?
TEM: The company started with high hopes of becoming the Zumba of self-care, with a proprietary practice that blends movement, breathwork, journaling, and meditation. However, the pandemic changed our plans. Almost overnight, people were more in need of self-care than ever, and we realized that the Inner Workout practice wasn't the best way to meet the needs of the moment.
So we launched the Take Care assessment just weeks into the pandemic to help people measure their wellbeing across the five dimensions and offer personalized self-care practices based on results. The Take Care assessment is actually the foundation of my book, also called Inner Workout, which will be published by Chronicle next year. Today, we're committed to creating opportunities for self-care to actually happen—instead of getting pushed to the bottom of your to-do list.
We do this through free offerings, like our Self-Care Sunday newsletter and Inner Warmup podcast, which both feature reflective prompts. We do this through products like the Group Chat, our monthly community membership that features live monthly events as well as an online community. One such event is Inner Coworking, a space to do that self-care thing you've been meaning to do. And we lead skill-building workshops and courses for individuals and organizations.
FITBIT: With so much on your plate, how do you prioritize self-care in your own life?
TEM: I'm constantly checking in with myself to see what I need in the moment. Sometimes that's a walk by the lake. Other times that's sitting with an emotion I've been ignoring. By making self-care a conversation rather than a task, I can infuse my day with care.
FITBIT: Is there a wellness or self-care trend you're glad to see becoming more popularized?
TEM: I've loved seeing people talk about their "stupid walks for their stupid mental health" and/or their "hot girl walks." Getting outside can make a world of difference for your state of mind. I appreciate how the focus is on feeling good rather than on moving your body so that you look a certain way.
FITBIT: Changes you're currently seeing in the industry that give you hope?
TEM: I'm seeing people become more inquisitive about the relationship between consumerism and wellbeing in their own lives. There's certainly nothing wrong with buying self-care products. I definitely have my favorites! However, I think people are aware that making a purchase doesn't automatically mean you'll feel more cared for in your daily life—despite what companies might try to tell you!
FITBIT: Why, in your view, is it so important for there to be communities like yours that are meant to be inclusive for the BIPOC community?
TEM: For a long time, the image associated with being well didn't include people who look like me. I wanted to build a company that people could see themselves in, where they wouldn't feel like they needed to become someone else in order to participate.
FITBIT: Is there anything else you'd like to share?
TEM: One of the best things you can do to cultivate a more meaningful relationship to self-care is to ask yourself, "What would be the kindest thing I could do for myself right now?" And then do exactly that.
The post Founder and CEO Taylor Elise Morrison on the Online Support System She Created to Ensure You Would Actually Engage in Self-Care appeared first on Fitbit Blog.