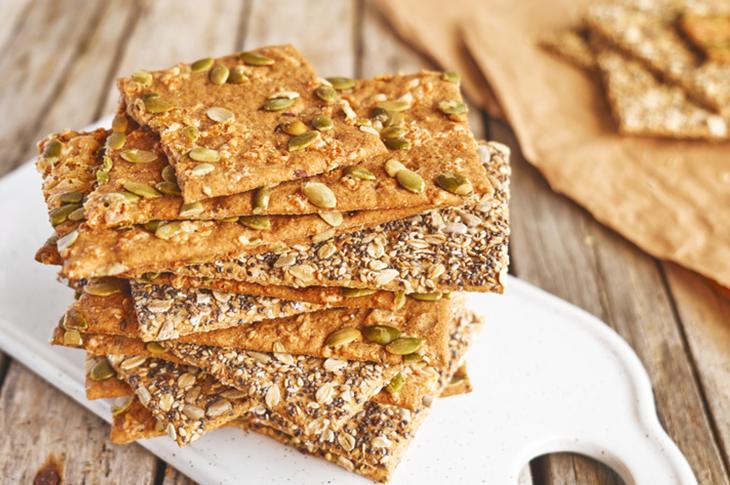 Nutrition in a Box
Boxed foods get a bad name. But maybe they shouldn't. Sure, lots of boxed foods are pumped with additives, preservatives, and sodium. However, some are nutritional gems. Really. Just ask dietitians. "I'm a big fan of keeping my kitchen stocked with minimally processed boxed foods for preparing easy, nourishing meals," says E.A. Stewart, MBA, RDN, an integrative dietitian nutritionist in Del Mar, California. "Plus, they have a long shelf life which helps minimize food waste."
Which are worthy of a spot in your kitchen? From the produce section to the freezer aisle, here are the healthy boxed foods nutritionists lean on when they need to get in and out of the kitchen fast.
Beets (in a box!). "Beets are packed with nutrients like folate and vitamins A and K, as well as dietary nitrates, which may help lower blood pressure and improve exercise performance," says Stewart. "But they're messy to cook!"
Enter boxed beets. You can find them in the produce aisle. These convenient, tender veggies are pre-cooked sous-vide style, so they taste like you made them from scratch. Then they're vacuum-packed for freshness and flavor and neatly packed in a protective cardboard box. They're a tasty and colorful addition to salads, hummus, and smoothies.
Lentil pasta. If you're one of the 69 percent of people who are trying to eat more plant protein, lentil pasta can help. Each 3-ounce serving delivers 21 grams of protein (chickpea pasta is a close second with 17 grams). Because it's made from legumes, lentil pasta also boasts 9 grams of digestion-friendly fiber per serving.
Those aren't the only reasons to love it. According to a recent study, lentil and bean pastas have a low glycemic index, so they won't spike your blood sugar like traditional pasta.
Whole-grain frozen waffles. "I grew up eating frozen waffles for breakfast, and I still love them," says Sara Haas, RDN, LDN, a Chicago-based culinary nutritionist and food photographer. "Today, I reach for whole grain varieties which are satisfying, delicious, and make a great blank canvas for nutritious toppings."
Try them with a dollop of peanut or almond butter and a banana or a handful of berries. Or go savory and sub them for toast in a fried egg sandwich.
Chicken bone broth. "I love making homemade stock after cooking a whole chicken, but for convenience I keep a few cartons of organic chicken bone broth on hand," says Rachelle Mallik, MA, RDN, owner of The Food Therapist, a virtual nutrition counseling practice specializing in reproductive health. "It has a nice richness and significantly more protein than regular boxed broths or stocks. So, it's a great way to add extra nutrition to soups, gravies, sauces, and cooked grains like quinoa or farro."
Just one cup delivers 9 grams of protein—that's more than milk! Look for brands containing less than 5 percent of the Daily Value for sodium.
Whole grain and seed crackers. According to the USDA, snacks provide a quarter of our calories. Why not make the most of yours with crunchy whole grain and seed crackers? Their fiber-rich whole grains can help you meet your daily whole grain quota of 3 to 5 servings a day. Plus, their seeds provide an extra protein boost.
Seek out brands with at least 2 grams of fiber, no more than 200 milligrams of sodium, and 0 added sugars per serving, suggests Haas.
Frozen turkey burgers. If you've ever had to wait for chicken breasts to defrost in the fridge, you know frozen poultry isn't exactly speedy—unless you have frozen turkey burgers at hand. These patties can go straight from the freezer to the pan, so they're great for busy weeknights (just be sure to cook them to an internal temperature of 165°F). "Look for patties made from only ground turkey without anything added," says Mallik. "I prefer those that are 93 percent lean because they're high in protein yet low in saturated fat and sodium without being super dry."
Frozen brown rice. "I'll admit it, I'm a failure at cooking rice," says Stewart. That's why she always keeps a box of pre-cooked brown rice in her freezer. "It has a perfect texture and consistency and works beautifully in chicken or vegetable fried rice or even for a quick, healthy breakfast topped with chopped apples, nuts, cinnamon, and milk," she says. Plus, it takes only 3 minutes to whip up in the microwave—a fraction of the 45 minutes you'd wait for a pot to simmer on the stovetop!
The post Nutrition in a Box appeared first on Fitbit Blog.