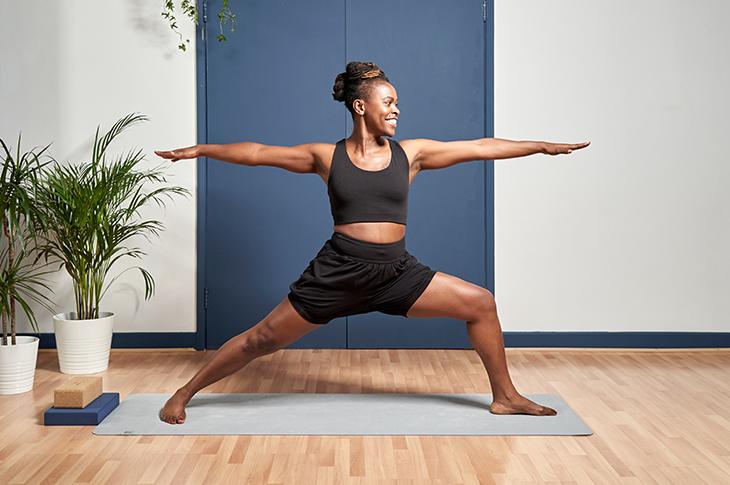 Dr. Stacie C. C. Graham on Her Brand OYA, New Book Release, and More
In our new monthly profile series, Fitbit is seeking to amplify diversity in the world of wellness and fitness by featuring the voices of POC trail-blazers at the helm of these industries—industries that have discredited voices like theirs for too long.
For our July profile, we're highlighting the incredible work of Dr. Stacie C. C. Graham and her new book Yoga As Resistance: Equity and Inclusion On and Off The Mat. We're excited to share the conversation we had with Dr. Graham about how she got started in wellness; her brand, OYA; and her book.
Originally from Miami, FL, and now based in London, UK, Dr. Stacie C. C. Graham has a varied professional background. However, one constant has been her work as a management and strategy consultant. She's also a certified coach, mindfulness instructor, and E-RYT 500 (a yoga instructor who has taught at least 2,000 hours—500 of these hours being after completing the 500-hour certification, and has a minimum of four years of teaching experience).
Dr. Graham shared that her vision is a world where there is a collective agreement and awareness that every human (or even sentient) being has the right to be well. "The understanding of being well must be generative, non-linear, and inclusive of people of different abilities," she says.
As to how she got her start in wellness, she told us that as a young athlete she suffered from a recurrent injury and was eventually recommended to try yoga. "Outside of physical practice, I also developed a mindfulness practice in parallel," she says. "It was not until many years later that I learned more about the origins of both yoga and mindfulness and found my own path to aligning these practices."
Now with a successful brand and a new book, Yoga as Resistance: Equity and Inclusion On and Off the Mat, under her belt, Dr. Graham continues to make waves in the industry for Black and POC women. Keep reading for a deep dive into her impressive work.
FITBIT: Can you tell us about your brand, OYA?
DR. GRAHAM: I founded OYA: Body-Mind-Spirit Retreats in 2016. It is a holistic wellness brand offering weeklong, weekend, and day retreats for Black women and women of color. After hosting a digital Circle of Sisterhood to offer support during lockdowns and sheltering in place due to the pandemic, we also recently launched permanent virtual spaces for movement, mindfulness, and breathwork.
I work with a faculty that is made up of women who are representative of the people whose needs we are striving to meet. Our faculty consists of people from different backgrounds with respect to our intersectional social identity categories. We recognize that our target audience serves as the largest group of caretakers of the world. They are often so busy taking care of everyone else, that there is no time left to take care of themselves. OYA Retreats is committed to creating experiences and spaces in which Black women and women of color can simply be.
We can discuss our challenges with more ease and understanding. We can feel seen and heard. OYA faculty offer tools and practices that our community members can integrate into their daily lives. We love a spa day! But OYA Retreats is focused on the integration piece. It's not an away day. It's a type of self-care that we can practice every day if we are willing to prioritize our wellbeing.
FITBIT: OYA is dedicated to underrepresented communities typically underserved by the mainstream wellness industry. What drew you to this work?
DR. GRAHAM: It was not something I spent a lot of time thinking about and planning. I had done so much of my own work in many different communities, and I was always the "only one"—it didn't matter which spiritual retreat or yoga space I was attending. If I was somewhere in Europe or North America, I most always found myself to be the only Black woman or Black person or person of color. That is really challenging when trying to participate in deep spiritual and healing practice. Eventually enough was enough.
At the time, my yearning was to create spaces for these folks, because I see them. I want to honor them. I want to celebrate them. I want to hold them in whatever way I can. It was only later that I made the connection to my own experiences (yes, this might seem very obvious, but it wasn't for me initially!).
FITBIT: Why, in your view, is it so important for there to be communities like yours that are intended for Black women and women of color?
DR. GRAHAM: If we are the majority group of caretakers, and we aren't taking care of ourselves, what does that mean for those in our care? Collectively, we have so much work to do. If we look at what is taking place around the globe, and in the US specifically, we can see that people and the planet are not well. The climate crisis is real, and the people disproportionately affected are Black people and people of color. Populist politics in the US and Europe is putting Black people and people of color under intensified threat. Systemic oppression affects our bodies in ways that modern science is only catching up to in recent years.
For example, Black women are three to four times more likely in the US and five times more likely in the UK to die from pregnancy or childbirth-related complications than white women. A significant number of those deaths are preventable. Studies clearly indicate that these outcomes are related to the adversity that is specific to their race and gender. That's why we emphasize holistic, integrated wellness. It's not just about a workout, and it's definitely not about losing weight. It's about finding calm in the chaos. It's about expression of grief. It's about releasing shame. It's about knowing and finding joy in the body.
FITBIT: How do you hope to inspire and motivate others in your community with OYA and your other work?
DR. GRAHAM: I'm not really motivated by inspiring others. More than anything, I hope that my work encourages and empowers people to trust themselves more, to love themselves unconditionally, to seek, build, and nurture community.
FITBIT: What are some core themes and takeaways that you'd like to share from your book, Yoga as Resistance: Equity and Inclusion On and Off the Mat?
DR. GRAHAM: I don't want to give too much away. There is a whole chapter dedicated to the TL;DR folks. The greatest takeaways would be that we all play a role in oppressive systems and—intentionally or unintentionally—replicate them in our actions. Thus, we all have a role to play in undoing them. It's possible to participate in the yoga "industry" and, at the same time, minimize the harm we cause people of South Asian heritage, who have grown up in these wisdom and faith traditions. It's possible to create spaces in which everyone—no matter how they show up—can fully participate. No one person can do it alone, yet no one person is too insignificant for their actions to matter.
The post Dr. Stacie C. C. Graham on Her Brand OYA, New Book Release, and More appeared first on Fitbit Blog.