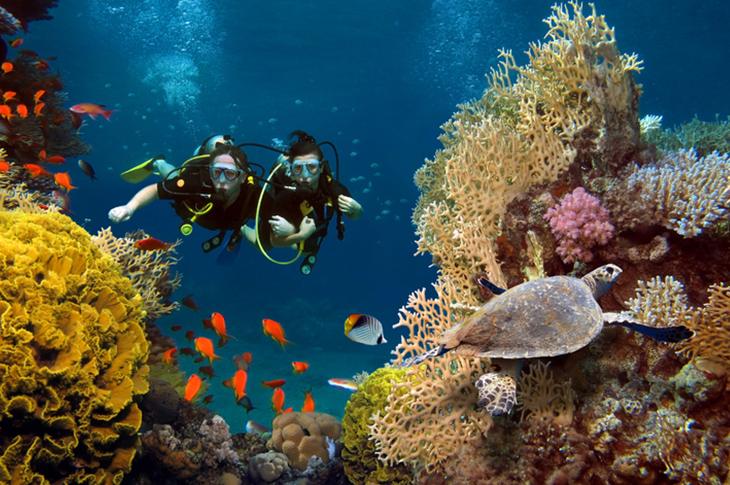 Outdoor Activities You Can Try While Traveling
There's so much to enjoy about traveling somewhere new. And we know that spending time grounding ourselves in the outdoors can help reduce stress levels as well. So why not do both? Whether it's embarking on an adventure tour, hiking or climbing new terrain, hitting a picturesque golf course, or more, there are plenty of outdoor summer activities you can try out on your next vacation. Let's get a little adventurous, shall we?
Try an adventure tour
Ziplining. Whether you're speeding along zipline cables set miles above the mountains, rainforest, desert, or an expansive body of water, one thing is for sure—ziplining really is an adventure like no other. And what better way to get a feel for scenic surroundings than with a bird's-eye view?
If you're feeling particularly daring, you can try doing tight, fast spins or even flips as you're zooming down the line. Just be sure to okay this with your tour guide first.
Trekking, hiking, and/or mountain climbing. One of the best ways to explore a new destination is to make your way through it on foot with the help of a friendly tour guide. Maybe you'll opt to trek through a rainforest locale, or if you've got a little more experience, climb mountainous terrain.
Of course, you can always opt to hike or climb on your own instead; consider syncing it up with a camping (or glamping!) trip to make the most of the great outdoors.
In some destinations, you can sign up to partake in a "night walk" or tour, which, depending on where you are, can be just as intrepid as it sounds—and a great way to experience local wildlife of the nocturnal variety. (We recommend doing an activity like this with a guide.)
Whitewater rafting. River or whitewater rafting is another great option for those seeking a sense of adventure during their travels. Whether you're looking for a family-friendly ride with the kiddos, or seeking out a more thrilling trip with a group of experienced rafters, this is another activity that will require a guide.
And the good news? In some places you can go rafting from spring all the way through to the end of October.
Snorkeling or scuba diving. For those without a scuba diving certification (and perhaps with a healthy fear of deep water), but still wanting to get a glimpse of things beneath the surface, snorkeling may be the way to go. Whether you make a day trip by boat to a well-known snorkeling spot, or rent some gear near your vacation rental or hotel/resort stay, there's always something to be said for checking out the world that exists beneath the waves.
If you are dive certified, you may want to plan your trip around it! From exploring coral reefs and spotting a variety of exotic wildlife—seals, manta rays, and even humpbacks and whale sharks, depending on your location and the time of year—to cenote diving or exploring shipwrecks, there's no shortage of incredible underwater sights to see.
Or, if you're looking for something a little more leisurely . . .
Golfing. Planning a road trip? You may want to bring your golf clubs along with you. Tack on an extra day to play a course, or choose a stay-and-play resort, and work on that swing while taking in scenic views and solid green designs.
(Don't have your own set of clubs, or don't have room to bring them along on your trip? You can always rent from the range. If you want more options than what may be available there, try searching online for a company that allows you to pick from a selection of newer models, as opposed to whatever's still available.)
Kayaking or canoeing. As it turns out, kayaking through a national wildlife refuge and/or biodiverse region is one of the most exciting outdoor activities you can partake in while traveling. Of course, the kind of wildlife—including endangered species—you may see depends on the locale, and what kind of area you're paddling through (tidal wetlands? Marsh? Lake? All kinds of marine ecosystems abound in these waterways).
And, though it's less intensive than white water rafting, it's still a workout—note how your arms feel after hours of paddling!
If you want something especially unforgettable, try opting for a bioluminescent tour. These nighttime kayak tours spotlight the natural phenomena of bioluminescent plankton, which give off a neon blue glow in summer months—most especially at the time of a new moon, when they're not competing with the luminosity of a full moon. Talk about a dream come true!
Stargazing. Speaking of captivating sights, here's one that typically doesn't require too much planning (unless you're chasing an eclipse or meteor shower!). When it comes to stargazing, best results, of course, come about in places with less light pollution.
On a cruise? Carve out some time to admire the night sky while out on the water, from a setting where dry land is a distant afterthought. Or, plan a camping trip to a place far removed from the sounds and scenes of humanity to really ground yourself in the splendor of the constellations.
The post Outdoor Activities You Can Try While Traveling appeared first on Fitbit Blog.