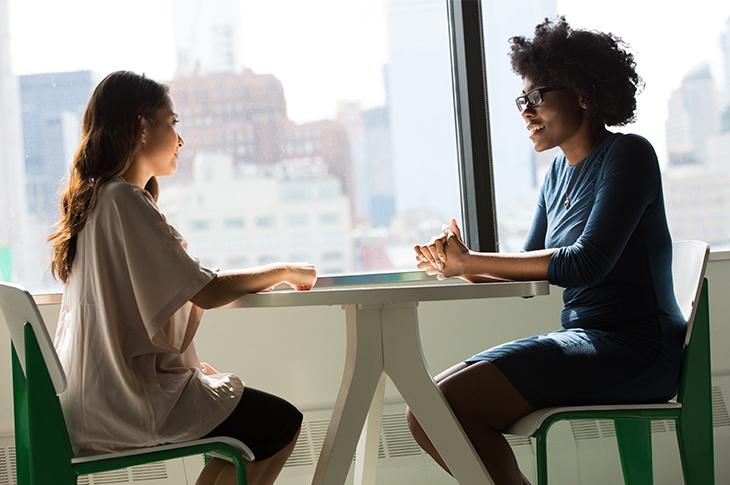 The Top Mental Health Resources for LGBTQIA+ People of Color
In celebration of Pride Month, Fitbit is highlighting the top mental health resources that are helping to make real change in of LGBTQIA+ and BIPOC communities. We're excited to share these resources with you.
The past few years' events have brought mental health into the national spotlight and highlighted the need for greater care. While calls to address the crisis ring out across the globe (and there have been resource initiatives started), it's important to provide people with support specific to them.
Seeking emotional support is crucial to processing this collective trauma. And yet, many BIPOC and LGBTQIA+ people have not received the help they truly need. Thankfully, that's starting to change.
Here at Fitbit, we know that having the right resources at your fingertips can make all the difference—especially when it comes to your mental and emotional well-being.
So, we compiled the top 10 mental health resources for LGBTQIA+ people of color so that you don't have to! These incredible organizations are working hard to shift the narrative when it comes to BIPOC and LGBTQIA+ mental wellness.
"Mental health doesn't discriminate," says Dr. Dana Cunningham, co-founder of Black Mental Wellness, a D.C.-based organization that focuses on de-stigmatizing mental health among the Black community. She continues by saying that she is hopeful mental health will one day be normalized to the point that it becomes a regular aspect of our nation's healthcare. "Having a mental health checkup is just as important as having an annual physical every year."
Take a look at how these organizations are standing up for mental health. And remember to share with anyone you feel might benefit from the extra support.
The Boris Lawrence Henson Foundation. This non-profit offers Black communities free resources, connections, and support needed to help break the silence and stigma around mental health. The Boris Lawrence Henson Foundation was founded by actor and philanthropist Taraji P. Henson, who named the organization after her father. Henson hopes to encourage Black people to share their mental health challenges to motivate others to get the help they need.
Their mission: To help individuals find their peace and well-being, and above all, to choose joy over everything.
Black Mental Wellness. Four Black psychologists lead the helm of Black Mental Wellness, which provides resources, insight, and tools about mental and behavioral health from a Black perspective. They also aim to raise the visibility and recognition of Black mental health professionals by offering resources like mentorships, ambassadorships, and training. Their next conference, Heal + Liberate, is November 5, 2022.
Their mission: "One of our goals is to reduce stigma in terms of acknowledging and talking about mental health issues," says Dr. Cunningham. "Historically, that's been a big barrier in the Black community, and one we feel very passionate about changing."
It Gets Better Project. This nonprofit started its global movement celebrating LGBTQIA+ young people over a decade ago, and it's still going strong. It reaches millions of young people each year through its media programming, educational resources, social presence, and community-based service providers.
Their mission: To uplift, empower, and connect LGBTQIA+ youth around the globe.
Therapy for Black Girls. Founded by Dr. Joy Bradford, Therapy for Black Girls is an online community dedicated to helping Black women prioritize their mental health. Their website features a handy therapist finder with both in-office and virtual options, a blog with loads of relatable mental wellness topics and tips on how to handle them, and a weekly podcast where Dr. Joy chats about all things mental health, personal development, and more.
Their mission: To make mental health topics more relevant and accessible for Black women and girls.
Therapy for Black Men. When it comes to mental health, Black men and boys face unique challenges and stigma. Therapy for Black Men creates a dedicated space where they can find support, with over 70 licensed mental health professionals to choose from. Check out their site to find mental health resources, personal experiences, and financial assistance options.
Their mission: To strip away the stigma and make it easier for Black men to find the help they deserve.
Trans Lifeline. A grassroots hotline and non-profit, Trans Lifeline offers emotional and financial support to trans people in crisis. Run by the trans community, for the trans community.
Their mission: To connect trans people to support and resources to survive and thrive.
Latinx Therapy. Scroll through Latinx Therapy's national directory to find a Latinx therapist that's right for you. Or, see if their services are right for you by listening to their bilingual weekly podcast. They cover all kinds of mental health topics related to Latinas, Latinos, and Latinx individuals. It's a must-listen.
Their mission: To destigmatize mental health in the Latinx community.
National Queer and Trans Therapists of Color. This healing organization is rooted in social justice and liberation and was built for queer and trans people of color. They provide resources to help people heal from trauma, violence, and systemic oppression.
Their mission: Committed to transforming mental health for queer and trans people of color through community building and practitioner development.
Liberate Meditation App. There's a new meditation app to add to your list. With over 250 meditations to choose from, each recording is led by a BIPOC teacher. Liberate is designed to support Black folks on their path to healing. Holding space for everything from anxiety and depression to internalized racism and microaggressions, their resources can help you navigate through them.
Their mission: To move toward a future where BIPOC individuals can feel free to be wholly and completely themselves without any fear of danger or oppression.
The Trevor Project. You've likely heard of The Trevor Project. It's the world's largest suicide prevention and crisis intervention organization for LGBTQIA+ young people. The Trevor Project has saved countless young people's lives through their crisis services hotline (available 24/7), a peer support community, research, public education, and advocacy programs that are offered across the nation.
Their mission: To build a safer, more inclusive world—one in which all LGBTQIA+ young people see a bright future for themselves.
The post The Top Mental Health Resources for LGBTQIA+ People of Color appeared first on Fitbit Blog.