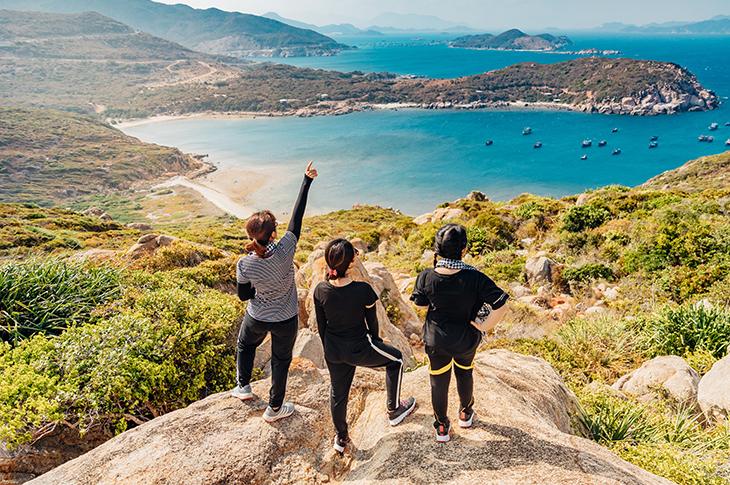 5 Inspiring AAPI Influencers to Follow
From Olympic swimmers and pro golfers to MMA champions and personal trainers, the Asian American and Pacific Islander, or AAPI, community is heating up Instagram with some seriously inspirational—and aspirational—content.
These five AAPI social media stars share their passions, skills, and glimpses into their cultural heritages. Here are five reasons their content belongs in your Instagram feed.
Tisha Alyn
@tishaalyn
The Filipina-American Fitbit ambassador and Premium Trainer grew up with a golf club in her hand. She went pro but her career, and life, are about so much more than golf.
She's a pro at reinvention. Tisha started golfing at age three and entered her first competition at age seven. After her college graduation she felt "burned out" from touring nonstop and played her last professional tournament in 2018. She still swings a club like a boss but put the bag down to pursue a career as a social media personality influencer.
She's a (more than) triple threat. Golf Journal called Tisha "that friend who's inexplicably good at everything." She's played in the pros, earned a degree in broadcast journalism from Cal State Fullerton, and built a career as a sought-after media personality and commentator.
She's an advocate. In 2019, Tisha came out. She told Golf Journal that her decision "rocked the traditions and culture of being Filipino." She wanted to make sure that other women in the AAPI, LGBTQIA+ and professional golf communities had role models and used her platform to become a passionate advocate for LGBTQIA+ rights.
She knows how to have fun. Tisha's 350k Instagram followers know that she likes to have a good time, whether that means Topgolfing in heels, doing golf trickshots, or busting a move everywhere she goes.
She's honest about her struggles. Growing up, Tisha saw few AAPI and LGBTQ women in professional sports. She believes "representation matters" and shares her story, and her struggles, to encourage other athletes in these communities to not let adversities stop them from pursuing their goals.
Torri Huske
@torri_huske
Huske emigrated from Guangzhou, China, to Arlington, Virginia, in 1991. The pro swimmer made a splashy debut at the 2021 Tokyo Olympics and her Instagram feed is equal parts swimming and sweet slice-of-life photos.
She's fly. The Team USA swimmer is a six-time World Junior Championships medalist who twice broke the American record for the 100-meter butterfly, clocking in at just 55.66 seconds, during the Olympic trials in Omaha in June. Huske swam for Team USA at the 2020 Tokyo Olympics and brought home the silver medal for the 4×100-meter freestyle relay.
She's creative. Huske lists painting as one of her hobbies and painted a mural of Palo Alto for her senior high school project.
She's smart. Huske was accepted to Stanford University and started her freshman year in fall 2021. In an interview with Swimming World, Huske said the California college was the best fit for her athletic and academic goals.
She's a regular college kid. In between breaking records and qualifying for the Olympics, Huske posts photos of regular college activities. She attends football games (and tailgates), poses for silly selfies with her roommate and hangs at the beach.
She's a globe-trotter. Most adults have far fewer air miles than Huske. She's posted photos from Hawaii, Florida, Virginia, Budapest, and, of course, Tokyo, proving that it's always a good idea to experience the world.
Denise Marie Antoine
@denisemarieantione
The Los Angeles-based Afro-Asian yoga, dance teacher, fitness influencer, and Fitbit trainer teaches private and group classes. She also fills her feed with aspirational yoga content.
She's got moves. Antoine developed a love for movement while studying classical dance, crediting that professional dance training for her athleticism—and she's got the moves to prove it.
She's inspirational and aspirational. There are many "wow" posts of Antoine in impressive poses, but she's also honest about the journey to success. In a March 30 post, she wrote, "When it's hard, keep going. When you're tired, persevere. Trust in your journey and remember that sometimes those 'detours' are vital lessons…"
She believes yoga is a practice. Antoine has mastered moves that even experienced yogis might find intimidating, but she remains committed to a daily practice and shares #workinprogress updates as she practices new moves.
She's a survivor. Growing up in South Central Los Angeles, Antoine survived an attempted abduction. The experience led her to prioritize investing in youth and survivors of childhood trauma.
She believes in inclusivity. Antoine, who is of Creole and Korean heritage, has used her platform to share thoughts on Martin Luther King and #BlackLivesMatter. In honor of #BlackHistoryMonth, Antoine participated in an illuminating Fitbit chat about identity, inclusivity, and intersectionality, sharing her thoughts informed by her lived experience as an Afro-Asian female entrepreneur.
Lindy Mei
@lindymei
Lindy Mei was born in Taiwan and had a successful international modeling career but traded catwalks for pull-ups when she moved to San Francisco in her 20s. The personal trainer shares her workouts–and toned physique–with 96.7k Instagram followers.
Her strength shines through. It's not an accident that Mei adopted the brand Lift with Lindy. She's a certified personal trainer who shows off one-handed pull-ups, single-arm shoulder presses, and some seriously heavy weights.
She wants followers to eat more, not less. Mei is adamant: "In order to build muscle, you must FUEL YOUR BODY PROPERLY." She talks about the benefits of gaining a few pounds and shows before/after photos, adding, "I was skinny. REALLY skinny. But also, skinny fat." Changing her gym routine and eating habits provided the toned look she wanted.
She's not afraid to share her views. Followers who scroll through Mei's Instagram feed will see her wearing her views on her sleeve (and her backside). Her posts include photos of Mei wearing a t-shirt that reads, "Femme labor is not free" and short shorts with "Vegan Booty" emblazoned across her backside.
She's a well-rounded athlete: Mei might be best known for lifting weights, but her Instagram feed is filled with images of her engaged in activities ranging from boxing and hiking to surfing, archery, and pole dancing–all sports that require the strength and discipline that she mastered in the weight room.
She differentiates between working out and training. A follower asked if she works out or trains. Mei trains: She designs workout programs to help her achieve specific goals rather than just jogging on the treadmill for 30 minutes to check off "workout" on her to-do list—and she takes the same approach with her clients.
Gianni Subba
@giannisubba
In this corner, Malaysian martial artist and pro mixed martial arts, or MMA, fighter Gianni Subba shows off what it takes to succeed in and out of the ring. He started taking taekwondo classes when he was 11 years old to learn discipline, loyalty, and respect before pursuing a pro-fighting career.
He's a family man. Mixed martial arts are a family affair. Subba's brother, Keanu, is also an MMA pro, and the pair spend a lot of time training together. Subba's Instagram feed is filled with photos of the champ hanging with his family and friends.
He's a comeback kid. After being diagnosed with a brain cyst in 2018, Subba was forced to take time off from mixed martial arts. He took on a commentator role, calling the action at a championship fight, which led to additional gigs in the broadcast booth. He still hopes to get back in the ring but has embraced his new role.
He's willing to learn. Subba watched YouTube videos to learn MMA and continues showing up in the ring to hone his skill. He recently posted a training photo with the comment, "Always a student, never a master." He's taken the same approach to commentating, accepting advice from veterans, and showing a willingness to learn the ropes.
He's dedicated to giving back. Subba was just 19 years old when he became a professional fighter. Now, he wants to help others excel in the sport. He founded SOMA Fight Club Bali, an Indonesian martial arts gym, in 2021 and hopes to train the next world champions.
He's grateful. Sure, Subba knocks people out for a living, but that doesn't mean he's cold. Scrolling his IG feed reveals posts like, "Only this moment is guaranteed" and "Taking this time to express gratitude for all that I have."
The post 5 Inspiring AAPI Influencers to Follow appeared first on Fitbit Blog.