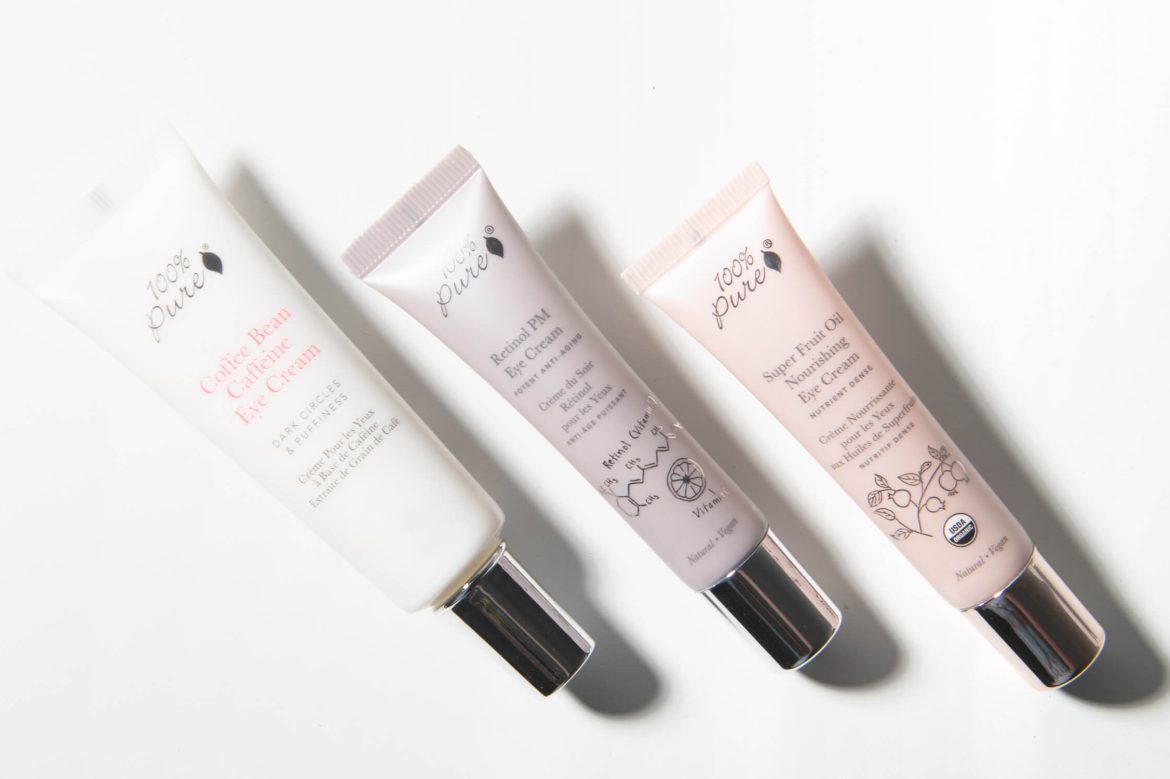 How to Choose a Natural Eye Cream
Finding the best natural eye cream for you, the ins and outs of how to apply an eye cream, DIY under-eye treatment
Posted on March 5, 2023 Written by: 100% PURE®
Our eyes are busy every second of the day. They can convey love, laughter, joy–and unfortunately, bags, dark circles, puffiness, and signs of aging. To ensure our eyes are presenting their best selves, it's important to give the delicate eye area the TLC it needs and deserves with a great natural eye cream.
Do I Really Need an Eye Cream?
To help answer this question, take a look in the mirror. Notice how the skin around your eyes is more translucent than the rest of your face? The skin around our eyes is thin, delicate, and contains much smaller pores. Because of this, eyes need gentle creams made with smaller molecules that can penetrate those small pores. Moisturizers are great, but won't do the trick on eye skin. Using a natural eye cream is the best way for delicate eye skin to absorb the nutrients it needs.
Still not convinced you need an eye cream? Consider answering these simple questions. Are you:
Tired of looking sleepy?
Tired of crows feet?
Tired of puffy under eyes?
Tired of dry skin around the eyes?
Tired of crepey skin around the eyes?
Tired of feeling older every time you look in the mirror?
By using the right eye cream products, you can diminish these signs of aging and exhaustion around your eyes. Want to know which eye cream is right for you? You've come to the right place!
Coffee Bean Caffeine Eye Cream
Did you wake up this morning with bags under your eyes? Dark circles and puffiness got you feeling like a prize fighter at the end of the twelfth round? This best selling natural eye cream is here to save the day! As we all know (too well), fatigue is the most common cause of dark circles under the eyes. Other common causes could be dehydration or overconsumption of sodium, caffeine, or alcohol. If you've heard the dreaded words "you look tired today" more than you care to count, this is the eye cream for you.
Our Coffee Bean Caffeine Eye Cream contains green coffee extract, green tea, and coffee cherry to pack a triple dose of stimulating caffeine content. This natural eye eye cream comes in both full size and mini, to perk up eyes at home or on the go. Deemed the best eye cream for dark circles, Coffee Bean Caffeine Eye Cream boosts circulation and lessens the fluid retention which causes puffiness. Vitamin E and nourishing rosehip oil deeply nourish delicate, dehydrated skin for added softness.
Green Coffee:
Reduces damaging effects of free radicals, contains potent antioxidants, increases circulation, pore tightening, and anti-inflammatory
Coffee Cherry:
Potent and protective antioxidant, reduces damaging effects of free radicals
Green Tea:
Catechins in green tea act as anti-inflammatories to reduce puffiness, and as antioxidants to fight signs of aging
Rosehip Oil:
Antioxidants and fatty acids from rosehip oil and rosehip water improve texture, tone, and pigmentation
Vitamin C:
Increases hydration, brightness in skin, and supports collagen production for more youthful eyes
Vitamin E:
Softens skin, helps to reduce appearance of age spots, fine lines, and scarred skin
Organic Aloe Vera:
Hydrates, soothes and helps to heal irritated skin, and anti-inflammatory
Retinol PM Eye Cream
Scientists are still searching for a way to turn back time. Until they figure it out, we're glad to settle for a potent anti-aging eye cream! Enter Retinol PM Eye Cream, a natural eye cream PM treatment for lessening signs of aging around the eyes. As we age, we lose elasticity in our skin. The first place aging becomes visible is around the vulnerable eye area, since it's always exposed. Our skin also becomes thinner, which can make it more susceptible to fine lines and wrinkles. Thinner skin can also make dark circles more visible–yikes!
Looking to reduce fine lines, wrinkles, and other signs of aging around the eye area? This natural eye cream formula uses a vegan source of retinol to get the job done! Retinol helps boost collagen and renew thinning under eye skin, to make dark circles less visible. By increasing cell turnover, retinol can also help diminish fine lines and wrinkles. This PM eye treatment was specifically formulated to be gentle enough for the delicate eye area. So when people ask for your anti-wrinkle secret, you can either tell them you've found the Fountain of Youth, or just pass them your Retinol PM Eye Cream.
Retinol:
0.5% vegan retinol content in this PM eye cream offers a potent source of vitamin A from carrot seed oil. Helps to stimulate renewal of the top layers of the skin in order to shed dry, damaged cells
Vegan Stem Cells:
Vegan stem cells from Mung Beans protect are a natural ingredient. They fortify human skin cells against further effects of aging, while regenerating weakened or aging cells
Organic Rosehip:
Antioxidants and fatty acids from rosehip oil and rosehip water improve texture, tone, and pigmentation
Organic Acai Oil:
Acai oil is richly moisturizing and packed with vitamins A, C, and E for strengthening, renewal, collagen production, and softening
Newsletter
Subscribe
for more blog updates and exclusive discounts
Organic Chamomile Butter:
This soothing herb helps to relax and calm skin, while deeply moisturizing in a butter form
Super Fruit Oil Nourishing Eye Cream
Super Fruit Oil Nourishing Eye Cream is great for day or night skin care routines, and is packed with superfruits to fight the damaging effects of pollution, smoke, and smog. Fruit oils from coconut, plum, acai, and pomegranate help to moisturize the eye area, with help from fatty avocado butter. These help skin appear more supple and plump. Since dryness can make skin look crepey and riddled with fine lines, moisturization is key! This daily eye cream is not only packed full of antioxidants, but also skin healthy phytonutrients to help repair and protect your precious skin.
Organic Goji Berry:
Offers high antioxidant content to strengthen and protect skin against free radical damage
Organic Coffee Oil:
This anti-inflammatory ingredient increases circulation and helps to depuff the eye area
Organic Acai Oil:
Richly moisturizing, rich in vitamins A, C, and E for skin fortifying, regeneration, support of collagen production, and softening
Organic Coconut Oil:
Antibacterial, deeply moisturizing, and rich in fatty acids. Thanks to its high triglyceride content, coconut oil can restore protein and collagen structures
Organic Avocado Butter:
Richly moisturizing, hydrating, and effective for minimizing dark spots and appearance of wrinkles
Organic Acerola:
According to the U.S. Department of Agriculture, acerola cherries provide more vitamin C than all other food sources. An excellent source for brightening, plumping, and restoring elasticity to skin
Organic Elderberry:
Contains potent antioxidant properties due to naturally present flavonoid compounds
What's the Best Eye Cream for You?
Now that we've explored the benefits of our three natural eye creams, it's time to simplify your decision on which eye cream is best for you. You can implement all three for maximum benefits of younger, brighter, and more supple skin around the eyes. Or, you can start with the one that suits your current needs. Check out our super simple eye chart, organized by common eye concerns:
Most interested in banning dark circles and awakening the eye area? Start with Coffee Bean Caffeine Eye Cream!
Most interested in reducing signs of aging in the eye area? Start with Retinol PM Eye Cream!
Most interested in an all-day, protective eye cream for moisturizing the eye area? Start with Super Fruit Oil Nourishing Eye Cream!
How to Apply an Eye Cream
Since the skin of the eye area is very delicate, it's critical you do not pull or tug when applying and removing skin care or eye makeup products. To ensure gentle application of your eye cream, start by applying cream to your ring finger. This finger will naturally apply the lightest touch and be least likely to tug the skin.
HOW you apply the eye cream is what matters most, regardless of which finger you use. Make sure to gently pat the eye cream into clean skin, rather than rubbing it in. This will prevent any unwanted tugging or pulling. Pat the cream below the eyes, at the outer corners of the eyes (where crows feet tend to develop), and finally all over the upper eyelid area. Combined, these areas are known as the 'orbital' eye area.
DIY Under-Eye Treatments
In addition to choosing a healthy, natural eye cream that will nourish your under-eye area, you can get creative and make use of some common household ingredients to brighten your eyes. Here are some of our favorite DIY concoctions for enhancing your under-eye area:
DIY green tea treatment for under-eye area: Green tea is packed with antioxidants and other important nutrients, making it a great addition to any DIY concoction for your skin. To use green tea for your under-eye area, first brew a mug of strong, organic green tea. Wait for it to cool down, and then transfer it to a glass jar and store it in your refrigerator. Every morning (or whenever your eyes need a little love), soak a clean cotton ball or cotton pad in the tea, and gently pat it over your under-eye area. The antioxidants will help to promote circulation and brightness, while the cold temperature will help to ease inflammation. You should switch out the tea every three or four days to ensure freshness; you can also substitute black tea for green tea if that's what you have around.
DIY under-eye mask with caffeine and flax seed: Caffeine has numerous benefits for the skin, as it helps to boost circulation and promote plumped, fresh-looking complexions. To make a DIY under-eye mask with caffeine, just combine ½ teaspoon of instant coffee (you can substitute matcha green tea if desired) with 1 tbsp flax seed meal and whisk until the mixture thickens. Flax is a great ingredient for the under-eye area, as it helps to tighten your skin and reduce inflammation. Dab a small amount of the mixture underneath your eyes and allow it to sit for 5-10 minutes, then gently rinse. Make sure to be very gentle with your under-eye area, and avoid scrubbing the eye mask into your delicate skin when applying and removing.
Tips for Youthful Looking Eyes
In addition to using natural eye creams on a daily (and nightly) basis, it's important to remember that there may be other eye-aging factors at play in your daily life. Most are avoidable, and simply come down to a little extra care!
Did you know that dark circles can appear as a result of how you sleep? Hey stomach-sleepers: if dark circles occur regularly, despite your getting enough rest, try sleeping on your back more often.

Allergies are major culprits when it comes to puffy, itchy eyes. It's hard not to rub an itchy eye, but do your best to avoid rubbing the delicate eye area when eyes are irritated.

If you avoid rubbing or pulling the skin of the eye area, you can protect yourself from broken blood vessels. Broken blood vessels make dark circles and puffiness more apparent. You'll also save yourself from premature lines and wrinkles.

If you're removing eye makeup, do so gently! Try using our Blood Orange Cleansing Balm to effortlessly remove both conventional and fruit pigmented makeup eye makeup.

If you find you have sensitive eyes, try one of our natural mascaras made with plant based ingredients and zero synthetic chemicals or dyes (those pesky synthetic ingredients have a knack for irritating eyes).
Want more skin care guides? Read these next from our 100% PURE Beauty Blog:
How to Choose a Natural Sunscreen

Your Guide to Natural Face Cleansers

How to Choose an Organic Toner

How to Choose the Right Serum