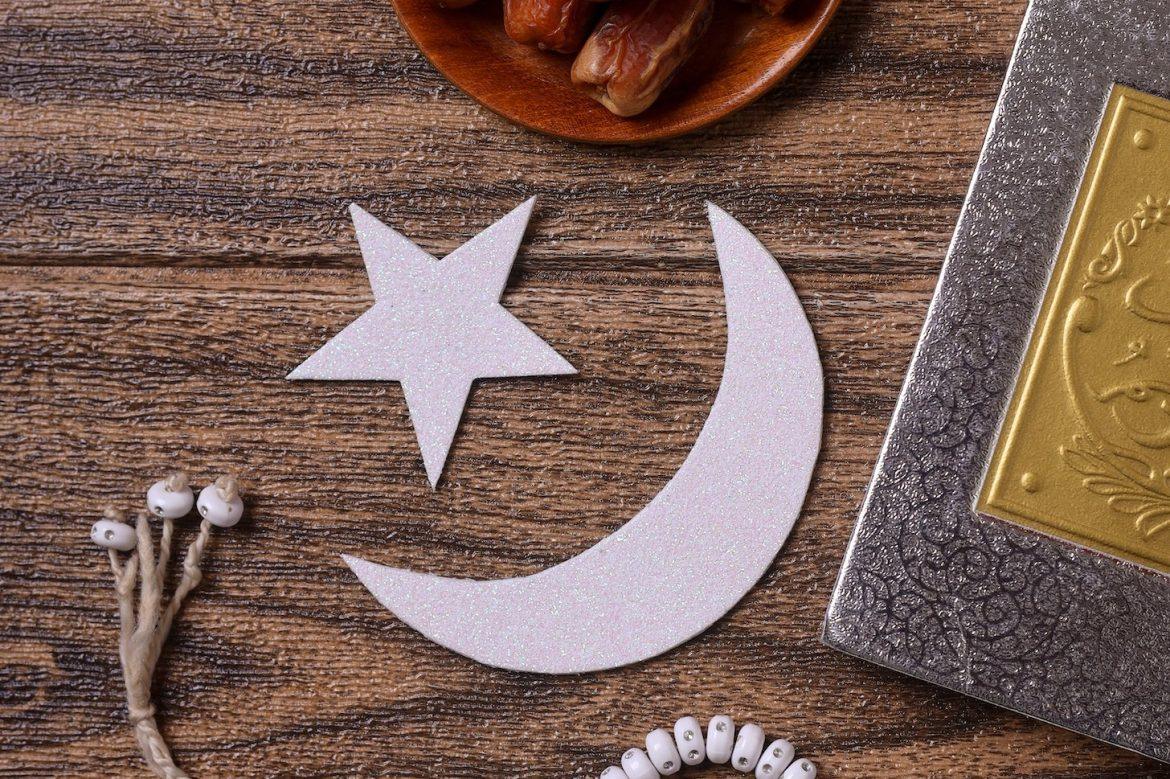 Healthy Ramadan Desserts & Sweets: 15+ Recipes
As a Muslim dietitian and certified diabetes educator, I want to take a moment to reflect upon what it means to me to "eat healthy" during this holy month.
Much like one must condition their body to properly submit prayers to Allah, nourishing our physical health, I think, is necessary to provide the energy and nutrition we need to strive towards a greater connection with God.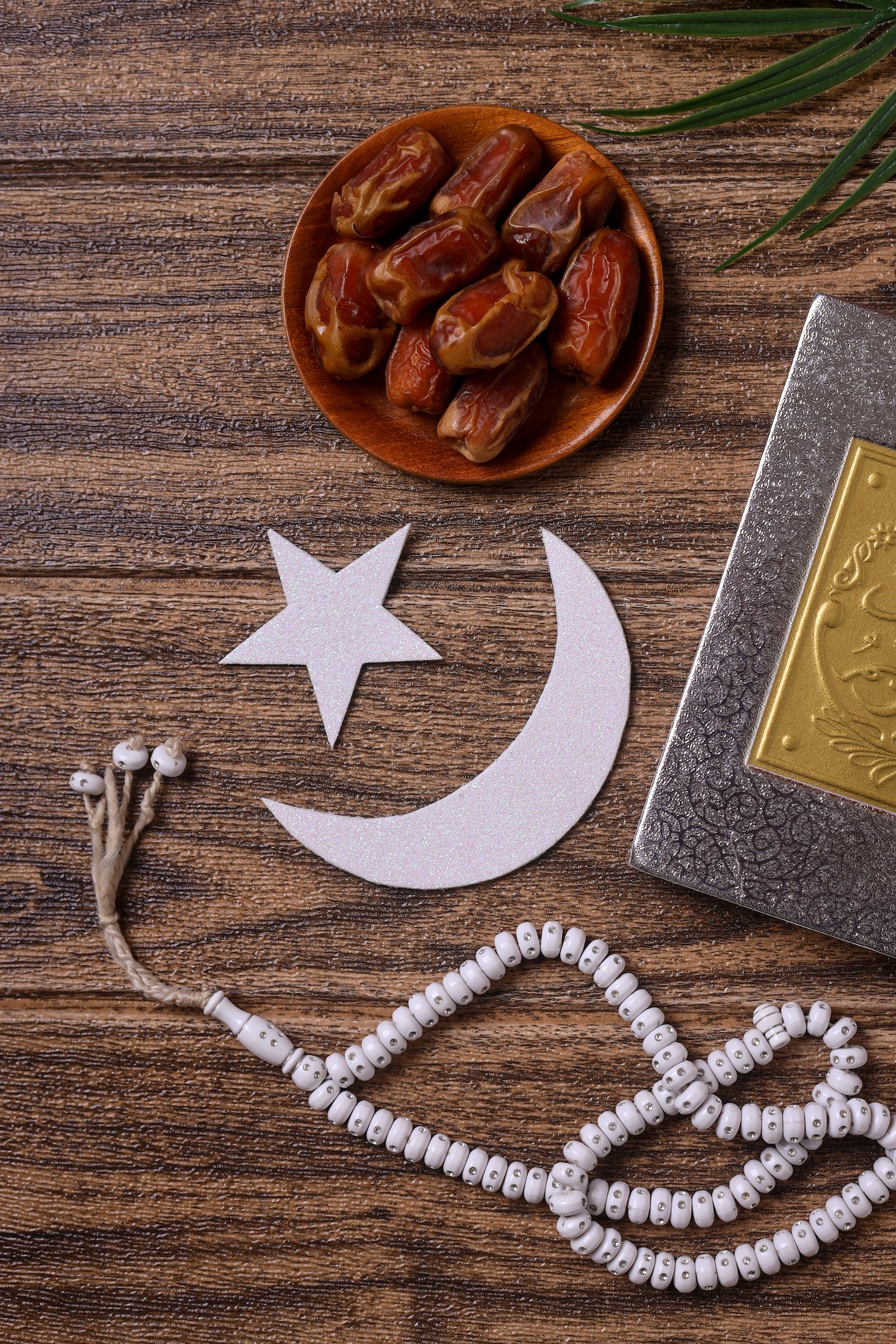 For some of us, it may be tempting to think: 'It's Ramadan; I can eat whatever I please since I'm fasting for most of the day!' While this may be true, making a conscious effort to prioritize nutrient-rich and minimally processed foods – that aren't laden with sugar and sweeteners – can play a vital role in making us feel our best and supporting our spiritual growth.
For instance, certain sweet foods and desserts will influence how satiated, energized and comfortable you feel. And indulging in fried and overly sugary treats is a potential pathway to feeling lethargic and suffering from digestive issues like bloating and heartburn — all of which can interfere with our spiritual practices.
Similarly, eating excessive added sugar can cause our blood sugar levels to skyrocket, followed by a crash in energy and concentration. Such an imbalance throughout the night may bring on emotions of irritability or mental fog while attempting acts of worship such as prayer.
Nutritious Ramadan Meal Plan
Predominantly plant-based dietitian-approved & taste-tested recipes
Grocery list to save you time, money, and fewer trips to the grocery store
Step-by-step prep guide to make the most of your time in the kitchen
Full nutritional information
BONUS: FREE Ebook with 20 Recipes to stay hydrated (worth $60)
For the most part, enjoying healthy Ramadan meals and sweet delights can help in providing us with essential vitamins, minerals, dietary fibre, antioxidants, healthy fats, carbs and protein, all of which are required for our bodies to function optimally.
Food for thought
During Ramadan, it's essential to practice discipline and mindful eating. At the same time, we can find pleasure in the festive treats – remembering to savour them with moderation and not allowing our preference for indulgences to take away from fulfilling our sacred responsibilities during fasting.
I feel an immense sense of gratitude to Allah for the abundance He has blessed us with, and I believe that when we are engaged in food preparation – cutting, washing, cooking – it's a perfect opportunity to express our thanks. To me, food is a sacred act, and healthy eating represents an opportunity to bring balance and nourishment into my life – both physically and spiritually.
Ahead, you'll discover some of my family's favourite healthy Ramadan desserts that we devour. They've been carefully crafted to ensure they are balanced with nutritious ingredients while providing delicious indulgence.
You asked: "How can I satisfy my sweet tooth without sugar?"
In addition to the scrumptious selection of healthy Ramadan desserts listed below, here are a few tips that will help you conquer your sweet tooth cravings.
Try snacking on dates, figs or prunes, which are both high in fibre and natural sugars.
Nuts and seeds contain healthy fats and proteins to keep you feeling full for longer.
Enjoy a piece or two of dark chocolate, which contains natural antioxidants and is low in sugar.
Fresh fruit is an excellent source of natural sugars, vitamins and minerals – for example, apples, oranges and berries are great choices.
Make sure to stay hydrated and drink plenty of water, which will help curb cravings.
Diabetes diet tip
Healthy eating during Ramadan when you have type 2 diabetes can feel like a challenge. When it comes to desserts, opt for those that are lower in sugar. Pair your sweets and desserts with other low-carb foods like nuts and seeds, olives and avocado. Monitor your blood sugar closely and talk to your doctor to adjust medication doses, if needed, to stay within target levels.
Key features of healthy sweets and desserts
When selecting or creating your favourite healthy desserts recipes, look out for the following features:
Natural ingredients instead of refined sugars like white sugar or brown sugar
Plant-based fats such as coconut oil and olive oil
Fibre-rich whole grains such as oats, barley, spelt or buckwheat
Fruits and vegetables for added fibre and vitamins (think applesauce, berries, banana or carrots)
Spices to enhance flavours without extra added sugar
Nuts and seeds to add a crunchy texture
Lower glycemic-index sweetener options such as coconut sugar, pumpkin puree, sweet potato, yacon powder, banana, apple and pear purees
Unsweetened milks (if using plant-based milk)
15+ Ramadan sweet recipes you'll love!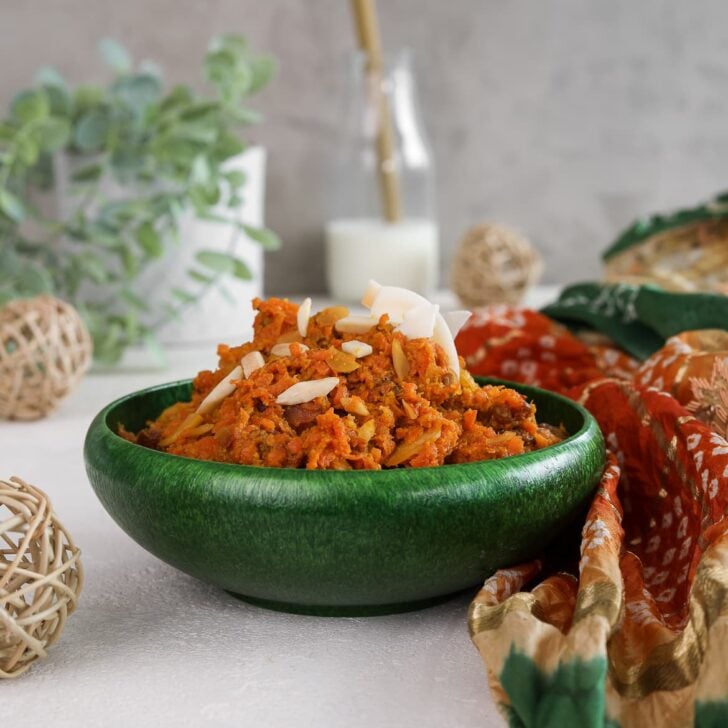 Vegan Carrot Halwa (Gajjar Halwa)
This sweet and luscious carrot halwa is made with zero added sugar and uses vegan ingredients to create an easy and healthy Indian dessert recipe. Grated carrots slowly simmered in a blissful mix of cashews, almonds, raisins, cardamom, and coconut. Watch the video to learn how to make Gajjar Halwa.
Check out this recipe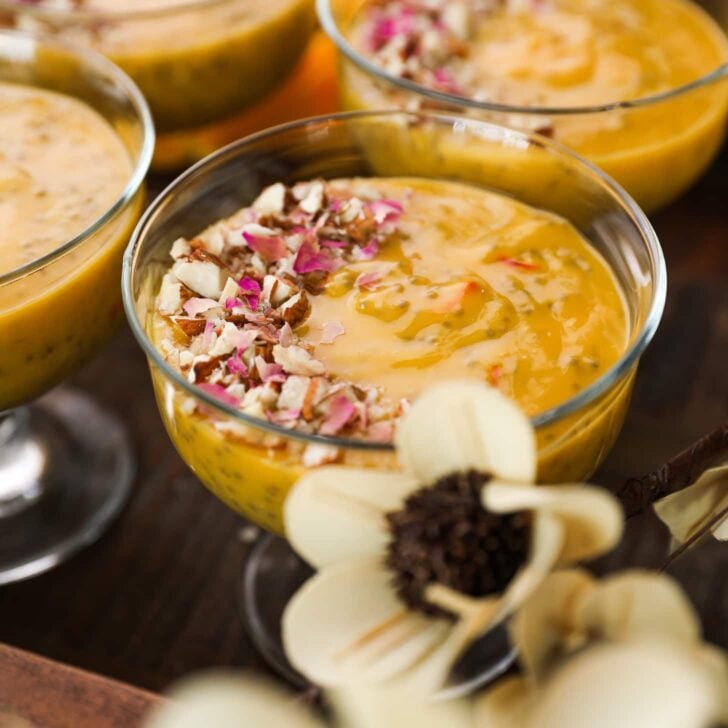 Kesar Mango Chia Phirni (Pudding)
Looking for delicious and healthy dessert recipes that are easy to make? Look no further than kesar (saffron) mango chia phirni. This spinoff on the classic Desi (Indian and Pakistani) pudding is made with mango, chia seeds, milk, and accented with saffron. It's high in protein and fibre, making it ideal as a diabetes diet friendly and heart healthy recipe. It requires no cooking, is gluten-free, and vegan.
Check out this recipe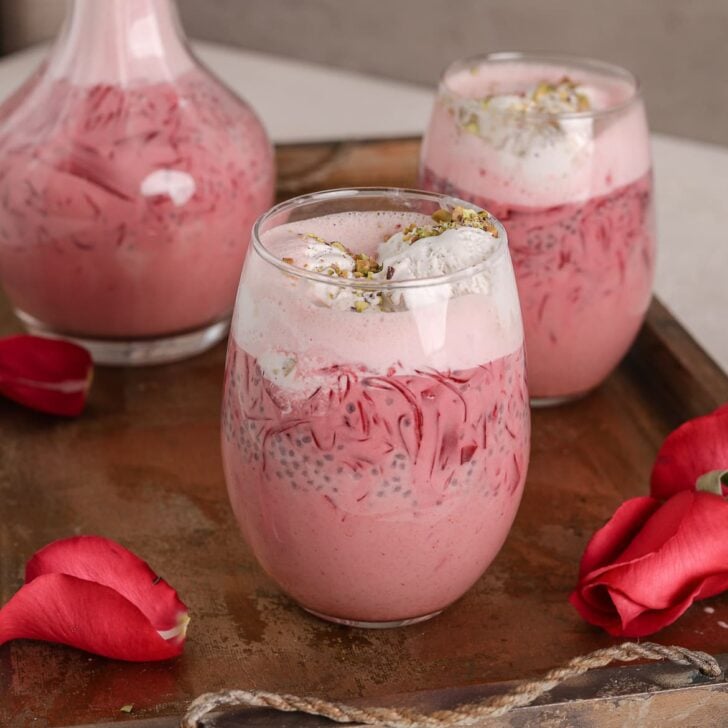 Vegan Falooda Recipe (No Added Sugar!)
Sweet, floral, and decadent, this homemade royal Falooda recipe is a must-try. Made with rose-infused milk, strands of homemade jelly, basil seeds, and topped with coconut whip and crushed pistachios. Here's everything you need to pull off this easy and healthy Indian drink or dessert — with zero added sugar, yet ALL the flavour.
Check out this recipe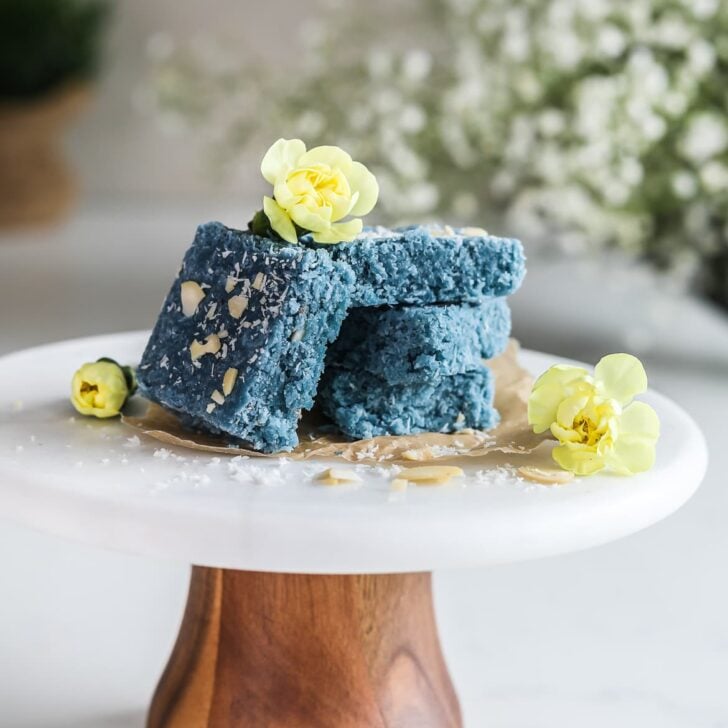 15-Minute Vegan Coconut Barfi (No Added Sugar!)
Coconut barfi is the ultimate Desi~licious sweet delight. It's saturated with coconut love and delightfully sweet and creamy to the core. I adore it for its coco-nutty flavour. My twist uses blue spirulina to give it a dazzling blue colour – radiating all the celebratory vibes. Plus, it's 100% vegan and contains zero added sugar. Learn how to make one of the most popular Indian sweets recipe in 15 minutes, with accompanying video and step-by-step instructions.
Check out this recipe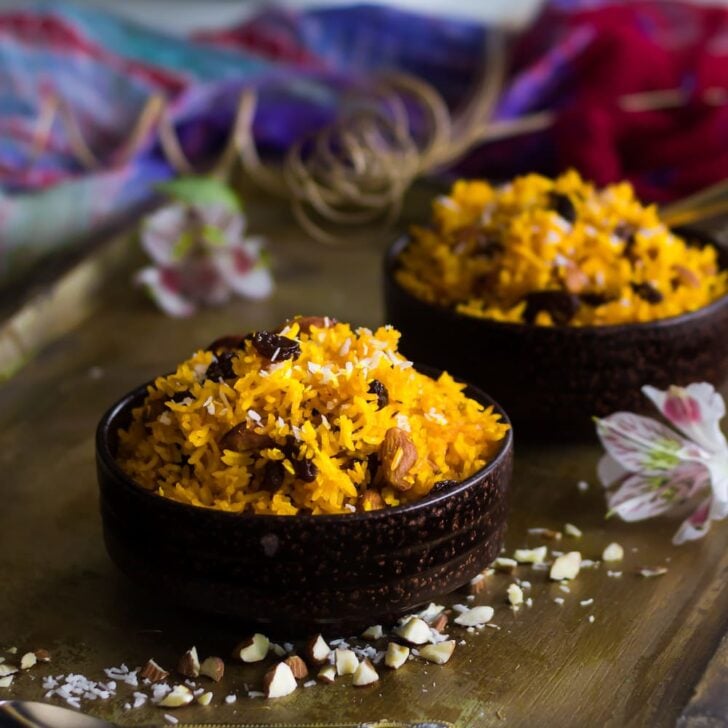 Zarda (Sweet Rice With Nuts and Coconut)
This Zarda Sweet Rice is a healthier twist to a traditional recipe; with half the sugar and less fat. The rice is cooked in nuts, cardamom, sugar, coconut and dried fruits, and finished with saffron milk, to create an irresistible end to your meal. Celebrate Eid and delight your guests with this festive recipe!
Check out this recipe
5-Minute Pistachio Apricot Ladoos (No Addedd Sugar!)
Are you looking for a healthy, delicious, and easy-to-make snack? Look no further than these vegan pistachio apricot ladoos! These ladoos only require 3 ingredients and take 5 minutes to make. They're also gluten-free, with no added sugar, so they're ideal for people with type 2 diabetes. They're particularly delicious as Ramadan sweets, especially if you're after Iftar ideas.
Check out this recipe
Super Moist Vegan Chocolate Cake
A simple vegan chocolate cake recipe that's easy and healthy — with no complicated steps! Super moist, decadent and made in one bowl. It really is a chocolate lover's dream.
Check out this recipe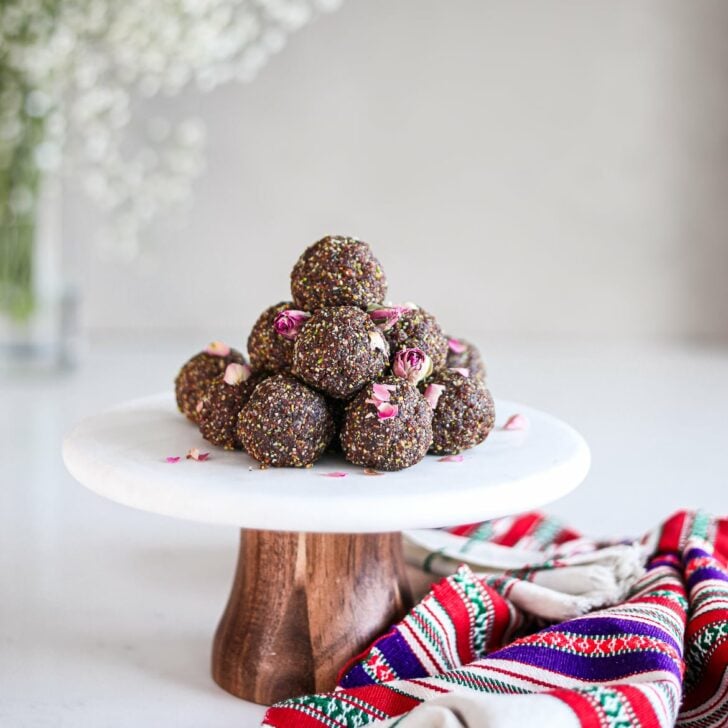 15-Minute Dried Fruit And Nut Laddu Recipe
Craving Indian sweets? Skip the deep frying and make this easy and healthy dried fruit and nut Laddu recipe – with zero added sugar. Soft and chewy dried figs blitzed with pistachios and almonds, beet powder, and infused with cardamom and rose water to create an irresistible sweet Indian dessert. Watch the video and learn how to make the most delicious and simple raw laddus — in 15 minutes!
Check out this recipe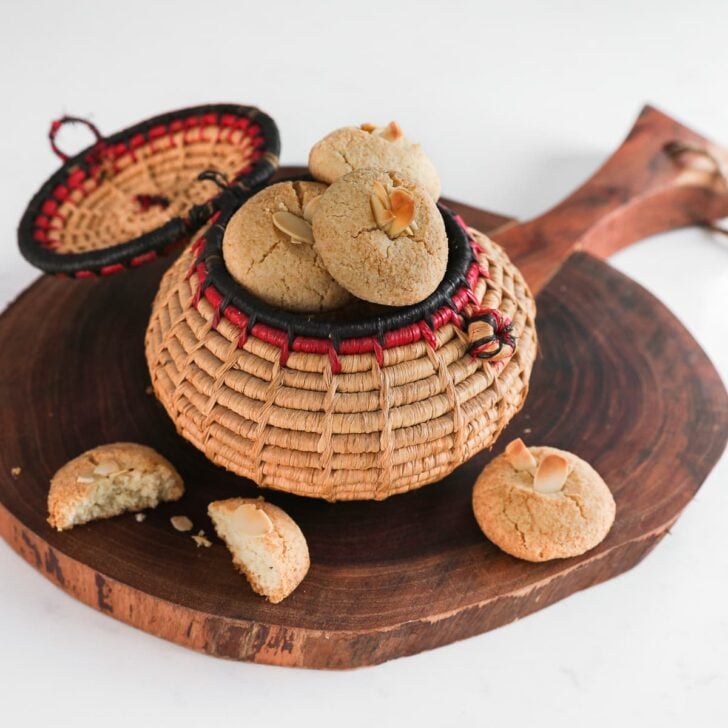 Soft And Crumbly Almond Flour Cookies (Low Carb!)
It's hard to turn down a warm cookie straight from the oven. The scent alone is enough to make your mouth water. These vegan Almond Flour Cookies – with zero added sugar – are crumbly, fragrant, and delectable. You won't be able to stop at just one! And they make for a wonderful healthy sweet treat. Also naturally gluten-free.
Check out this recipe
25-minute Quinoa Badam Kheer
Pakistani badam Kheer is a delicious, creamy pudding that's typically prepared with rice and almonds, although in this case quinoa is used instead of rice to provide an extra nutritional boost. It's so easy to make (done in 25 minutes!) and can be savoured as a dessert or a high-protein snack. This recipe is dairy free, gluten free, and vegan.
Check out this recipe
The Best Vegan Blueberry Cheesecake
Learn how to make the best vegan cheesecake! This no-bake blueberry cheesecake dessert has what it takes; it's creamy and smooth – thanks to the cashews and coconut cream and 100% vegan. The nut-date base requires only three ingredients, and the entire cheesecake recipe is super-easy to pull off. Yes, it's gluten-free too!
Check out this recipe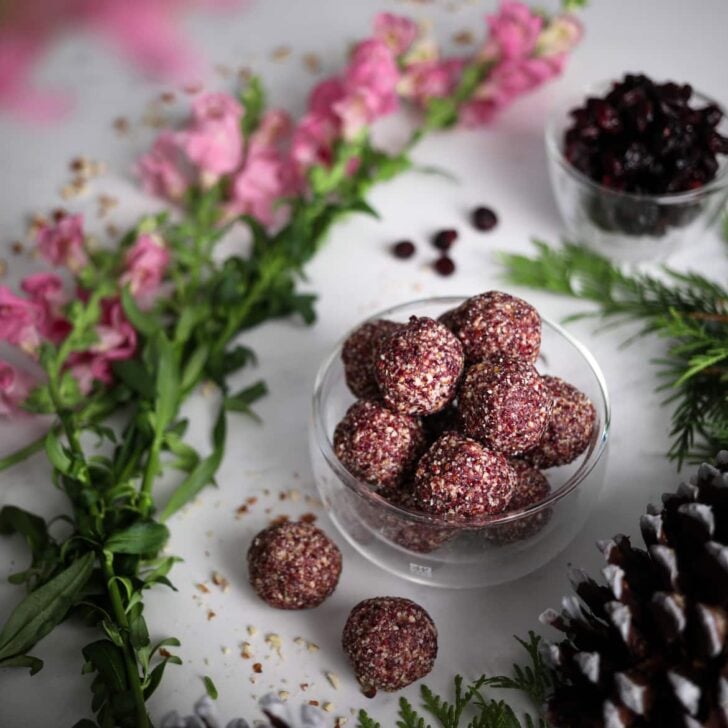 No-Bake Cranberry Energy Bites
You just can't beat convenient no-fuss recipes, that taste mmm, mmm delish. These 4-ingredient easy and healthy no-bake cranberry energy bites pack a protein punch. They're desilicious and gluten-free. An ideal snack before dinner, post-workout or as an elegant holiday dessert.
Check out this recipe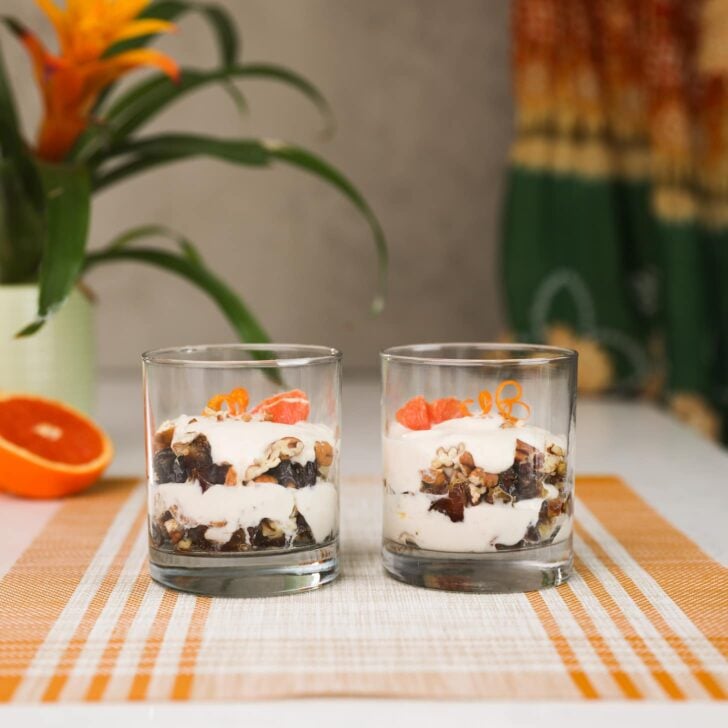 10-Minute High Protein Dates And Yogurt Parfaits
Healthy sweet recipes can be hard to come by – but these orange-scented dates and yogurt parfaits are both healthy and delicious. Made with just a few simple ingredients, it's the perfect recipe for iftar or suhoor as a Ramadan dessert. With only six ingredients and ten minutes of prep, you can make your own in no time. Plus, these parfaits are rich in protein and dietary fibre, with only a dash of maple syrup and qualify as a heart healthy and diabetes friendly recipe.
Check out this recipe
Oat Peanut Butter Cup Cookies
These Oat Peanut Butter Cup Cookies are made with nutritious ingredients, making them heart-healthy, diabetes-friendly, and absolutely delectable. The crumbly texture of fibre-rich oats is complemented by the maple-infused peanut butter, which adds the perfect level of smoothness and protein. They're decorated with crunchy pomegranates for an extra pop of tart flavour that pairs brilliantly with the rich chocolate topping. Vegan, low carb and gluten-free.
Check out this recipe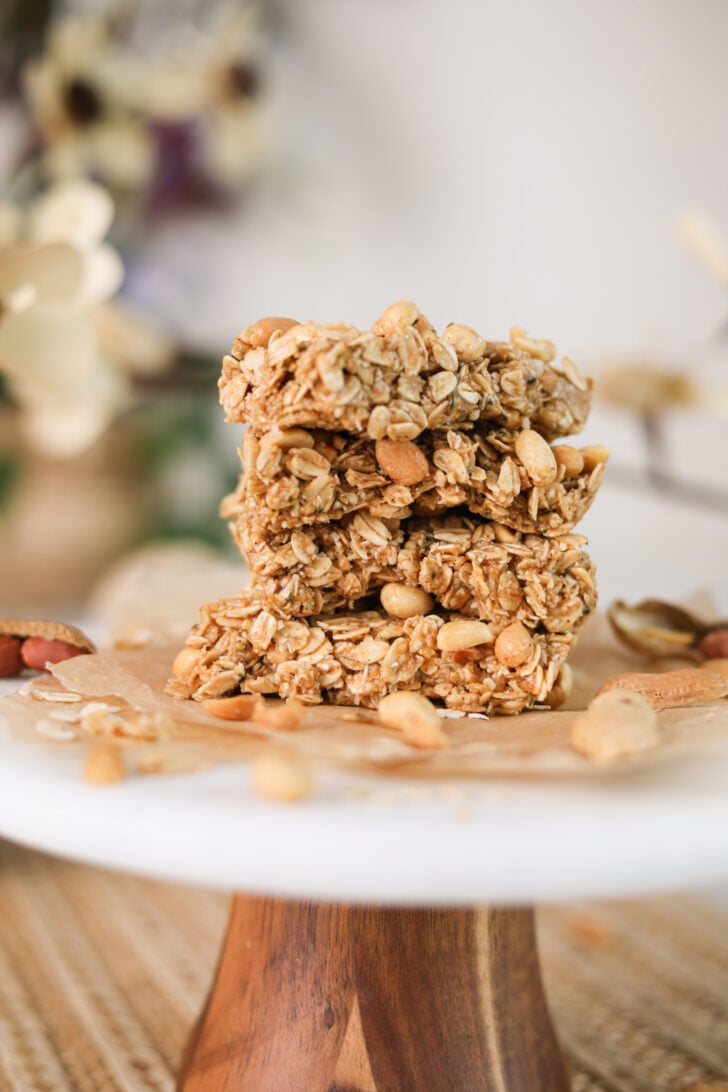 No-Bake Protein Peanut Butter Bars Recipe
If you're looking for a nutritious snack that will give you an energy boost in-between meals, look no further than these Protein Peanut Butter Bars. Packed with healthy fats and delivering 7 grams of protein per bar, they make the perfect on-the-go fuel or post workout snack. And best of all, they require no protein powder and utilize everyday pantry staples.
Check out this recipe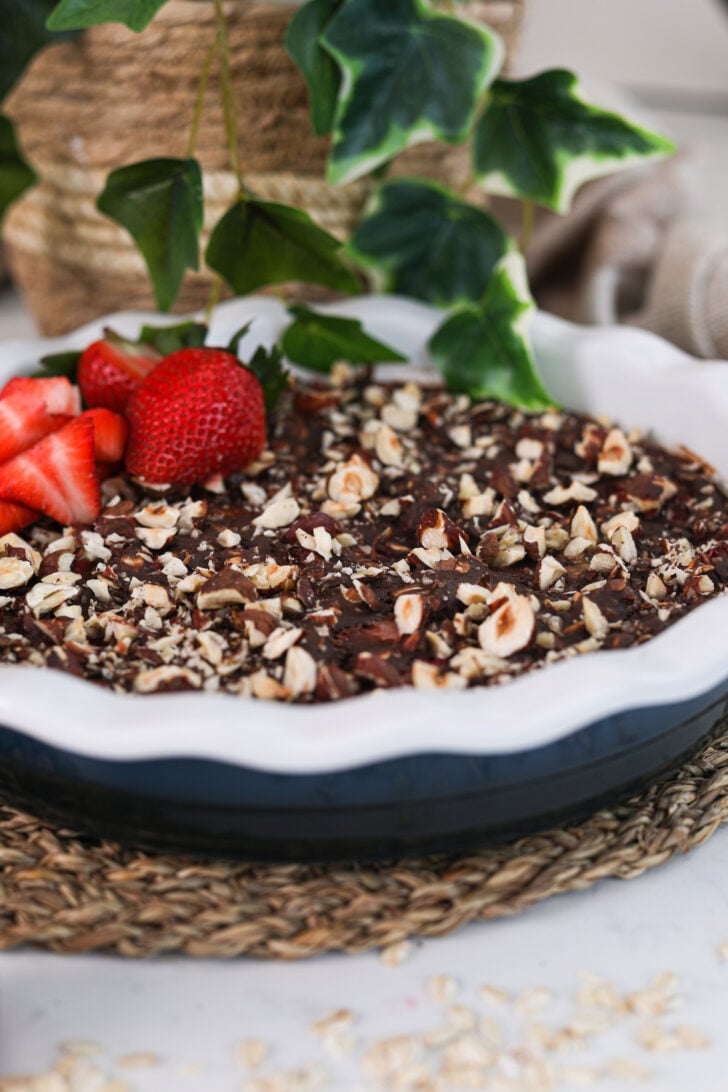 Baked Oatmeal With Protein Powder (Vegan)
Are you looking for a delicious breakfast that is both nutritious and satisfying? Baked oatmeal with protein powder is the perfect way to start your day! This easy-to-make recipe is a heavenly combination of soft, baked oats, delightful chewiness and rich chocolatey goodness.
Check out this recipe
Desi~liciously Yours,
Shahzadi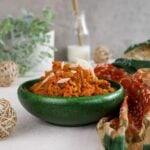 Print
15+ Healthy Ramadan Dessert & Sweets: Carrot Halwa
Treat yourself and your family to the best of Ramadan with these delicious and healthy desserts and sweets by Dietitian Shahzadi Devje.
Ingredients
1.5

tbsp

coconut oil

cold-pressed

3

carrots

extra large, washed, peeled and grated, Benefits of cooked carrots

¼

cup

cashews

plain, unsalted

¼

cup

sliced almonds

plain, unsalted

15

green cardamoms

from pods, crushed

¼

cup

raisins

plain

2⅔

cup

oat milk

unsweetened

4

tsp

erythritol

2

tbsp

coconut flour

plain
Instructions
Heat coconut oil in a large pan, and add the grated carrots and fry for 5 minutes on medium heat.

The carrots will be somewhat softer at this point. Follow with the nuts, raisins, cardamom, oat milk and erythritol. Give it a good stir and bring it to a boil.

Reduce the heat to low, cover and cook for at least 45 minutes. Don't forget to stir several times during this time to make sure the mixture does not stick to the bottom of the pan.

Stir in the coconut flour, and continue cooking the carrot halva for 15-20 minutes. Once done, give it a good stir, and finish with slivered almonds – if you fancy even more crunch.
Notes
Use fresh cardamom instead of ready-made cardamom powder.
Simmer until the mixture comes together.
Feel free to reduce the amount of coconut oil and sweetness to suit your needs.
Store in an airtight container in the fridge for up to 4 days or freeze for up to a month. Defrost in the fridge and heat before serving.
Nutrition
Calories:
367
kcal
|
Carbohydrates:
41
g
|
Protein:
9
g
|
Fat:
21
g
|
Saturated Fat:
8
g
|
Sodium:
166
mg
|
Potassium:
418
mg
|
Fiber:
7
g
|
Sugar:
9
g
|
Vitamin A:
10191
IU
|
Vitamin C:
4
mg
|
Calcium:
294
mg
|
Iron:
2
mg
The post Healthy Ramadan Desserts & Sweets: 15+ Recipes appeared first on Shahzadi Devje, Desi~licious RD.