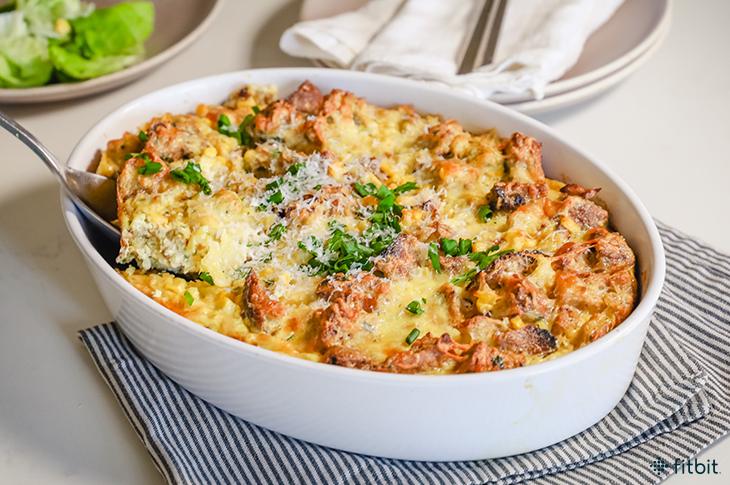 Healthy Recipe: Savory Thanksgiving Leftovers Repurposed as Green Chili Bread Pudding
Two things are true: Everyone loves stuffing. And everyone is tired of cooking the day after Thanksgiving. Enter, the Green Chili Bread Pudding.
This day-after-Thanksgiving brunch dish reimagines day-old stuffing using the bright flavors of the Southwest. The addition of eggs, milk and corn takes it from a side to a main dish—and, if served in a moderate portion alongside a green salad, it can be a great way to enjoy Thanksgiving leftovers.
This recipe is incredibly simple to put together and can be prepped the night before so that it is ready to pop in the oven the next morning. Bread pudding easily feeds a crowd and is popular with all ages. Play up the Southwestern flavors by serving alongside an avocado salad and fresh salsa.
After experimenting with this dish, we began to wonder why we never served bread pudding as our stuffing side to begin with?!
INGREDIENTS:
6 eggs, large
1.5 cups of low fat milk
1 cup of low sodium vegetable stock
8 cups leftover bread stuffing
2 cups corn kernels, frozen or fresh
2 tablespoon green chilI, finely chopped
1/3 cup grated sharp cheddar cheese
2 scallions, chopped
¼ cup cilantro, chopped
INSTRUCTIONS:
Preheat the oven to 350° degrees.
In a medium bowl, combine the eggs, milk, and stock and whisk to combine. Then add the green chilis and corn kernels. Mix to combine and if using frozen corn, break up any large pieces.
Next mix in the leftover stuffing and gently stir to combine. The consistency should be similar to a pancake batter with chunky pieces of stuffing.
Add the mixture to a large gratin dish or oven safe glass dish. Place it in the oven and bake for about 55 minutes, or until the egg sets. Let cool for at least 10 minutes, and serve warm or at room temperature.
When you are ready to serve, top each piece with a pile of fresh chopped herbs. Serve with a simple green salad and your favorite hot sauce.
Makes 10 servings.
NUTRITION FACTS (PER SERVING):
Calories 530
Protein 18 g
Total fat 10 g
Saturated fat 2 g
Cholesterol 115 mg
Carbs 92 g
Fiber 4 g
Total sugars 12 g
Added sugars 8 g
Sodium 910 mg
The post Healthy Recipe: Savory Thanksgiving Leftovers Repurposed as Green Chili Bread Pudding appeared first on Fitbit Blog.