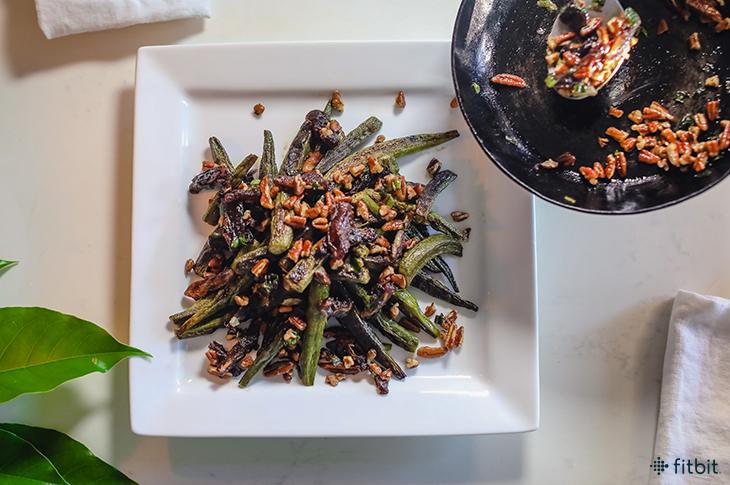 Healthy Recipe: Roasted Okra with Scallions, Dates, and Pecans
The secret to making great okra is to roast it until fragrant and a golden brown. This recipe does that and has a sweet nutty topper that makes it a fantastic side dish for any holiday table.
Okra is a nutritional powerhouse with high levels of vitamins K, folate, and potassium as well as antioxidants and fiber to nourish your body. Okra is cherished in the flavorful cuisines of West Africa, Ethiopia, South Asia and the American South and chefs have been increasingly introducing it into restaurant menus. Wow your guests with the great flavor of this delicious roasted vegetable served here as a side with scallions, dates and pecans.
Okra is also known as Lady Fingers, is from the mallow family, is a green seed pod with a slightly fuzzy exterior. It is best eaten cooked, where its fuzzy, prickly texture transforms into silken custard in consistency. It is very simple to prepare, just slice the tops and tips off and cook, careful not to overcook.
This gem of a recipe, our testers loved the sweet and salty combination so much they devoured a double batch in one sitting. This dish will definitely be showing up on our holiday table this year.
INGREDIENTS:
1 lbs okra, ends and stems removed
2 tablespoons olive oil
½ teaspoon kosher salt
2 bunches scallions, trimmed and finely chopped
4 Medjool dates, pits removed and thinly sliced into strips
¼ cup toasted pecans, roughly chopped
INSTRUCTIONS:
Preheat the oven to 400 degrees. Rinse the okra thoroughly, pat dry, and trim off the ends and stems. Add the okra to a baking sheet and drizzle with one tablespoon of olive oil and half teaspoon salt. Toss to coat, and then arrange them on a sheet so that they don't overlap. Roast in the oven for about 20 minutes—the okra should be tender and deeply golden brown but not falling apart.
Meanwhile, prepare the topping. In a medium saute pan over medium-high heat, warm the remaining olive oil over a medium heat. Add the chopped scallions, a pinch of salt, and cook to soften, about one to two minutes. Add the sliced dates and chopped pecans and cook to warm through, another one to two minutes more.
When the okra have finished roasting, arrange them on a plate and ladle the date topping over top.
Makes 6 servings.
NUTRITION FACTS (PER SERVING):
Calories 110
Protein 2 g
Total fat 8 g
Saturated fat 1 g
Cholesterol 0 mg
Carbs 10 g
Fiber 3 g
Total sugars 7 g
Added sugars 0 g
Sodium 170 mg
The post Healthy Recipe: Roasted Okra with Scallions, Dates, and Pecans appeared first on Fitbit Blog.