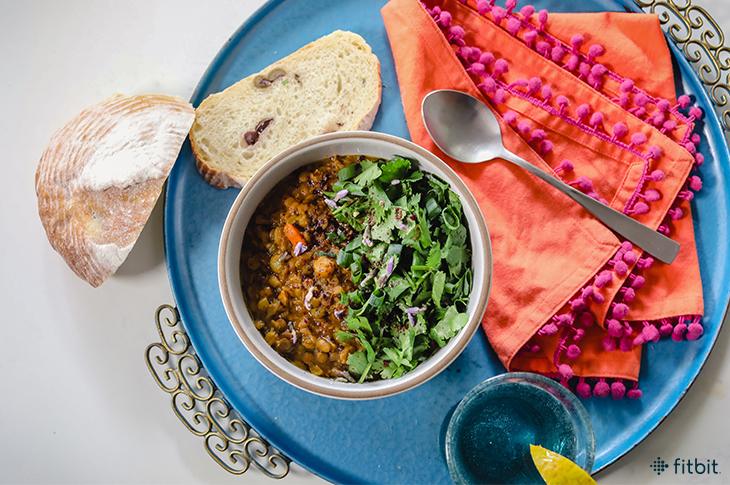 Healthy Recipe: Warming Green Lentil Soup
RECIPE BY LEANDRA ROUSE | PHOTOGRAPHY BY SAM EMMONS
This satisfying and nourishing soup is a perfect weeknight dinner when temperatures drop. It uses authentic Indian spices which have a warming effect on the body according to Ayurvedic medicine.
This recipe combines lentils and split peas for a creamy nutty texture, with the surprise flavor burst of raisins marinated in curry. It is fantastic served over a bowl of hot rice with fresh herbs and a squeeze of lime. The combination is so flavorful, bright and warming for a Fall evening or weekend lunch. The lentil-split pea combination was inspired by a recipe in the Esalen cookbook and adapted by infusing warming Indian spices into the broth.
Lentils should be a staple in every pantry because they are quick cooking and don't require soaking – you can make a meal in thirty minutes! Lentils are rich in essential nutrients like protein, B vitamins, magnesium, iron, and zinc. Here they make a great soup, but you can also use them as burrito filling, sprinkled over salads, or even spooned over rice to create a hearty pilaf.
The ancient Indian medical system, known as Ayurveda, is based on a natural and holistic approach to physical and mental health. It is one of the oldest medical systems and remains the core of the Indian medical approach. Ayurvedic medicine considers the changing health needs of the body throughout the seasons. The Ayurvedic philosophy says that in the winter, the metabolism works harder to maintain the internal body temperature. So the recommendation is to increase rich, nutrient-rich, and warming foods to help the body maintain energy. This means increasing the use of heat-generating spices like cinnamon, nutmeg, and ginger.
This soup is so good, make a double batch and freeze it for a future dinner. It reheats beautifully and makes the healthy choice the easy one.
INGREDIENTS:
1 cup yellow split peas
1 cup lentils, red preferred
7 cup water
1 medium carrot, washed and diced
2 tablespoons fresh ginger, peeled and minced
2 tablespoons curry powder
¼ teaspoon ground cinnamon
¼ teaspoon ground nutmeg
¼ teaspoon ground ginger
2 tablespoons coconut oil
8 green onions or scallions, thinly sliced
3 tablespoons golden raisins
1/3 cup tomato paste
1 14- ounce can lite coconut milk
2 teaspoons fine grain sea or Kosher salt
½ bunch cilantro, roughly chopped
INSTRUCTIONS:
Rinse the lentils and split peas until the water runs clear and then transfer to an extra large stock pot with 7 cups of water. Quickly bring to a boil and then reduce to a simmer. Chop and add the carrot and 1 tablespoon fresh ginger. Cover and simmer until the split peas soften, approximately 30 minutes.
While the lentils simmer, heat a small saucepan over low heat and toast the warming spices—curry powder, ground cinnamon, ground nutmeg, and the ground ginger. Heat until fragrant, being careful not to burn. Set aside.
In the same sauce pan, heat coconut oil over medium heat and add half the green onions, the remaining 1 tablespoon of ginger, and raisins. Saute for two minutes, then add the tomato paste, and saute another couple of minutes. Add the toasted spices to the tomato paste mixture and stir to combine. Add this mixture to the simmering lentils along with the coconut milk and salt.
Cook all together for 20 minutes or until the soup reaches your preferred consistency. The longer you simmer the soup the thicker it will be.
Serve warm over rice with a generous serving of chopped green onions, cilantro, and squeeze of lime juice. A spoonful of yogurt and your favorite hot sauce are also great additions.
Makes 8 servings.
NUTRITION FACTS (PER SERVING):
Calories 220
Protein 10 g
Total fat 7 g
Saturated fat 6 g
Cholesterol 0 mg
Carbs 29 g
Fiber 8 g
Total sugars 5 g
Added sugars 0 g
Sodium 530 mg
The post Healthy Recipe: Warming Green Lentil Soup appeared first on Fitbit Blog.