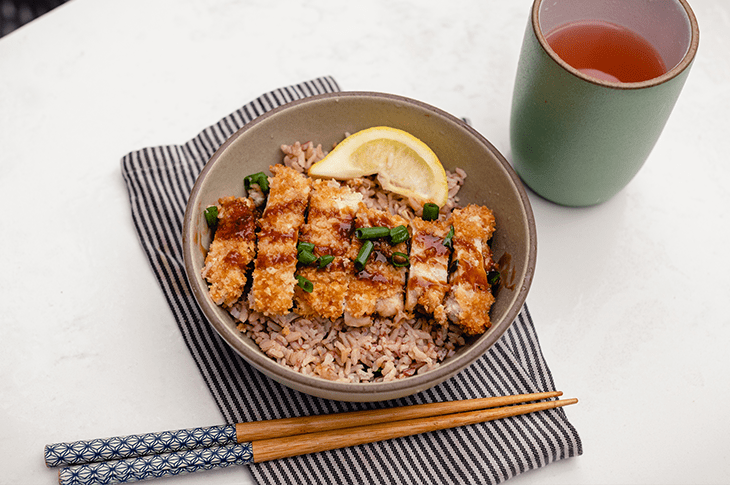 Healthy Recipe: Baked Gluten-Free Chicken Katsu
RECIPE BY LEANDRA ROUSE | PHOTOGRAPHY BY SAM EMMONS
There's so much to love about chicken katsu: crunchy exterior, tangy sauce, and versatility, much? Yet if your commitment to minimize fried foods has removed this Japanese staple from your healthy home cooking repertoire, you're in luck. This baked version substitutes gluten-free panko and almond flour as a protein-rich alternative to the traditional preparation. Almond flour contains seven grams of protein in just a quarter of a cup.
In this recipe crispness is king. There are a variety of ways to maintain that satisfying crunch with a baked version. The success of the final recipe came from pre-toasting the panko and also baking it on a wire rack. To maintain maximum crunch, serve this dish immediately.
In this recipe, chicken is used as the main ingredient. But other protein sources could easily be swapped, such as tofu, fish, or pork. This katsu was served with brown rice and a ribbon carrot and cucumber salad to build a balanced healthy meal. Pairing with Tonkatsu sauce is a must and can easily be made from scratch using one tablespoon ketchup, 2 1/2 teaspoons oyster sauce, 1 1/2 teaspoons worcester, and one teaspoon honey. Aim for one teaspoon or less of katsu sauce for serving size.
INGREDIENTS:
1 cup gluten-free Panko Japanese bread crumbs
1 teaspoon extra-virgin olive oil
1 pound boneless skinless chicken thighs
¼ teaspoon kosher salt
¼ teaspoon freshly ground black pepper
¼ cup almond flour
1 large egg
1 Tbsp water
To serve
1 teaspoon of your favorite Tonkatsu sauce
INSTRUCTIONS:
Preheat the oven to 400ºF. Prepare your baking sheet by adding a wire baking tray. Remove chicken from the refrigerator and wash and dry each piece well. Season lightly with salt and pepper and set aside to bring to room temperature.
To pre toast the panko bread crumbs. Heat olive oil in a cold pan and add panko. Stir regularly until all panko are golden brown. Set the panko aside and allow the pan to cool.
Prepare your breading station by arranging two shallow dishes near the baking sheet—one with almond flour, and the other with a whisked egg and one tablespoon of water.
When you are ready to begin, dip an individual piece of chicken into the almond flour, then into the egg mixture, and finally into the golden panko. Place the chicken pieces onto the wire rack baking sheet. Once all the chicken has been breaded, add them to the oven and bake at 400ºF or until chicken's internal temperature reads 165ºF. This takes about 25 to 30 minutes.
Serve immediately with a squeeze of lemon and your favorite Tonkatsu sauce.
Makes 6 servings.
NUTRITION FACTS (PER SERVING) WITHOUT SAUCE:
Calories 200
Protein 18 g
Total fat 7 g
Saturated fat 1.5 g
Cholesterol 100 mg
Carbs 14 g
Fiber 1 g
Total sugars 1 g
Added sugars 0 g
Sodium 230 mg
The post Healthy Recipe: Baked Gluten-Free Chicken Katsu appeared first on Fitbit Blog.