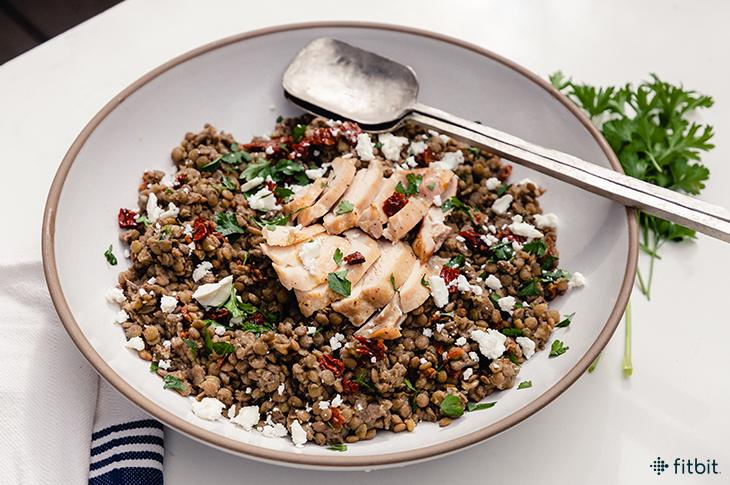 Healthy Recipe: Sun-Baked Tomato, Lentil, and Tuscan Kale Salad with Roast Chicken
This salad is a main dish that pulls out all the stops. Nutrient rich lentils, tasty roast chicken, and creamy feta cheese, paired with fresh leaf greens and sundried tomatoes. This single dish offers nourishment, is nutritionally balanced and tons of flavor. Best of all, it is great made in bulk because it saves well – in fact, the flavors get better overnight. Making it a great dinner, and an even better healthy lunch.
Lentils are packed with protein (a third of your daily requirements in one cup!), high in dietary fiber and other essential nutrients, especially the B-vitamins. With over a dozen varieties, the flavor can range from nutty to peppery to meaty or umami flavors. Colorful and an array of textures when cooked, they can thicken a sauce or add chewy excitement to a salad or fish dish. Lentils can even be sprouted on the window sill to create a leafy crunchy sandwich or salad topping.
Lentils are a great pantry staple because they can be stored for a couple of years, they don't require soaking and will cook in less than 30 minutes. They are an affordable source of good quality nutrition.
INGREDIENTS:
For the chicken:
1/2 cp olive brine
1 lemon, zest and juice
1 Tbp olive oil
2 cloves garlic, minced
2 lbs chicken thighs, boneless, skinless
For the lentils:
1 ½ lbs green lentils, dried
2 bay leaves
1 clove garlic, large
½ bunch Tuscan kale,
6 sun-dried tomatoes, drained, minced, with 3 Tbps of the oil reserved
4 Tbp fresh flat-leaf parsley, minced
1 Tbp red wine vinegar
¼ lbs feta cheese, crumbled or cubed, with 1 Tbp set aside for garnish
INSTRUCTIONS:
Combine lemon zest and juice, garlic, olive brine, and olive oil in a large bowl and whisk to combine. Score the chicken thighs with two slits, then add to marinade and toss in marinade. Cover and set aside in the refrigerator to marinate. Toss occasionally.
Preheat the oven to 425.
In a large saucepan, bring 6 cups of water to a boil and then add the dried lentils, bay leaves and whole garlic clove. Return to a boil over medium heat, then reduce the heat to low and simmer, and cook uncovered until the lentils are tender to the bite, approximately 30 to 40 minutes. Cook lentils like pasta, testing regularly, to be sure they are not over cooked. If any of the lentils are starting to break up – the lentils are cooked and should be removed from the heat. Once cooked, drain the lentils well and set aside.
While the lentils are cooking, strip the kale leaves off their stems. Discard the stems (these can be saved in the freezer for stock or smoothies) and set the leaves aside in the large stack. Once all leaves have been stripped and stacked, roll the stack into a tight cylinder. And cut crosswise to create uniform thin ribbons. Cut any very long stips in half and then transfer the ribbons to a large bowl. Season with a pinch of salt and massage until kale feels tender. Set aside.
In a large bowl create the salad dressing by combining ½ teaspoon salt, the minced sun-dried tomatoes and the reserved sun-dried tomato oil, minced garlic, 3 tablespoons of chopped parsley and vinegar. Whisk to combine.
Transfer the marinated chicken to a baking sheet and add to the oven. Roast for about 20 minutes or until a thermometer reads 165°F. Set aside to cool for 5 minutes. And then cut into 2 inch slices.
When the lentils are fully drained add them to the large bowl, along with the marinated kale strips and the dressing and toss to combine. Top with the feta cheese, sliced chicken and garnish with an additional 1 tablespoon of parsley. Serve at room temperature.
Serves 6-8 people.
NUTRITION FACTS (PER SERVING):
Calories 420
Protein 37 g
Total fat 18 g
Saturated fat 4.5 g
Cholesterol 135 mg
Carbs 28 g
Fiber 7 g
Total sugars 3 g
Added sugars 0 g
Sodium 320 mg
The post Healthy Recipe: Sun-Baked Tomato, Lentil, and Tuscan Kale Salad with Roast Chicken appeared first on Fitbit Blog.