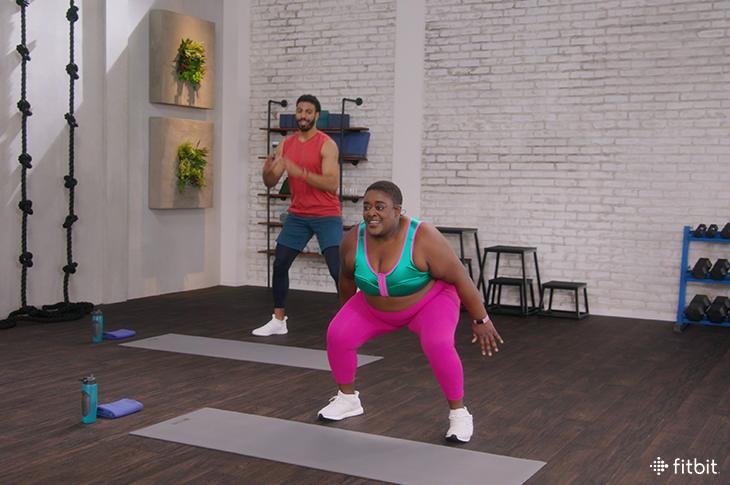 8 Unique Ways to Get Your Sweat On
Are you feeling a little less than motivated in your workout regimen lately? Maybe you're just going through the motions—hitting the gym and using the same machines or doing the same at-home yoga classes on repeat. We've all been there.
The good news? There are more options than ever to add a little unconventional flavor into your routine. Keep reading for 8 unique workout ideas that will ensure you get your sweat on, burn plenty of calories, and have some fun while you're at it.
Break out the hula hoop. Tap into your inner child by breaking out a hula hoop. It's said that hula hooping provides similar results to other forms of aerobic exercise, such as dancing. Likely you knew that—whether you're using a weighted hoop or a regular one.
But did you know that in just 30 minutes of hula hooping, women can burn around 165 calories, and men can burn about 200? Not a bad workout at all. Plus, the nostalgia factor can't be beat.
Jump on a trampoline. Trampoline jumping is another unique workout that will have your inner child jumping for joy—pun fully intended. Whether you have the space at home to purchase and store your own mini trampoline, or you decide to sign up for a class at a nearby trampoline park, this is the perfect pick for adults and kiddos alike.
Grab the jump rope. If you're looking for a fun and cost-efficient workout that actually targets almost every body part, you may want to consider reaching for a jump rope! Maybe you've been out of practice since grade school—you wouldn't be the only one. But you'll be happy to learn that you can build up your jump rope ability again! It's mostly contingent on building up your sense of coordination. Here are some tips on how to improve and maximize your jump rope skills.
Try a pole dancing class. Want a full body workout that will also help you feel more comfortable in your body? Not only does pole fitness target your core and tone the entire body, but it can also boost your sense of confidence, too—just ask featured Fitbit Premium trainer Roslyn Mays (otherwise known as Roz the Diva). Not only is Roz an acclaimed pole athlete and NASM-certified trainer, but she also created Dangerous Curves, the first-ever national competition to put a spotlight on plus size pole athletes.
Roz has some great advice for those who are new to pole fitness—and potentially intimidated to try it out. "Don't go into any new movement chasing confidence; rather, prioritize having fun," she shares. "Figure out how you like to move your body and do a lot of that. Yes, you will look crazy, it's just as hard as it looks and will take a long time to feel comfortable; and no, those aren't reasons to give up. If you look cool while doing it, consider that a bonus."
"Hot girl walk": treadmill edition. If you're an avid fan of the "hot girl walk," you're likely already aware of the health benefits that it can have for your mental and physical health. But how to take it to another level? Introducing the "treadmill strut" workout, created by TikTok influencer Allie Bennett—who now refers to herself as "CEO of the treadmill strut."
This high-energy cardio workout involves coordinating your time on the treadmill with a 30-minute playlist, starting out by finding your pace with the first song (start with one around three mph) and then bumping up your speed by .1 mph with each new song. Eventually, you'll step up the pace until you're in power walk mode, or else a light jog—and the more confident your walk becomes, the better! Allie, who regularly shares new playlists to work up a strut to on her TikTok page, remains a champion of the empowering workout, and we have to say we are, too.
Sign up for a circus class. Have you always wanted to dip your toe into the world of circus arts? There's no better time for the present to try something new and adventurous—like circus training, which includes flying trapeze, aerial silks, and acrobatics. A great way to unwind, test your limits, and feel absolutely exhilarated as you spin or fly through the air, circus classes will leave you with sore muscles and, more likely than not, a desire to return for more.
Go rollerskating. Another activity that is perfect for helping you channel the enthusiasm of your inner child—roller skating! You can easily strap on a new pair of skates and zoom around the neighborhood, even practicing a trick or two if you're feeling brave enough. Or, if you're not quite ready to commit to purchasing a brand new pair of skates, grab a friend, find your nearest roller rink, and thoroughly enjoy yourselves.
Dance. Probably the most accessible workout on this list, you can choose to up the ante or not. Signing up for a dance class is one option—or you can just put together a playlist of your favorite tunes, set a timer, and dance your heart out!
Looking to tap into your everyday routine in other new and more accessible ways? Try the new Fitbit Inspire 3—the next generation of Fitbit's health and fitness tracker! Whether you're taking on a trampoline workout, trying out a hot girl walk or treadmill strut, roller skating, or flying trapeze, Inspire 3 makes it easier to live an active, healthy lifestyle—whatever you're doing and however you're moving. Find out more about it here.
The post 8 Unique Ways to Get Your Sweat On appeared first on Fitbit Blog.