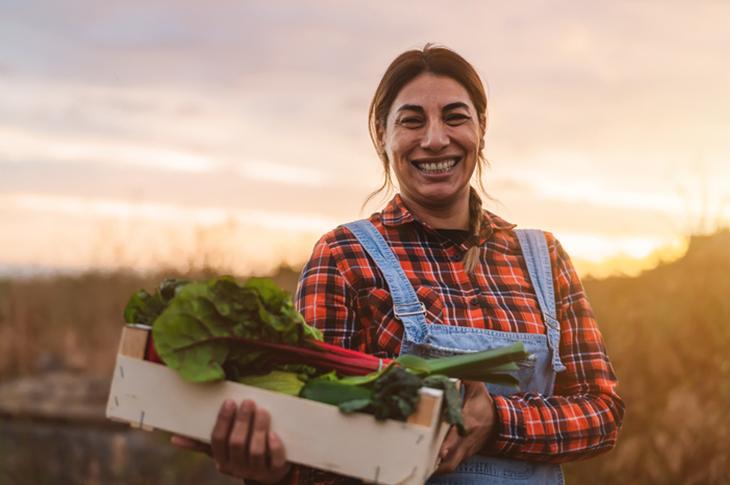 CSA Boxes: What Are They and How Can They Help You Eat Healthier?
Nothing beats the taste and nutrition of farm-fresh produce. And, with a CSA membership, you don't even need to live near a farm to enjoy it.
What is a CSA, and how does it work? A CSA (short for community supported agriculture) is an arrangement between farmers and consumers that gives upfront financing to farmers and delivers ultra-fresh produce to members in return. Each year, before planting begins, farmers sell "shares" in their upcoming harvest. This provides cash for seeds, supplies, labor, and the like. Then, once the growing season begins, members receive a weekly box or bag of delicious, fresh-from-the-farm vegetables.
Here's how to decide if a CSA is right for you.
The perks of CSA membership
Better nutrition. With as many as 8 to 12 different vegetables in the typical summertime basket, eating the rainbow couldn't be easier. "Because items are harvested at the peak of ripeness and travel directly from farmer to consumer, they're at their peak nutritionally as well," says Amrie DeFrates, RD, a nutritionist and owner of Amrie's Homegrown.
There's another upside to all that tasty produce. Research shows people who signed up for a CSA membership reported eating more fruits and vegetables, a wider variety, eating out less and less take-out, plus even sharing more home-cooked meals as a family.
Convenience. No need to run from store to store searching for the best produce. Each week you can expect to receive 5 to 7 pounds of vegetables. In most cases, you'll pick them up at a central location, such as a school, church, or even the farm itself. Some CSAs, though, will deliver straight to your door for an extra fee. And while most CSA shares are focused on vegetables, many farms are increasingly offering additional options such as fruit, dairy, eggs, chicken, cheese, and honey.
Enjoy more inspiration with meals and snacks. "A CSA can be an excellent way to expand your meal repertoire and nudge you on food discovery, even push you outside your comfort zone," says Leanne Ray, MS, RDN, a nutritionist and owner of Healthyish Appetite. When you open your box, you may find veggies that you've never tasted, seen, or cooked with before, like kohlrabi, celeriac, purple cauliflower, or garlic scapes. "With so many new items it's a great way to mix things up in the kitchen," adds Ray.
Reduce your carbon footprint. Did you know most veggies travel hundreds, if not thousands, of miles from farm to table? That can gobble up a lot of fuel. Then there's all that plastic used for bagging leafy greens or wrapping broccoli, corn, and celery. CSA hauls, by comparison, are usually packed in recycle-ready cardboard boxes or paper bags.
Just don't be surprised if the contents are a little dirty (after all, they do come from a farm!). Once you get home, you may want to give them a quick rinse and pat them dry. Then store them in cloth or mesh produce bags or reusable airtight containers.
Good to know when joining a CSA
Variety can sometimes be an issue. Often, you'll enjoy tomatoes, carrots, cukes, sweet peppers, and more. But occasionally, you'll find mountains of zucchini and not much else. No problem, says Ray, make them multitask. "For instance, use zucchini in both sweet and savory recipes, like a zoodle dish for dinner and some muffins for breakfast," she suggests. "This way, you won't get burnt out on one thing."
Planning helps reduce food waste. Unboxing a bounty of veggies can be exciting but polishing it off can be challenging. Luckily there are workarounds. One is to find a CSA that offers a smaller-sized half share. "Or if committing to an entire box feels like a lot, you might consider sharing one with a friend or neighbor," says Ray. "This way you'll still get the benefits of regular fresh, seasonal produce without worrying about waste."
Be prepared to learn some new recipes. Baby bok choy and daikon radishes are tasty. But if you've never cooked with them before, it can be tricky to know what to do with them. "Start by making a list of the items in the box and work from it to create meals and snacks for the week," says DeFrates. "Then, keep your list in a visible place to refer to throughout the week."
Pre-prepping can also be a lifesaver, she says. "For example, if a stir-fry is on the weekly dinner menu, slice up the vegetables ahead of time before placing them in the refrigerator."
Opt for flexibility in your subscription if you travel frequently. If you are a frequent traveler, you may not be able to pick up—or have time to finish—all those fresh veggies. In that case, DeFrates recommends seeking out a CSA that will allow you to pause your subscription. If that's not an option, some CSAs will happily donate your unused box to community groups in need.
With more than 2,500 CSAs in the United States, there's one out there for you. If you're intrigued but don't know where to start, Local Harvest can help you find a CSA in your area.
The post CSA Boxes: What Are They and How Can They Help You Eat Healthier? appeared first on Fitbit Blog.