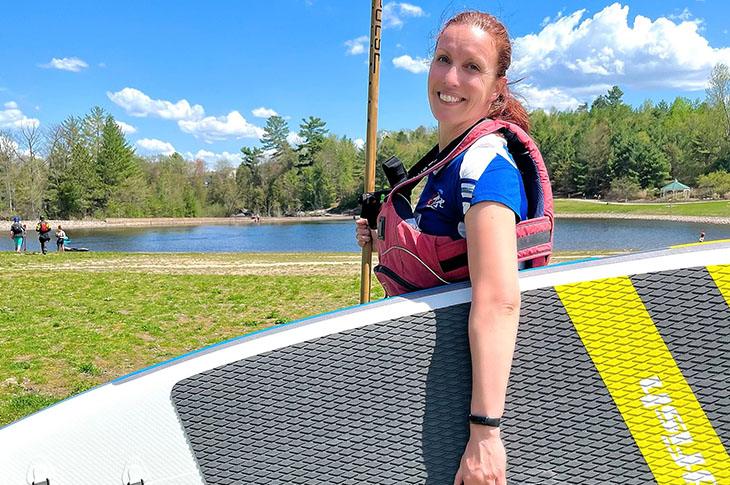 Discover How Athletic Therapist Victoria Cleary was Inspired by Her Patient to Change Her Habits—and Heal Herself
As a certified Athletic Therapist or CAT(C), I work with many patients recovering from concussions. One of my patients, who I'll call Betty, has been an inspiration. She has improved my life as much as I've helped her.
Betty is 69 and sustained a concussion in a fall about a year ago. As with all my patients, I told her that she would have to carefully monitor and keep track of her work/rest ratio. As you heal from a concussion, it is essential to give the brain stimulation and time to rest and recover. You might begin with 10 minutes of work, which could be anything from watching TV to talking with a friend, followed by 50 minutes of rest. You can adjust the ratio to have more stimulation and shorter rest periods as you recover. Tracking your sleep is also critically important.
Betty took my instruction to the next level. When we'd meet in person, she'd bring a binder of data. She told me how she relied on her Fitbit to track her Active Zone Minutes, sleep, and other biometrics like her heart rate variability. I was particularly impressed with the depth of data the Fitbit device produced about her sleep. It not only tracked how long she slept but could report how long she spent in deep sleep and REM periods. She didn't sleep for a long time, but she got high sleep scores for sleep quality and restoration. I was inspired by Betty to improve my sleep and my own mental health.
I had to admit that although I was preaching the value of having a balanced work/rest ratio and the importance of sleep, I was letting these things slip in my own life. I'm a single mother and the owner of my own Multidisciplinary clinic in Petawawa, Ontario. I am also one of the team therapists for Canada's national wrestling team. I've always been athletic, enjoying paddleboarding in the spring and summer and skiing in the winter. My life is active and busy but often stressful.
After the first year of COVID, I felt more anxious and less healthy. The pandemic forced my clinic to shut down several times, and there was a lot of staff turnover. I was exercising less and drinking more than usual. After Christmas, I noticed that my cross country ski pants weren't fitting as well, and my resting heart rate was 74, which was high for me. It is easy to let your own health slip when you are busy caring for others.
So in June of last year, I decided to follow in Betty's footsteps and get a Fitbit to keep better track of my overall health. I bought an Inspire 2 mainly to focus on my mindfulness and sleep.
I've never been someone who could get 8 hours of sleep. Betty was similar. She would only get 5 or 6 hours of sleep but got high restoration scores. So instead of worrying about total hours, I focused more on developing better sleep habits and the quality of my sleep. Following Betty's advice, I tried Fitbit's guided meditations and found that I could decrease my heart rate before bed. This allowed me to fall asleep earlier, and the quality of my sleep and my restoration scores have improved dramatically.
My Inspire 2 tipped my behavior in other ways as well. I wanted to clock those Active Zone Minutes, so I began running to work instead of walking. I was getting exercise and saving time as well. The Fitbit platform gives you many ways to experiment with your habits to see what has the most impact. I decided to do a dry February with my partner as an experiment. I noticed an immediate improvement in my sleep score and heart rate variability. That sort of clear feedback helps you stick with positive changes.
The choices that Betty and my other concussion patients have to make while recovering often change their lives. On an hourly basis, they have to ask themselves, 'How do I want to spend my limited attention and mental energy?' 'Am I doing the things that drain me or light me up?' I find this inspiring. Betty reminded me that you don't have to have a concussion to ask yourself these fundamental questions.
I'm now leading a more intentional life with a clear improvement in my mental and physical health. My resting heart rate is back in the low 60s. My ski pants fit again, but they'll soon be going in the closet. The snow and ice are melting on the Ottawa River and it's time to get back on the paddle board.
As told to Ethan Watters
The post Discover How Athletic Therapist Victoria Cleary was Inspired by Her Patient to Change Her Habits—and Heal Herself appeared first on Fitbit Blog.